Arts
Chorus of singers 55+ celebrates 15 years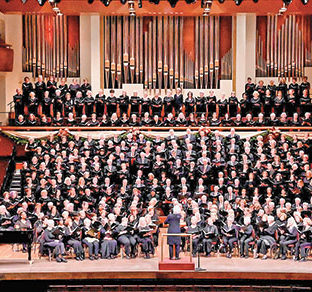 The combined Encore Chorale groups perform every year at the Kennedy Center.
Photo courtesy of Encore Creativity for Older Adults
This month, Encore Creativity for Older Adults, the largest choral organization for Americans over 55, celebrates its 15th anniversary and honors its founder Jeanne Kelly on her retirement.
The group will host a gala in Washington, D.C. on May 13, and a pay-what-you-can concert at Strathmore Music Center in N. Bethesda, Md. the following day.
Kelly created Encore in 2007 after having been involved in a study of the benefits to older adults of participating in community art programs, which include fewer hospitalizations and less depression.
Fifteen years later, there are 26 different Encore ensembles, consisting of more than 1,500 singers, who gather regularly in suburban Maryland, Washington, D.C., Northern Virginia and New York City. Groups are focused on both traditional choral and popular music, and there are even groups composed of those with early Alzheimer's and memory impairments who sing with their caregivers.
Participants pay tuition, which covers sheet music, a rehearsal CD and 15 weeks of rehearsals with a professional conductor. They then participate in concerts throughout the area, including a December performance at the Kennedy Center.
The prerequisite for joining? A love of singing. Prior experience singing in a choir isn't necessary, and participants aren't required to audition.
On the Kennedy Center stage
D.C. resident Jan Augustine loves singing but didn't imagine herself joining a choir. After watching a friend perform with the Encore Singers about seven years ago, however, Augustine joined the D.C. Rocks group and later the Capitol Encore Chorale.
Perhaps most rewarding, she said, has been performing at the Kennedy Center. "It was an amazing thrill to stand on the stage and be able to sing there with a pretty full concert hall," she said.
Augustine has also attended Encore's adult summer camps and traveled to Canada on its singing trip.
"It was tremendous fun," Augustine said. "We sang in concerts and churches along the way."
Encore Creativity has provided not only enriching life experiences for Augustine and her fellow singers but also structure in retired life, an opportunity to meet new friends, and a way to stay engaged.
"It's a challenge to learn music you already know, but the arrangements are different," said Augustine, who sings tenor. "It's fun. It keeps the brain going."
Augustine looks forward to celebrating Encore at the upcoming 15th anniversary Gala Celebration.
"Jeanne Kelly did a wonderful thing in creating Encore, and we're looking forward to keeping it going and honoring her as we move forward."
The Gala provides not only an opportunity to celebrate Kelly but also to introduce two new staff members: Joshua Vickey, who will serve in the newly created role of CEO, and Brian Isaac, who will be the new artistic director.
The Encore 15th Anniversary Gala takes place Fri., May 13 from 6 to 8 p.m. at the JW Marriott in downtown D.C.; tickets cost $150 per person and can be purchased at bit.ly/EncoreGala.
The concert takes place Sat., May 14 at 3 p.m. at The Music Center at Strathmore, 5301 Tuckerman Lane in N. Bethesda, Md. Attendees are asked to pay what they can; tickets are available at bit.ly/EncoreConcert15 or through the box office at (301) 581-5100.