Arts
Clayworks molds new vision for the future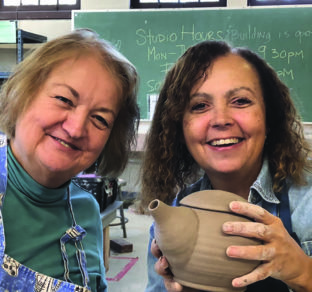 Leathia West, right, a long-time student and current Clayworks Board of Directors member, shows off a teapot she made at the long-running studio to Deb Bedwell, the founder of the organization.
Photo courtesy of Clayworks
Marsha Smelkinson had recently moved back to Baltimore from San Diego when a friend asked her to help out at a kids' pottery class she was teaching at Baltimore Clayworks.
"I had the opportunity to put my fingers in clay and found it to be fun," said Smelkinson.
Since then, though she had never thought of herself as artistic, the 69-year-old Randallstown resident has become an enthusiastic — and perpetual — student at the Mt. Washington ceramics studio.
Clayworks offers studio and community classes in all aspects of pottery, clay sculpture and ceramics for children and adults. It also presents on-site, off-site and online exhibitions and sales of the work of local, national and international ceramic artists.
"I'm very proud of the work I do and the things I've made [in classes]," said Smelkinson. She prefers hand-building (as opposed to pottery wheel) classes, and likes to create larger pieces such as vases.
Smelkinson also enjoys the social aspect of the classes, which usually have 8 to 10 students, ranging in age from their mid-30s to 70s.
In fact, the regulars, many of whom have taken classes together for years now, have become so close that they even travel together. In 2015, a group of them went to Jamaica, along with their instructor, Sam Wallace, to see where he learned his techniques. A trip to Mexico is currently being planned.
Baltimore Clayworks was founded by nine artists in 1980, and has earned a national and international reputation for artistic excellence, artists' support and community involvement. They provide affordable studio space, equipment and professional opportunities. The studio also brings emerging and established artists to Baltimore through residency programs and exhibitions.
Back from the brink
All that, however, was threatened in 2017 when the board then running Clayworks made plans to sell its two buildings, pay off a sizable debt, and relocate to downtown Baltimore. Shortly thereafter, the future of Clayworks was cast into further doubt when the original board, with no notice, began filing for bankruptcy and closed the facilities.
Thanks to enthusiastic supporters such as Smelkinson, the Clayworks community joined together to establish a fundraising campaign to pay off the debts and keep Clayworks going.
"We had to try," said Smelkinson. "We love Clayworks."
Last summer, negotiations between the former board and the Clayworks Community Campaign were finally successful. Clayworks reopened in October 2017 with an entirely new board, and classes began again last November.
A new executive director recently took the helm as well. Cyndi Wish has extensive executive experience in nonprofit leadership and management, focusing on arts and cultural programming, education and community development.
In announcing Wish's appointment, Board of Trustees President Susan Patz said, "This is wonderful timing for Baltimore Clayworks and for Cyndi. We have recently celebrated the one-year anniversary of our reopening with great community support and even a new Clayworks Way street sign.
"With new leadership…Clayworks has the opportunity to further advance its mission: creating transformative programming, exhibitions, artist residencies and community partnerships that serve the diverse population of Baltimore."
Upcoming events
Clayworks offers classes for all ages, including "try it" workshops, "date night" workshops, potter's wheel, hand-building and sculpture, and special topics, such as wearable ceramic jewelry.
Now that the existence of Clayworks is no longer in doubt, Smelkinson is happy to return to the classroom and her Clayworks community of friends. "Clay people are humble, generous, and we all share the joy of clay," she said.
Running through Dec. 31, Clayworks will feature its annual Winterfest exhibition in its Main Gallery, while its Solo Gallery will have cups by its resident artists, and its Project Space Gallery will host weekend pop-up shops featuring mixed media Baltimore artists.
Baltimore Clayworks is located at 5707 Smith Ave. It is open Monday through Friday from 10 a.m. to 4 p.m., and Saturday and Sunday from 11 a.m. to 4 p.m.
For more information, visit www.baltimoreclayworks.org or call (410) 578-1919.