Arts
Club helps students prepare for prom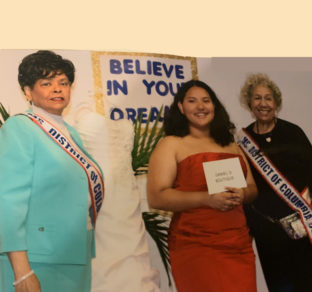 Ann Thomas, Ms. Senior D.C. 2006 and Sandra Bears, Ms. Senior D.C. 2005 stand with one of the recipients of the Dare to Dreams giveaway to help area teens prepare for the prom.
Photo by DC Department of Aging and Community Living
'Tis the season for corsages, tuxedos and taffeta dresses. But not every student in Washington, D.C. can afford all the trimmings to attend their high school prom. That's where the women of the D.C. Seniors Cameo Club come in.
This spring, former Ms. Senior D.C. Pageant participants (who make up the Cameo Club) have fanned out all over the metro area, asking local boutiques to donate new dresses to low-income students at D.C. public schools.
They've gathered more than 100 gowns so far that will be distributed for free to local high schoolers. At two events in early May, local students will be invited to a church hall to try on and take home whatever they wish. Also, accessories, stockings and corsages donated by Lee's Flower and Card Shop on U St. NW will be made available to the students.
"Without these donated gowns, there are so many young ladies that will not be able to attend their prom," said Rebecca Washington, chair of the club's publicity committee.
This is the second year the club has offered free dresses. In 2017, they gave away about 50 of them.
The D.C. Seniors Cameo Club consists of 35 women who have been contestants in the Ms. Senior D.C. Pageant, an annual event for District women 60 and older.
In addition to their charitable work, Club members entertain at nursing homes, veterans' and children's hospitals and at other community and charitable organizations, according to its website.
Washington, 68, who owned eight beauty salons in the District, got involved in the prom giveaway during her volunteer work with the nonprofit Family Matters of Greater Washington. As one of 10 children, she recalls shopping for her prom dress at Garfinckel's department store. Her aunts chipped in to buy the perfect blue dress.
Now she is helping the younger generation. "It's a blessing to see these young ladies come in and their parents crying," Washington said. "The young ladies are so excited. They try on these beautiful dresses and they are so happy."
This year's prom giveaway events are scheduled for May 4 and May 11. For more information, call (202) 413-2070 or (202) 723-1077.