Arts
Columbia Orchestra going strong at 40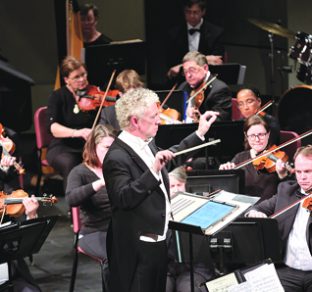 Jason Love has conducted the all-volunteer Columbia Orchestra for nearly half of its 40 years. In addition to full-orchestra classical concerts, its members perform jazz, chamber, pops and family concerts.
Photo by James Ferry
The Columbia Orchestra was born in 1977 with a handful of string musicians playing a smattering of performances. Today, it's a full orchestra with 100 members with a robust schedule of sold-out performances.
How has the orchestra grown and thrived in an age crowded with digital opportunities and pop music? Credit a breadth of programming, strong community outreach, and devotion by the all-volunteer performers and their fans.
"We are probably one of the busiest community orchestras in the world," said Jason Love, the orchestra's music director for 19 years. His background includes 13 years as artistic director and conductor of the Greater Baltimore Youth Orchestra, four years as the conductor of the Chesapeake Youth Repertory Orchestra in Annapolis, and leading the McDaniel Orchestra Camp in Westminster.
Classical, jazz, pops and more
Columbia Orchestra's 40th season kicked off with an anniversary concert in early October, and will continue through mid-May with a jam-packed schedule that includes three jazz performances, three chamber concerts, three symphony performances, a family holiday concert, a pops concert and a young people's concert.
That's not all. In addition to its regular schedule, the full orchestra presents concerts for third graders across Howard County, and groups of orchestra members participate in preschool, elementary school, library and Head Start programs. Individual musicians also perform at recitals, retirement communities, hospitals and other non-traditional venues.
"We are very community oriented," said Executive Director Katherine Keefe. "We work with as many community groups as we can." One example is a local dance group that performed with the orchestra at a family concert.
Columbia's partners also extend beyond Howard County lines, including a collaboration with NASA Goddard Space Flight Center and members of John Denver's band.
Love thinks a key to the orchestra's standing with the community is programing.
"Our concerts feature the same works you'd hear from a major metropolitan orchestra in New York, Chicago or Los Angeles. We play the great masterworks. They're great 'museum pieces.' But we balance those with new works by living composers and performances with multi-media presentations — the kind of music you rarely hear done by a community orchestra."
Original orchestra member and violinist Bruce Kuehne concurs.
"We've had music directors who are not afraid to include innovative programming, including music of the 20th — and now 21st — century," he said. "Classical music is not all about long-dead white men; it is a living art form that is relevant to today's listeners."
Kuehne gives kudos to director Love, who "certainly understands that point and programs his concerts accordingly. While he may include a 'crowd pleaser' to attract the typical audience member, he will also perform a lesser-known and more recent, but no less 'audience friendly,' work on the same program."
All that, plus cookies, too
Love keeps his musicians happy by making the rehearsal process fun. "But he always makes it clear that the orchestra has the serious task of putting on a quality program."
Direct audience participation appeals to all ages, Keefe said. The orchestra rehearses at the Gathering Place in Clarksville. Four times a year, anyone can attend an open rehearsal there, enjoy wine and cheese while observing the rehearsal process, and mingle with the musicians during break. See box for information on the next open rehearsal on Nov. 13.
Concerts of the full orchestra are held at the Jim Rouse Theatre at Wilde Lake High School in Columbia. It seats 750 people, about one-third of whom stay after performances for a meet-and-greet where they can enjoy snacks brought by orchestra members.
That may seem beyond the call of duty for musicians, but "this is a dedicated group of musicians," Keefe said. "They rehearse every Monday, August through May. They are all amateurs of all ages, and people are often surprised [to learn] they are not listening to a paid orchestra."
Elaine Newhall, principal flute and a member of the orchestra board of directors, reflects on that. "Early on, the board made it clear that we would remain a volunteer orchestra while continuing to grow quality [and] while remaining a friendly environment for the members," she said.
"Every concert is hard work, but it's rewarding, musically satisfying, and we've done it with many of the original members still playing. We attract the best players, and provide our audience with quality entertainment for an affordable price. And we still bake cookies for the after-concert reception!"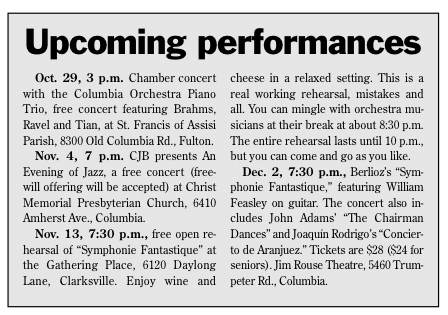 For a full schedule of performances and tickets, call (410) 455-8777 or see www.columbiaorchestra.org.