Arts
Columbia's candid cameraman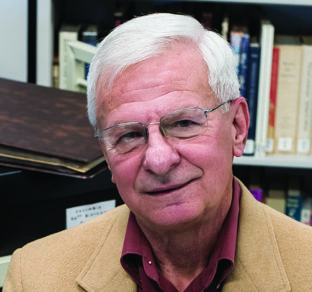 Amateur photographer Ron Fedorczak has taken hundreds of photos chronicling Columbia's growth over the last 43 years. In many cases, his are the only photos that exist of historical moments. His photos are now part of the Columbia Archives, and some of them are in a new book, Columbia, Maryland: A Fifty-Year Retrospective of a Model City.
Photo by Christopher Myers
Ron Fedorczak has spent the last 43 years — more than half his life — putting the history of Columbia in focus.
He has attended seminal events at various locations, wandered up and down the streets, cruised highways and searched out byways, always clicking away with his trusty Nikon at whatever was happening in the town he says he became enamored with ever since moving here in 1973.
Those who have seen him taking photos of many of the events about town say he does it quietly, often behind the scenes.
"When I hear about an event, I try to be there with my camera," is how he sums up his contribution to showing what makes Columbia tick.
"I consider myself a serious amateur, and absolutely not a professional photographer," said Fedorczak, who recently celebrated his 77th birthday. "I just keep an eye on what's going on around town. I'm kind of a candid photographer."
His fee-free contributions, numbering many hundreds of photos, have been donated to the Columbia Archives, according to Archive Director Barbara Kellner.
"Ron has given us the most comprehensive look at community events, particularly smaller ones that no one else was photographing," said Kellner, who has been at the archives since 1983. "Without his contribution, so much would have been undocumented," Kellner said.
The Columbia photo chronicler, who spent most of his career as a marine engineer, said, "a pat on the back once in a while," was sufficient thanks for his camera work.
"Everyone should make a contribution to their community," he said. "This is mine."
Making Columbia home
Born and raised in Shamokin, Pa., where, he noted, "coal was king" in the old days, Fedorczak was happy to find Columbia, where he moved after visiting friends in the then six-year-old community.
"It was a neat place, a great idea from the beginning, with a nice layout and an egalitarian society. It still is a good place to live," he said.
While he may get an occasional photo request, he generally finds events to document on his own. "I just mostly walk around town…or take pictures of buildings going up or coming down, or stores and restaurants opening and closing," he said.
Fedorczak started what he called his lifetime avocation as community photographer by shooting Columbia's birthday and City Fair celebrations. Since then, his photographs have documented such varied events as Columbia Festival of the Arts, Columbia Archives Open House, International Day, BikeAbout and the Great Cardboard Boat Regatta.
The "regatta," held each June until three years ago, saw as many as 30 home-made boats captained by two to six residents each, racing around Lake Kittamaqundia, the 27-acre reservoir near the Columbia Mall.
"I was sort of disappointed when the race was discontinued," said the photographer, who zoomed his Nikon in and out as the boats maneuvered around buoys put out on the lake for the event.
The cardboard boats, he noted, were good for one or, at the most, two trips around the lake before they became water-logged and sank. Some of the boats he snapped at the start of the race barely made it off the dock.
Like Columbia, photography itself has undergone large changes over the decades.
"I started with slides, then went into prints, like everyone else. I was using film until just two years ago, when I had to switch to digital," Fedorczak said. "You can still buy film, but it's more and more difficult to get it developed."
Published in new book
The modest lensman did note the inclusion of many of his photos in the recently published book, Columbia, Maryland: A Fifty-Year Retrospective of a Model City.
The book, put together by Robert Tennenbaum, one of Columbia's original architects and planners, includes essays by more than 60 contributors who have seen the city transform since its foundation in 1967.
Tennenbaum, some of whose photos also appear in the book, said that he had stopped shooting Columbia events in the late 1980s, and was on the lookout for more recent photos when Fedorczak was suggested to him by a companion working on the book.
"I gave him [Fedorczak] a two-page list of up-to-date photos needed for the book," which included shots of newly affordable housing, outdoor artistic events and recreation sites, said Tennenbaum.
"The photos he took were terrific. They had good compositions and they were creative. Ron was very committed and he has a good eye," Tennenbaum added.
The charge for the photos? "He didn't want any money," the book's editor said.
A marine engineer
Fedorczak, a marine engineer and graduate of the U.S. Merchant Marine Academy, taught electrical system courses to graduate engineers for some 15 years at the Calhoon Marine Engineering School, located first in downtown Baltimore, then on the Eastern Shore near St. Michaels.
He also sailed, mostly on cargo ships, to ports in South America, Africa and South Asia, checking out and running the ships' power plant, its boilers, turbans, air conditioning and electronic systems.
One of his trips took him to Guantanamo Bay in Cuba, where the Merchant Marine vessel he was on happened to be bringing ammunition to the U.S. troops there during the Cuban Missile Crisis of the early 1960s.
He retired from his career three years ago. In his spare time he likes to ski. In 1991, he organized the Columbia Ski Club, which has traveled down slopes "all over the world," he said.
Archives Director Kellner, meanwhile, noted that despite his self-proclaimed amateur status and his focus on "everyday people, shows, performers, crowds, etc., Ron has a real feel for  events.
"He takes pictures of everything. He has documented the construction on Broken Land Parkway, out there every day as the work was going on. The photos he took of the parkway, and of everything else — he took them for the love of the community," Kellner said.