Arts
Communities offer opportunities for art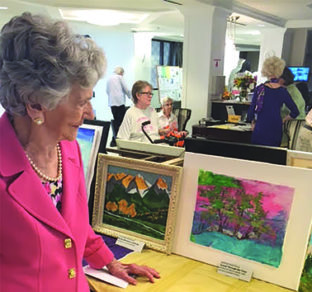 Sophie Ruotolo displays some of her paintings at an exhibit at the Residences at Thomas Circle, the Washington, D.C. retirement community where she lives. The community is one of many in the area that offer free art classes to residents.
Photo by Marie J. Raber
When Sophie Ruotolo moved to the Residences at Thomas Circle in downtown Washington, D.C. at age 93, she knew it was going to be a "big adjustment" after living in her home in Florida. Fortunately, the move ended up being a blessing, since she discovered her biggest passion there: art.
Now 98, Ruotolo spends most of her time painting on canvas using acrylics and watercolors, or planning her next project. Though she excels in painting realistic flowers — tulips are her favorite — she's been recently drawn to portraits.
"A portrait of my great granddaughter went well," she said proudly. "It was very difficult, but [my family] loved it."
Most of her work is given as gifts to friends or family — though she did say her son offered to buy one of her favorite pieces for $500!
Free weekly art classes  
Ruotolo has learned a great deal at the free weekly art classes offered by the Residences at Thomas Circle. The community offers independent living, assisted living and memory care apartments.
Coordinator Nancy Piness is passionate about the community's art program — dubbed the Artist Colony — and has seen firsthand how much it has impacted the lives of the residents. One of their favorite mediums is silk painting, particularly silk scarves.
"The residents are so proud to show me what they have designed and created, often wearing their decorative silk scarves around the community, or sharing with me the paintings they have created of their pets or of a favorite venue as a relative's holiday gift," Piness said.
Each class is small, comprised of six to eight people, and runs for 90 minutes. No registration is required, so students can drop in or out at their convenience.
Piness said their instructors teach "'creative and expressive arts,' which means that the focus is on the process and not necessarily the end result." So far, they've had very good feedback.
"The residents live life again," said instructor Elisabeth Larson. "When they are painting, their concentration on their creation alleviates [any] pain. The art classes make them more powerful as a human being."
For Ruotolo, the discovery of art has been a turning point in her life, and a big reason she's still so sharp.
"[With art], you express yourself — you put your heart and soul in it. I love it. I look forward to it very much…it's so satisfying."
Her son has been so supportive that he offered to pay for private lessons with her teacher, which she now takes in addition to the weekly group class. Ruotolo finds that the extra help is welcome.
An active artist community
In 2015, watercolorist Virginia Fernbach moved to Greenspring in Springfield, Va., knowing that the community was filled with like-minded and talented artists. The problem was, none of the artists seemed to be getting together and meeting, she said of the community, which includes independent and assisted living as well as memory care.
Identifying the void, Fernbach organized and now serves at the chair of the Visual Arts Planning Group, which meets once a month to plan art classes and workshops to be held there.
They also "identify good instructors, make arrangements, organize classes" and work closely with the community resources coordinator to advertise their programs, she said.
"People like to get together, since it can be lonely [otherwise]," Fernbach said. "You look at each other's work and comment — help each other."
Greenspring offers art classes led by both in-house volunteers and paid instructors. "A number of our residents are talented watercolorists," said Fernbach. One resident in particular, an award-winning watercolorist, teaches regular weekly sessions.
They also have a "very active pottery group," sketching and drawing classes, and other types of programs, such as art history sessions and tours to visit museums. "We're always trying to diversify," she said.
Most classes are free, with the exception of the classes taught by outside instructors.
Every year, the planning group also organizes an annual art show. They recently tried a new type of show called a live artist studio, where in-house artists created their works while an audience walked around and observed.
They also have an art wall that showcases the best work of two artists at a time. Each exhibit is accompanied by a reception to honor the artists, and an interview in their publication, "The Villager."
Finding her community of fellow artists has been rewarding for Fernbach, who always intended to return to her childhood love of drawing and sketching. She made the decision to fully commit about a decade ago.
First mastering drawing at the Art League in Alexandria, Va., she looked toward a new challenge and found watercolor. "Of course, it was the most difficult of all the mediums," she laughed.
While administration of the group takes up much of her time, she still makes time for her own art, employing both acrylic and ink, and a technique called gouache to create her impressionistic masterpieces.
Since then, she has sold many of her pieces and has plans to sell more, though it can be hard to let go. "You grow attached to your art, that's a problem," she said. "People want to buy it!
Colorful stained glass
Jacob Armoza is another artist who found his artistic passion after a career in a different field. He was 65 when he discovered the craft of stained glass, and it has become a huge part of his life in the 24 years since. The Beacon interviewed his wife Harriet for a glimpse into his story.
Always good with his hands, Armoza made his career as a fisherman in Israel, where "he lived for a number of years" and met his wife. With work scarce, though, the couple decided to move to the United States, where he took a position as an ironworker.
"Later in life, he started artistic things," she said. Initially, he took up stained glass as a hobby, a way to give handmade presents and objects to friends and family.
He also makes menorahs (candelabras) for loved ones who are getting married, and mezuzas for those moving into a new home. A mezuza is a decorative case inside which is a hand-written parchment inscribed with a passage from the Hebrew Bible. Mezuzas are affixed to the doorposts of Jewish homes as a reminder of one's relationship with God. "It means your home is blessed," explained his wife.
Armoza often found inspiration for his work in interesting places. "We went on trips, and he'd collect different things to use for projects," Harriet Armoza said.
Now 89, he is especially good at creating mosaics using stained glass, which he's used to decorate planter boxes and flower pots.
Homecrest House, the independent and personal care community in Silver Spring, Md., where the Armozas live, offers an informal art program, with open studios for arts and crafts once a week. Artists tend to bring their own supplies and projects.
The community also has plans to begin formal art classes, since the recent arrival of a resident who paints in watercolor and oil means they now have an in-house expert.
Armoza brings his own materials to the studio and works independently, but many fellow residents gather around to watch his fascinating process and stunning finished product.
"Being in this place and being able to do what he loves," his wife said proudly, "makes him ecstatic!"