Arts
Community group welcomes new artists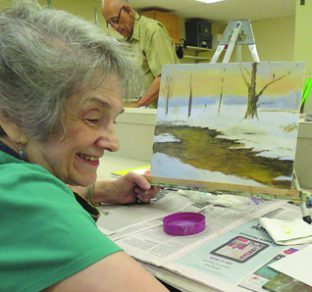 Fran Chasse works on her oil painting of a winter in New England as part of the Fireside Artists group at Charlestown. The group, comprised of artists of all levels of proficiency, meets weekly. Their work is featured in Charlestown's gallery, as well as ones throughout Maryland.
Photo courtesy of Charlestown
When Jody Primoff moved to the Charlestown retirement community five years ago, she hoped to connect with others who shared her love of art and passion for painting.
It turns out she didn't have to look far. Before she even settled into her new home, Primoff was welcomed into the Fireside Artists — a group of Charlestown neighbors who gather every Friday to paint, draw and sculpt.
"The group is made up of all levels of proficiency, and any resident who is interested in art is welcome to join us," said Primoff. "We have a beautifully renovated studio with plenty of room for whatever interests you — painting, drawing, stained glass, pottery."
The art studio is a creative oasis for Charlestown residents. Each artist has his or her own storage cabinet and drawer. The studio is equipped with a kiln for firing pottery, spacious work tables and lots of natural light. It is located across the hall from a music studio, where musicians often play as the artists work.
Work shown in many galleries
Much of the artwork produced by the Fireside Artists is featured throughout Maryland in art galleries, public libraries, college art departments and business venues. Their work is also featured year-round in the community's own gallery, located in the Charlestown Square Clubhouse near the community's Fireside restaurant and lounge, for which the group is named.
Primoff specializes in landscapes inspired from her time spent on Maryland's Eastern Shore. She paints in various media, including watercolors, acrylics, mixed media and pastels. Her work has been featured in galleries from New York to the Outer Banks of North Carolina.
Primoff currently serves as secretary of the Fireside Arts Committee, the group that maintains the gallery.
"We rotate the displays throughout the year," said Primoff. "Each month we feature an 'artist of the month,' and twice a year we have an all-member exhibit in the gallery. We call it a living gallery because the artists can change out their paintings when they complete a new piece or when one of their pieces is sold."
Artists of all skill levels can find a home in the Fireside Artists gallery.
A recent display featured teenage artists from Jubilee Arts Baltimore as the artist of the month. Jubilee Arts is a community program providing students of the Sandtown-Winchester and surrounding neighborhoods classes in fine art, creative writing and dance. The program helps aspiring artists improve their fine art skills with the goal of assembling a professional portfolio.
For beginners and pros alike
"We want to encourage beginners and help them along, as well as professionals who sell their work," said Fireside artist Joni Guhne. "Each of us strives for the next great painting — whether it's our first or our one-hundredth — that we know is just a brush stroke away."
Since moving to Charlestown almost two years ago, Guhne, a former journalist for the Baltimore Sun, now has plenty of time to pursue her passion for painting portraits.
"News writing sucked all my creativity out of me," said Guhne. "After I retired, I started taking classes at Anne Arundel Community College. At first I studied pastels, but I loved the look of watercolor paintings, so I switched to watercolor. I love painting animals, landscapes and still life, but my true love is portraitures."
Because the watercolor process requires multiple glazes that need to dry in between applications, Guhne paints all of her subjects from photographs. She paints in her apartment home, which doubles as her art studio.
Guhne belongs to the Annapolis Watercolor Club, the Baltimore Watercolor Society, and is represented in Benfield Gallery in Severna Park. Last year, she painted portraits of each of the women who work in Charlestown's sales office.
"When an artist is involved in painting, he or she is removed from the stress of daily life and immersed in a world of creation," said Guhne. "Time passes unnoticed. The resulting picture or object brings utter satisfaction to the soul of the artist.
"The popular saying is that 'artwork is work,' but don't let that fool you. The artist wouldn't wish to be doing anything else."