Arts
Contemporary Art Institute opens at VCU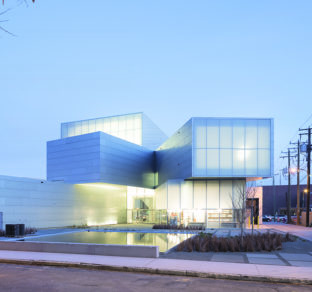 The new Institute of Contemporary Art houses rotating visiting exhibits of art from Richmond and beyond.
The $41-million Institute for Contemporary Art at Virginia Commonwealth University — built entirely with private money and opening April 21 — is the most recent feather in Richmond's many-feathered cap.
Almost five years ago, Forbes magazine listed Virginia's capital city as one of the top 10 up-and-coming cities in the world for entrepreneurial startups. And last year Virginia Commonwealth University ranked first in the nation for fine arts programs among public universities — and second among all university fine arts programs, according to U.S. News & World Report, making this an auspicious place for such an undertaking.
The Institute for Contemporary Art (ICA) has all of the potential to make a big impact as a start-up, and to become a hub for a growing community of art and design lovers.
That's not to say that residents and visitors who want to experience innovation and creativity don't already have great resources in Richmond, among them the collections of the Virginia Museum of Fine Arts, the Virginia Museum of History and Culture, the Library of Virginia, Cabell Library, and the Valentine History Center.
For visiting exhibits only
One difference is that the ICA will be a non-collecting museum, meaning it will focus on fresh, ever-changing exhibitions. The fact that the ICA won't be focused on building collections means that its attention will be broadly and exclusively focused on contemporary art being produced throughout the world today.
Its opening in the block of Broad and Belvidere Streets at 601 W. Broad signals more than that of a non-collecting museum: the building's design by Steven Holl Architects — which appears in the abstract as fingers stretched outward — denotes the Institute's mission to reach out into the world and engage visitors through multiple points of entry for community collaboration. Besides changing exhibitions, the museum will offer performances, films and interdisciplinary programs.
If the inaugural exhibition, "Declaration" (April 21 – Sept. 9), is any indication, visitors can look forward to a dynamic mix of projects in the ICA's four galleries. These are works chosen to generate discussion.
As examples, in a walk through the galleries while work was being installed, Interim Director Joe Seipel pointed out exhibits referencing women's rights as well as pressing environmental issues, and mentioned several "naughty" anatomical pieces of sculpture by members of the local shock-rock group GWAR, formed in 1984.
The exhibition's variety is wide-ranging, which Seipel described as "very textured, including sound and video work, three-dimensional sculpture, and beautiful paintings."
Many of the works by the 30 local, national and international artists in the opening haven't been shown previously, and none has been shown in the Richmond area before.
The emerging and established artists in "Declaration" have created conversations exploring the beginnings and clarifications of proposed social contracts, whether between two people or as broadly public as an expression of the informal contract between the ICA and the Richmond community.
Individual declarations
For openers, more than 100 colorful letterpress prints mounted on a large wall in the Forum (atrium) have quotes or "declarations" from personnel at barbershops and salons around Richmond. Artist Amos Paul Kennedy Jr. of Detroit, Mich., has given expression to these words of wisdom, such as "Life has no limitations except the ones you create" by Classic Creations salon.
The originating shops have their own set of the prints displayed at their venues. The mounted prints in the show will be distributed to members of the community at the conclusion of the exhibition.
Visitors to the exhibit will be able to write and post their own "declarations" as well — in handwritten format in Gallery 3 on the second floor.
Artists from across the globe
Just as none of us can know if our declarations will be heard, how they will be received, or where they'll lead us, the artworks reflect voices of uncertainty in varied media, tones and intensity.
Canadian transgender artist Cassils — whose work spans live art, performance, sculpture, photography and even the occasional watercolor — demonstrates the ultimate "uncertainty" through the real human terror of being lit on fire. ICA visitors can sense the terror through the graphic video on display, which uses stunt actors enduring a 14 second full-body burn (which has been extended to 14 minutes of slow motion).
Other participating artists come from around the world, including the Bahamas, England, Holland, Italy, Cuba, Argentina and Japan.
Some of them, such as ICA Artist in Residence Paul Rucker, will be present to talk to visitors on ICA's opening day. In 2015, Rucker, who is African American, began making a Ku Klux Klan robe every week for a year. Richmond has a much larger display of the robes than those exhibited as part of his touring show in Baltimore; Seattle and Ellensburg, Wash.; Ferguson, Mo.; and York, Pa.
Rucker said, "Each robe is a riddle [dealing] with the ideology, organization, and motivation of the KKK. The robes I make…from scratch, using non-traditional materials…are based on the second wave of the Ku Klux Klan that had between 4 and 5 million members in the 1920s," he said. "That's 5 percent of the U.S. population at the time, the same number as the population of NYC [then]."
Among other Richmond artists featured in "Declaration" are Sonya Clark ("Edifice and Mortar," including bricks, mortar, hair, Plexiglas and steel); Andrea Donnelly ("To the Various Futures," including painted, woven and rewoven cotton thread and pigment); Lily Lamberta and All the Saints Theater Company ("Our Waters Will Rise," including mixed media and papier-mache puppets, and "A Funerary March for the Confederacy" from Richmond's 2017 Halloween Parade); Jon-Phillip Sheridan ("Fixed Air," video installation with live carbon emission sensors); and Stephen Vitiello ("whether there was a bell or whether I knocked," 18-channel sound installation).
June performances
Paul Rucker will be playing cello with students from his improvisational music class and members of the Richmond Symphony as part of the three-day Festival of the River on Brown's Island on June 9. ICA is a partner of the festival. Rucker said he's writing a new composition that integrates interviews with people in communities surrounding the James River.
Also performing, at the Festival of the River, though in a very different way, will be Hope Ginsburg, whose video with sound, "Land Dive Team: Bay of Fundy 2016," is part of the ICA display. The video shows three divers and Ginsburg in October 2015, sitting in meditation at the shore of the Bay of Fundy on the coast of St. John, in New Brunswick, Canada, where the tides go up and down 50 feet, twice a day.
In this unusual "dive," they sat for an hour and a half as the tide came in and rose around their bodies. Ginsburg said, "[This] was the time it took for the water to rise from our fins, where the piece begins, to over our heads so that the only remaining trace of us was our breath hitting the surface of the water in clusters of bubbles."
Admission to the ICA is free, but timed tickets are required for building and exhibition access during opening weekend (April 21-22). After the opening, timed tickets will be required for exhibition entry and special events only.
Tickets will be available prior to the opening. For tickets and more information, go to ica.vcu.edu or call (804) 828-2823.
A grand opening block party will be held outdoors at 601 W. Broad St. on April 21 from 10 a.m. to 4 p.m. The block party is free and open to the public.