Arts
Cookbooks for creativity in the kitchen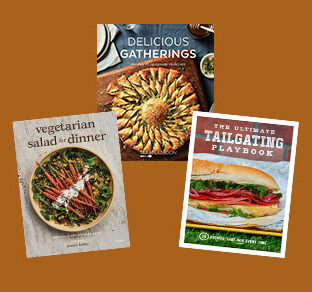 The Bibliophile
Relax and rest easy this season. Here's expert advice on preparing your holiday feasts.
Delicious Gatherings: Recipes to Celebrate Together, by Tara Bench, 260 pages, Shadow Mountain hardcover, 2022
This cookbook offers 105 recipes for brunch, dinner, cookout and buffet-style meals. Occasions such as Thanksgiving feast, mezze dinner party and Tex Mex fiesta are covered, accompanied by 100 full-page color photographs. In the back, there's an ingenious index featuring a small photo of each dish.
For Thanksgiving, the recipe for classic turkey in pieces eschews preparing the whole turkey. Instead, cut the bird into five parts and follow the clever instructions. This technique enhances the flavor; the individual parts cook more evenly and faster. The recipe serves 10 to 12, and the total preparation time is two hours and 15 minutes.
To complete the holiday meal, Delicious Gatherings offers recipes for dinner rolls, fresh orange-cranberry sauce, turkey stock and gravy, sausage stuffing, a variety of side dishes and 19 desserts.
Tara Bench worked with Martha Stewart and has been a food-magazine editor. She is a recipe developer and trained chef. Check out her blog, TaraTeaspoon.com.
The Ultimate Tailgating Playbook: 75 Recipes that Win Every Time, by Russ T. Fender, 192 pages, Union Square & Co. paperback, 2022
These recipes are perfectly suited for whenever you have to feed a group buffet-style — at home, tailgating, on a picnic, at the beach or park. The 75 recipes are organized by chapter: bread, pizza, dips, salsa, salads, soups, burgers, hot dogs, ribs, desserts and drinks. Most of the dishes serve eight people.
Learn how to prepare Mississippi mud cheesecake, grilled cheese bubble bread, walking tacos, popcorn chicken, beer-can chicken and cowboy cookies.
The no-bake eclair cake is one of the many entries that can be made in advance. Twenty drink recipes feature these enticing names: flannel shirt, beergaritas and marychelada.
More than 80 color illustrations show you how to arrange the most appetizing presentations. Tips accompanying many recipes explain how to prepare them in advance and reheat them on the grill.
Fender recommends equipment, and lists 13 essential items for tailgating. He provides instructions on safety and proper cleaning. Learn how to use a grill as a stove or an oven, how to achieve desired temperatures, and how to properly pack a cooler. There's a handy index at the back.
Become the MVP of the parking lot with the most elaborate and creative spread.
Vegetarian Salad for Dinner: Inventive Plant-Forward Meals, by Jeanne Kelley, 224 pages, Rizzoli International Publications hardcover, 2023      
Make all your guests feel welcome, no matter their dietary inclinations. The book divides 80 salad recipes into these categories: classic, grain, pulse (meaning beans, lentils and peas), salads with seeds (notably quinoa), pasta salads, bread salads, roasted and toasted salads.
More than half are gluten-free or include a gluten-free variation, and 27 are vegan or are accompanied by a vegan option. Kelley also concocts vegetarian versions of classic recipes such as chicken salad.
As the title Vegetarian Salad for Dinner indicates, the dishes serve as main courses. Different recipes are meant to serve from two to eight people, but are predominantly for four. You can easily recalibrate them to serve as side dishes.
More than 90 color photographs by Gemma and Andrew Ingalls illustrate the recipes. Knowing how to arrange a dish is a key element in salad presentations, lest you serve an unappealing heap of vegetables on a plate.
The cookbook commences with a glossary describing 25 salad greens, and the last chapter covers 13 toppings, sauces and spreads. A helpful index of recipes and ingredients is at the back.
The recipes themselves include advice on shopping, preparing and storing ingredients. Alas, there are no calorie counts, nor is nutritional information provided.
Jeanne Kelley is a food stylist, recipe creator, author of six cookbooks and contributor to Bon Appétit magazine. She's an edible garden expert who specializes in seasonal and sustainable cooking.