Arts
Cookbooks make time in the kitchen fun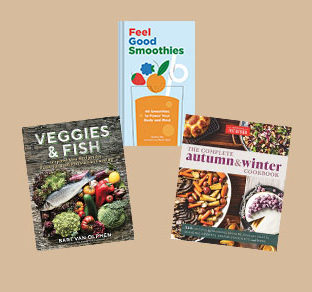 The Bibliophile
A 2019 survey by the American Farm Bureau Federation revealed that a majority of Americans prepare their entire Thanksgiving meal at home. Here are three cookbooks that can help you prepare innovative as well as traditional meals.
The Complete Autumn and Winter Cookbook: 550+ Recipes for Warming Dinners, Holiday Roasts, Seasonal Desserts, Breads, Food Gifts, and More, by America's Test Kitchen, 458 pages, America's Test Kitchen softcover, 2021
This cookbook with more than 500 recipes is a treasure for Thanksgiving meal-planners. It's a primer for nervous novices and a resource replete with new ideas for experienced cooks.
Each recipe includes information on serving size, whether it can be prepared ahead of time, and total prep time. Calorie counts and nutritional values for all the recipes are listed in the back of the book.
There's a recipe index and a metric conversion chart. Kitchen tools are recommended by brand name.
The recipes are organized into 15 chapters. Complete course menus and accompanying recipes are included for 14 occasions including Thanksgiving, meatless Thanksgiving, New Year's Eve and game day spread.
The emphasis is on seasonal foods. More than 400 color photos of the completed dishes, in addition to step-by-step illustrations of techniques, make The Complete Autumn and Winter Cookbook a feast for the eyes.
More than 250 vegetarian recipes are easy to find. They are flagged in the text, the introduction to each chapter and the index.
America's Test Kitchen consists of a staff of 60 recipe-testers who employ a scientific approach to the art of food preparation. You may be familiar with the eponymous PBS series, which has been broadcast since 2001.
Veggies & Fish: Inspired New Recipes for Plant-Forward Pescatarian Cooking, by Bart van Olphen, translated by Laura Vroomen, 256 pages, The Experiment hardcover, 2021
This cookbook provides recipes for pescatarians — those who don't eat meat but do eat fish. They are creatively constructed with an emphasis both on nutrition and on using sustainably-sourced seafood species.
Whether you want to prepare ravioli or potato salad with a new twist, conjure up a watercress and cilantro salsa verde for two in 20 minutes, or wow your guests with Malaysian laksa, you'll find the instructions easy to follow. The recipes are organized into 12 chapters.
Veggies & Fish boasts more than 180 photographs and illustrations. A full-page color photograph accompanies each of the 95 recipes.
The vast majority of the recipes are apportioned for two. They all indicate prep time and total calories. A complete listing of nutritional values, measured in grams, is provided. There's a handy index as well.
Bart van Olphen is co-founder of Bart's Fish Tales, a YouTube channel highlighting the chef's worldwide travels and presenting his recipes for fresh, sustainably-caught fish.
Feel Good Smoothies: 40 Smoothies to Power Your Body and Mind, by Sandra Wu, illustrations by Rocio Egio, 121 pages, Chronicle Books hardcover, 2022
A smoothie is a creamy, thick cold beverage made of fruit or vegetables blended with milk, ice cream, yogurt or fruit juice.
You might choose to eat more fruits and vegetables for their nutritional benefits if they were easy and quick to prepare and great tasting. Or you may be curious to try exotic produce you've seen in the market but are clueless on how to proceed.
Feel Good Smoothies will show you how to transform just a few ingredients into a delicious drink. Forty smoothie recipes are organized by chapter. The serving size is two. An introduction explains the more exotic ingredients and their nutritional values.
Each recipe is labeled with its health benefits. There is a helpful index of ingredients. Alas, there is no calorie count.
Smoothies may aid in weight loss because they keep you full. However, the calories add up quickly, so beware of too much indulgence.
Ingredients include papaya, açai, goji berries, spirulina powder, chia seeds, hemp hearts and pepitas. Wow your family and company as you serve them a magenta dragon, hazelnut mocha shake, or black forest cherry shake.
Sandra Wu is a food writer based in San Francisco. The charming and sunny illustrations are by Rocio Egio, who lives in Switzerland.
Grab your blender. Get ready to embark on a culinary adventure.