Arts
Country music is his passion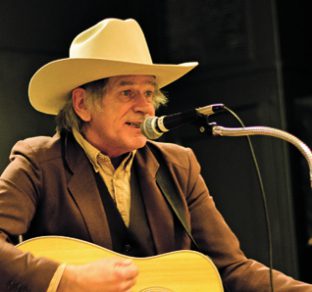 Baltimore-based country singer Mark Brine has been nominated for a Grammy twice, and in 2005 was inducted into the Hall of Fame of the National Traditional Country Music Association. He recently appeared on the PBS show "Song of the Mountains," and has also published four books with musical themes.
Photo by Arnold Lee Dickens
Mark Brine found his professional calling early on. Today, the 68-year-old writer and singer continues his long career in country music, saying simply (as country singers are apt to), "It's my life."
Though Brine may not be a household name among casual listeners, country music aficionados know his longstanding reputation in the industry.
For example, Pete Smith of Country Music Roundup, wrote: "I think Mark Brine must be Americana's best kept secret. A singer/songwriter for over 30 years…Brine writes wonderful story songs about ordinary people and ordinary places. To tell these stories, Mark has a voice that is as comfortable as a favorite coat."
Brine uses the term "Americana" to describe his sound, explaining that he means to take the listener back to a time that no longer exists.
"One of my favorite artists is Norman Rockwell," he said. "Though some don't agree, I consider him a true folk artist, and he had an amazing ability to capture a moment in time. That's what I'm trying to do with my music. I want to capture that moment in a song."
All told, Brine has released more than 20 singles or albums and CDs, and has performed throughout the United States and Europe.
From rock to folk to country
Though Brine now lives in Baldwin, Md., he's a native of Cambridge, Mass., where he grew up listening to his uncle's favorite country music — songs by such music legends as Hank Williams, Sr., Roy Acuff and Hank Snow.
When he was 10, Brine's parents bought him a guitar. And when he was 13, he formed a band. Unfortunately, it didn't really get off the ground "because we didn't really know how to play!" he recalled with a laugh.
In time that problem got solved, and Brine began writing and performing throughout New England. He started out playing lead guitar in a rock band called Trans-Atlantic Subway. The group signed to a local recording label and released a single, "Servant of the People."
After six years with the rock group, Brine left, turning to folk music. He performed throughout New England in the late '60s and early '70s. "That was the height of the folk music boom," Brine said.
But in time he couldn't deny his musical roots, and became increasingly interested in playing the kind of traditional country music he had grown up listening to. In 1974, Brine moved to Nashville to pursue a career in country music.
His timing was somewhat off. "Unfortunately, that kind of music — what some were calling "hillbilly" music — was falling out of favor, even in Nashville," Brine said.
But eventually he signed a publishing and recording contract, and released three singles in 1978: "Hello Lady," "Coming Home to Love," and a cover of the Bee Gees' "Words."
In 1979, after switching labels, he released the singles "The Carol" (also known as "The Christmas Carol No One Listens For") and "My Folks Were Like Ma and Pa Kettle."
A new base in Baltimore
In 1985, Brine and his family moved to Baltimore, so he and his wife could raise their son near her family. Still interested in traditional country music, Brine signed with another label and debuted an album called "Return to Americana," followed by "American Pieces."
In 1992, his single, "New Blue Yodel," was released, which caught the attention of his boyhood idol, Hank Snow. Snow invited Brine to appear with him on the Grand Ole Opry, where he described Brine as "a fine young man who I think has a great future."
An album with the same name as the single came out several years later, followed by American Bleak House, a politically-tinged collection of folk-blues songs.
Brine has continued to release songs and albums, including Fortunes: The Best of Mark Brine.
His 2016 CD Folkabilly Bluezgrass earned the following praise in Americana Gazette Review: "If Jimmie Rogers and Hank Williams were cloned into one artist, I would have to say that Brine is it! His music is clever and really hits that old- timey Country bones a lot of us have that tend to stay hidden until we get a treat like this CD."
Brine has been nominated for two Grammy awards, and in 2005, was inducted into the Hall of Fame of the National Traditional Country Music Association.
He returned to Nashville for a time, but moved back to Maryland two years ago so that he and his wife could be closer to their grandchildren.
Tough to make a living
Though Brine has stayed true to his musical leanings, the music industry itself has changed through the years. Albums became tapes, which became CDs. And with the advent of mobile technology, music lovers are just as likely to pirate music online as they are to pay for it.
"The industry in general is losing money," said Brine. "People don't think twice about stealing music off the Internet. It hurts the small artists like myself. I used to make money on my songs….Now I'm lucky if I see anything."
While Brine doesn't foresee that changing, he's also not about to give up on his lifelong work. Today, he and the Mark Brine Band perform at such local venues as Bakers Tavern in Middle River, the Filling Station in Sparks, and Loafers Sports Bar & Grill in Aberdeen. He also performs solo at area senior centers.
He has also published two semi-autographical novels and two children's books, all with a musical theme (available on Amazon Books).
But it's his music that continues to be both his livelihood and his passion.
"Music is my thing," he said.
Brine is sure to earn more fans from his July 9 appearance on the season 12 opening episode of public television's "Song of the Mountains." That award-winning series (which airs on MPT on Sunday mornings at 4 a.m.) showcases the music, musicians, musical heritage and culture of the Southern Appalachians. Though the episode is not yet available online, an entire Mark Brine concert can be heard at bit.ly/MarkBrine.