Arts
County promoting 'Koreatown'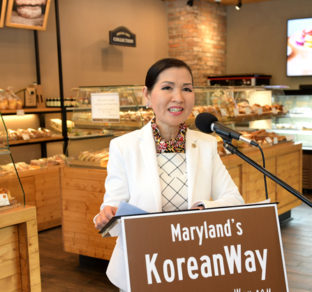 Maryland First Lady Yumi Hogan, above, is behind an initiative to rebrand a five-mile area in Ellicott City as Koreatown. With the designation Howard County hopes to draw more tourists and shoppers to the area's many Korean restaurants, spas and shops.
Photo by Tom Nappi, Office of the Maryland Governor/State Archives
Real estate agent Seong Baik, now 72, arrived in Maryland with her husband and two children in 1970 "to find the American Dream — for a better life and a better education," she said. Baik lived in the Baltimore area for 44 years before becoming a resident of Ellicott City six years ago.
Baik is one of about 13,000 Korean-Americans living in Howard County, according to the latest census data. The county's Korean-American population nearly doubled between 2000 and 2010.
In recognition of the growing importance of this community, a movement is underway to officially name a five-mile stretch along Route 40, now informally known as Korean Way, as "Koreatown" — a designation intended to target the area for further development.
In the past, such names for ethnic neighborhoods might have been looked upon as pejoratives. But times have changed. Today, ethnic enclaves draw tourism and other economic opportunities.
Surveys have shown that one-third of recent Korean immigrants to America are involved in or own small businesses. The Route 40 area in Ellicott City is packed with some 170 Korean-owned businesses.
Among those leading the campaign for the Koreatown designation is Governor Larry Hogan's wife, First Lady Yumi Hogan, who is an immigrant from South Korea herself.
Howard County Executive Calvin Ball has also backed the plan to adopt the Koreatown moniker. Speaking at a recent meeting about the project at Honey Pig, a popular Korean barbecue restaurant on Route 40, Ball said, "Not only have we had an explosion of the Korean population, but I think in the interest of Korean culture, Korean food."
He added that the official Koreatown designation would be "a great economic opportunity, not only for tourism, but to really grow business here….In Howard County we embrace not only diversity, but inclusion and opportunity, and Koreatown is just another example of that."
While no date has been set for the designation, the First Lady said at the meeting, also attended by Korean Counsel General Dong-gi Kim, that she hoped it would be before her husband's second term as governor ends in 2022.
Language classes at the library
Another sign that Korean-Americans are putting their stamp on Howard County is that the county's Miller Branch public library in Ellicott City is sponsoring a program teaching the Korean language and culture. The program, which began last year and ends in April, will be repeated in September.
One participant in the course, funded by the Korean Education Center in Washington, D.C., is Danielle Han, 20, who attended Wilde Lake High School and speaks fluent English. Han took the course to be able to communicate better with her Korean immigrant parents who mainly speak in that language.
Other attendees included a teacher of English for new arrivals, a woman who hosts Korean middle school students in her Ellicott City home as part of as student exchange program, and Stacey Freedman, who is in charge of the student's library at the Miller Branch.
Freedman noted that learning a little of the language could go a long way to clearing up misunderstandings she has had with parents enrolling their children in the library's programs.
"We can be very self-centered, only speaking English," she said. "Say something in their language and people are fairly generous."
The vibrant Korean presence in Howard County also can be seen on a visit to the Bethel Korean Church in Ellicott City. Since the church opened in 1979, it has grown from seven families to its current 2,000 attendees at Sunday services, according to church administrator Susan Choi.
Last October, the church added three new chapels, a gymnasium for sports and social activities, several "flexible" classrooms for the church's youth ministries, a kitchen for catering events, additional landscaping for outdoor "socializing" and new parking lots, Choi said. That's another 49,000 square feet added to the church grounds on St. John's Lane.
Maryland a popular destination
About 100,000 Korean-Americans live in the Washington-Howard County-Baltimore area, making it the third largest U.S. home of Korean-Americans, after Los Angeles and the New York-New Jersey area.
While the 2010 census put the Korean-American population at 1.7 million, it is now estimated to be over 2 million. The majority of immigrants come from South Korea.
A little history: The 1965 Immigration and Naturalization Act revoked the national quota system for immigrants to America and made family reunification possible. A high unemployment rate, political insecurity and military dictatorship caused massive numbers of South Koreans to immigrate to the United States from the 1960s through the early 1980s.
Furthermore, recognizing the country's need for skilled professionals, the U.S. government actively recruited experts and professionals from Asia. From 1976 to 1990, Koreans constituted the third largest group of immigrants to move to the U.S., after the Mexican and Filipino communities.
The Korean attraction to Maryland in particular has been highlighted in the Baltimore Sun, which noted that promotional pamphlets distributed in Korea list Ellicott City postal codes as attractive destinations for would-be immigrants to the United States.
The Korean population in Maryland increased by 30 percent between 2009 and 2014. Many Koreans have settled in Maryland because, among other reasons, the state has a reputation for good schools, according to real estate agent Baik.
For a quick immersion into Korean-American culture, Baik suggested people should attend the 42nd annual Korean American Festival on September 21 at the Howard County Fairgrounds in West Friendship.
Among the festival's attractions will be Korean food, music, craft demonstrations, dance performances, Korean pop stars, taekwondo and face painting.
Two sources of pride
Howard County residents of Korean heritage are proud of both where they came from and where they are now.
Peter Hwang was born in Wisconsin. His father had moved there from Korea after receiving a scholarship to study electrical engineering.
The younger Hwang became an attorney. When he decided in 2009 to open a private civil law practice with a partner, he settled in Ellicott City because he knew many of his clients would be of Korean heritage.
"If I'm asked where I come from, I would say the United States," Hwang said. "But I also, in part, identify myself by my ethnicity. I'm proud to be a Korean-American.
"Part of what makes America great is that despite the diverse heritage, we can all still identify ourselves as Americans," Hwang added.
Attorney Jonathan Ahn, 57, has a similar view. A graduate of the University of Maryland School of Law, Ahn has lived in Ellicott City for 28 years. He came to the United States in 1974 at the age of 11.
Ahn noted that when he was recently donating blood, a young medical aide asked him, "How do you like being in our country?"
"I answered, 'I have been in your country for many years before you were born.'"
He added, "I am an immigrant, and many of us do feel part of a Korean immigrant community — that's our culture. But we are part of the mainstream, and all of us should realize that."