Arts
Crazy about a Gershwin musical revival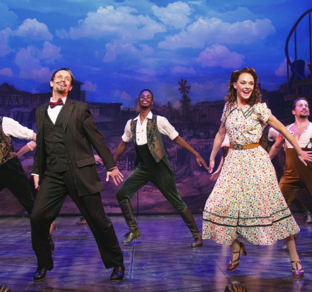 In Signature Theatre's production of Crazy About You, chock full of Gershwin tunes, Bobby Child (played by Danny Gardner) and Polly Baker (Ashley Spencer) — center — kick up their heels with other members of the ensemble.
Photo by C. Stanley Photography
Though the end-of-year holidays are over, it's not too late to experience some of that seasonal spirit at Arlington's Signature Theater, where the revival of Crazy for You continues through Jan. 14.
The musical originally opened in 1992 as a brand-new production largely inspired by George and Ira Gershwin's 1930 musical Girl Crazy, and featuring other songs by the famous duo.
Like more recent shows Mamma Mia and Rock of Ages, Crazy for You is an old-fashioned jukebox musical, created largely by combining classic Gershwin favorites from other musicals, like "They Can't Take That Away From Me," from Fred Astaire and Ginger Rogers' Shall We Dance, and "Nice Work If You Can Get It" from Damsel in Distress, with classics from Girl Crazy, like "I Got Rhythm" and "Embraceable You."
Fitting nearly 20 songs from different shows into a coherent whole isn't always smooth, but book writer Ken Ludwig did his best to create a story that works.
And who needs to focus on the (often silly) plot line when you have the musical genius of the Gershwins combined with the beautiful choreography of Tony-award nominee Denis Jones and the exuberant dancing of the talented cast?
Putting on a show
Crazy for You is the classic story of boy meets girl, girl falls for boy, then discovers he's not who she thought he was, so she slaps him in the face.
You could say the entire musical does the same to its audience, delivering a spellbinding blow that startles and holds you until the final curtain call.
The show opens with the hustle and bustle going on backstage at the "Zangler Theater" in New York in the 1930s, where the "Zangler's Follies" and their brassy dance director Tess are getting ready to perform.
Scenic designer Paul Tate dePoo III earns some extra points here for the cleverly designed set that shows the actors going "on stage," facing away from the audience.
Then we meet aspiring dancer Bobby Child, the son and heir of a wealthy banking family. He's good friends with the girls, and hopes to audition himself for impresario Bela Zangler, who's much more interested in wooing Tess (despite his being married).
After a clumsy trod on Zangler's shoes, Bobby is shooed away, right into the arms of both his shrewish fiancée Irene and his controlling, impassive mother — both of whom want him to grow up and settle down.
To this end, Bobby's mother decides to send him to Deadrock, Nevada to obtain the signature of the owner of the town's theater, which is to be repossessed by their bank.
It's here we get the first big tap dancing song by Bobby (besides his sub-par audition) in "I Can't Be Bothered Now." The number's a smash, and Danny Gardner as Bobby is even better, his voice charismatic, his smile contagious, and his feet flying across the floor. Gene Kelly would be proud.
Charmed by small town
Bobby heads out to the small, once bustling town of Deadrock, which has been nearly abandoned following the collapse of its gold mining industry, less to satisfy his mother than to flee from his fiancée.
At the town's only saloon, he meets the friendly but downtrodden town cowboys — and the only woman left in town, Polly Baker. Suddenly, "Things Are Looking Up" for Bobby.
Tough-girl Polly wants to save the theater, and falls initially for Bobby's charm. Long story short, things don't go as planned, and Bobby ends up laughably impersonating Bela Zangler to put on a show and save the day.
Ashley Spencer is truly sublime as Polly. While certainly light and lithe on her feet, it's her singing voice that captures your heart — a sweet, bright sound that fills every corner of the room during her solos. If only the mikes had better pick up on her big notes during the numbers with the full cast.
The rest of the performers are similarly charming and talented. Maria Rizzio's Tess is especially fun. Her classic, fast-talking New York accent and attitude, alongside her natural charisma, quickly make her an audience favorite.
She's joined by a stunning gaggle of dancing girls, with standout Colleen Hayes as the sweet "dumb blonde" Patsy, who easily could have been obnoxious and clichéd.
The local men are also memorable, including Cole Burden, as Gaston-like character Lank Hawkins, who's "in love" with Polly and doesn't want the show to succeed. Burden makes his character just likable and funny enough not to hate him.
And A. Ross Neal is hilarious as the clumsy and uncoordinated Moose. He gets to be the "star" in Act I's "Slap the Bass," another famous Gershwin tune recalling the slap style of double bass playing that was popular at the time.
Natascia Diaz, as Irene, also gets her shining moment with "Naughty Baby," a number performed exactly as it sounds. Diaz leans into Ira Gershwin's witty lyrics and clever rhymes.
By the show's end, there are no villains left: Zangler, Irene, Bobby's mother and Lank, who began as antagonists, have their stories cheerfully tied up with a bow.
Timeless favorites
Act II's best number is definitely a strange one, with both Bobby (impersonating Zangler) and the real Zangler (who winds up in the town looking for Tess), as they bemoan their sad, unrequited love in "What Causes That?" (from Treasure Girl).
Extraordinarily drunk, the two end up mimicking each other's movement and language, and the resulting scene is played to the hilt by Gardner and Bobby Smith as the two Zanglers.
The rest of the story unfolds with the usual convenient plot twists from the golden age of Hollywood — she falls for him but turns him away, feeling betrayed by his mission in town. Then he finds a silly way of weaseling back into her affections, which backfires. But of course, it all works out in the end.
Though predictable, it's the journey that makes it unforgettable. The large number of songs never feel tired, and apparently neither do the cast, since they sing and dance in so many numbers we get dizzy watching.
In fact, the dancing alone is worth the cost of your ticket. From the solo tap numbers by Gardner, to the swirling couple numbers with Bobby and Polly, à la Ginger Rogers and Fred Astair, Crazy for You just continues sweeping you off your feet until the ovation at the end.
Crazy for You is playing at Signature Theater until Sunday, Jan. 14. Tickets range from $40 to $104, depending on seats. For more information, visit www.sigtheatre.org or call (703) 820-9771.