Arts
D.C. insider turned film writer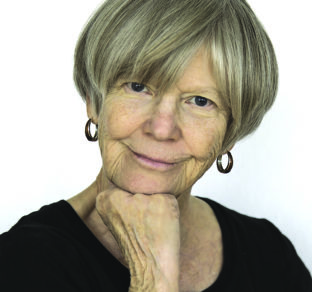 K.C. Bailey's career has taken her from international arms control, at the State Dept. in Washington, D.C., to citrus farming in Hawaii. But through it all, she has continued to paint, photograph and write, exhibiting her work in galleries and publishing important books. Her latest venture is a new feature film called Revenge in Kind, which she wrote and produced.
Photo courtesy of K.C. Bailey
As Deputy Assistant Secretary of State, K.C. Bailey never imagined she'd one day be writing and producing a feature film.
She spent her days working on nuclear weapons nonproliferation policy during the waning days of the Cold War, wrote books on arms control, disarmament and UN weapons inspections, and regularly testified before Congress.
"Every week, I'd brief Senate and House intelligence committees. It was very energizing, because you have to stay on top of arms control and foreign intelligence so you can answer all the very intense questions," she recalled.
But after years of late-night policy making and walking congressional halls, Bailey did a 180. "To say I was burned out was an understatement," she recalled.
She and her husband retired in 1999. At that point, "I felt like I had just been set free from a very nice prison…I wanted to get close to the earth and do something completely, radically different," she said.
So Bailey and her husband left Washington and moved to Hawaii, where they bought a citrus farm and raised chickens — "a subject about which we knew nothing," she said.
"Our little farm was successful, with a high local demand for our limes and chicken eggs. And our golf games even improved."
At the same time, she wanted to spend as much time as she could being an artist and writer.
"I had been painting oil-on-canvas as a hobby since the age of 13 and doing photography since college; now I wanted to be a professional. I'd written quite a bit of non-fiction; now I wanted to turn to fiction."
Both goals were achieved. "During the 13 years we spent in Hawaii, I lived a charmed life, fulfilling dreams," she said. Bailey was able to pursue her passions, producing art exhibited in galleries throughout the U.S., and writing two novels and a screenplay.
But in 2012, her husband unexpectedly died. "I went into a very deep, dark hole. And eventually I decided to do something about it," she said.
A movie about revenge
That something was to try her hand at producing a full-length feature film — again, something she had absolutely no experience with. Bailey had drafted the screenplay in 2004, putting it on the back burner because she had no idea how to proceed.
But the story was important to her. Revenge in Kind is a detective thriller about a murder. But it's more than that.
"Movies seem to always show a woman being assaulted and totally victimized. I'm affronted by these movies. They never show a woman fighting back. They never show it from a woman's perspective," she said.
In Revenge in Kind, stumped by brutal sex-mutilation crimes, Detective Chris Coxon turns to police psychologist Sarah Scott for help. As their relationship evolves, he must deal with Scott's complicated personal history,
Bailey said the movie should cause audiences to "question where to draw the line between self-administered justice and traditional law enforcement. Additionally, I think it is appealing because the protagonist is a strong woman, something we need more of in film today."
Bailey said her sister was assaulted by a man, and that Bailey once fought off an attacker herself, which helped her understand that fighting back matters.
That the movie's release earlier this year dovetailed with the birth of the #MeToo movement is a coincidence, Bailey said.
"Until #MeToo started, women weren't going to wake up to the need to step up to the plate and call out people. And those people wouldn't be punished or called out.
"I think the film is consonant with the #Me Too movement, but not a product of it," she said.
But it was one thing to have a screenplay in hand, and another to actually put her vision on film. "I wanted to make the movie my way. I didn't just want to sell it to somebody and have someone else make it," she said. "I had my own vision.
"I also thought it would be the way to some healing and a way forward if I did something totally new — like [I did] when I left Washington," she said.
All-encompassing work
So Bailey pulled up stakes once again and moved from Hawaii back to Dallas, her childhood home. She poured some of her life savings into the project.
Still, it was a tiny budget. "Tens of thousands, instead of tens of millions," like most Hollywood movies require, she said.
The movie was shot near Dallas, using primarily Texas actors so there would be no airplane and hotel fees to add to the expense.
"I was responsible for the management of the whole filmmaking," she noted. Managing is something "I can do with my hands tied behind my back."
The plethora of details to attend to left Bailey working 16-hour days over four weeks of shooting. For example, filming a fight scene involved far more than just the actors. By law, they had to have a medic on set, and they had to hire a choreographer.
Other problems cropped up unexpectedly. "The first day of filming was supposed to start at 5 a.m. Monday morning at a bar. Friday afternoon [before], I got an email from the bar owner saying he was no longer interested," she recalled.
"This is where my training really paid off. I never do anything without a backup. I have a plan B and even a half-baked plan C for everything."
On those occasions when "I could just watch the filming, I enjoyed that part tremendously," she said.
After the movie was done, Bailey spent months editing the film and its sound and music.
While her budget didn't allow for much marketing, and Revenge in Kind didn't make it into theaters, Bailey said she's grateful that there are so many ways in the digital age for people to see the movie.
It's available on DVD and from Amazon, Google Play and iTunes. The 89-minute movie is even available with Japanese, French and Spanish subtitles.
Next, Bailey said she would like to turn her self-published 1995 novel, Death for Cause, into a movie. It's a suspense novel with characters in hot pursuit of deadly microbes from Vancouver to Jerusalem.
During her multi-faceted career, Bailey has used several different monikers for her various passions. She was known as Dr. Kathleen Bailey while working in Washington, and her film and writing work is done under the name K.C. Bailey.
Her art, however, including painting, prints, photographs and her 2016 book of photography, are under her middle name, Cordelia. (See www.cordeliabailey.com.)
Whatever name she chooses to use, it is clear we will be hearing more from this woman of many talents and abilities.