Arts
Daphne Maxwell Reid enjoys the journey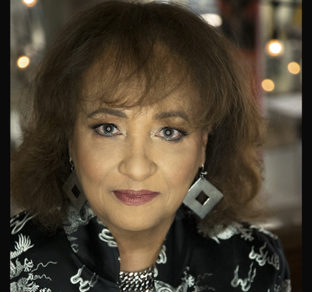 Richmond actress, author and advocate Daphne Maxwell Reid continues to act and serve on boards, but she also has branched out into photography, and published a cookbook/memoir last year.
Photo by Tim Reid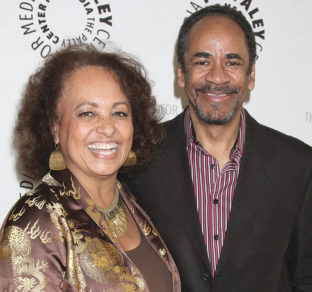 Daphne Maxwell Reid and her husband, Tim Reid, are shown here at a 2014 reunion of television sitcom "WKRP in Cincinnati." Married for 37 years, the couple serves on the boards of Richmond nonprofits and continues to pursue creative endeavors, including their new clothing lines.
Photo by Kathy Hutchins/Shutterstock
Though she recently turned 71, when actress Daphne Maxwell Reid appears at the Senior Connections' Empty Plate Luncheon in Richmond on October 2, audience members shouldn't expect the Richmond resident to talk about her quiet, peaceful retirement.
"I don't retire," Reid said. "I'll take my pension, but I'll still be busy."
Reid has been busy for decades. After graduating from high school in New York, Reid left for Chicago to study architecture and interior design at Northwestern University, where she became the school's first African American Homecoming Queen.
Before long, she found herself flying back and forth between New York and Chicago for modeling jobs, and she became the first black woman to appear on the cover of Glamour.
"I wasn't thinking I had to be a model," Reid said. "I thought, 'This is fun, and when it stops being fun, I'll do something else.'"
Unexpected success
She also had never planned to be an actress, despite having participated as a teenager in a group theater workshop in New York that became the Negro Ensemble Company.
"It was just fun," Reid said. "A black woman could not make a living doing that in the 60s, so I didn't even think about it."
Reid may not have chosen the acting field, but the acting field chose her. Initially Reid scored her first television role on a 1979 NBC miniseries called "The Duke." She worked with actor Robert Conrad on that show for about a year before he moved to Los Angeles.
When Reid's marriage broke up a short time later, the trajectory of her life changed. She ventured to Los Angeles and reconnected with Conrad, who hired her for a new series, "A Man Called Sloane." This time, Reid hired an agent.
"This happened to be a time in L.A. when there were not a lot of black women working, and they were testing the waters," Reid said. "There weren't a lot of people like me, so I got opportunities."
Reid kept getting work without having to look too hard for it. "It was as easy as I'm making it sound because of the opportunities that presented themselves," Reid said. "Actors have to wait to be chosen."
A life partner
A life-changing event occurred when Reid reconnected with Tim Reid, an actor and director also working in L.A. The two had met before in Chicago, but both were married at the time and Reid admits she didn't find Tim all that interesting.
This time, though, they went on what was supposed to be a five-minute date. That five-minute date lasted for five hours. The two married in 1982, and this year will celebrate their 37th anniversary.
With her husband, Reid appeared on "WKRP in Cincinnati" and "Simon & Simon" and then "Frank's Place," written by Tim Reid and Hugh Wilson. She describes that show as having the "richest, most delectable cast, words and situations."
She went on to appear on many famous shows in the 70s and 80s, including "Hill Street Blues," "Cagney & Lacey," "The A-Team" and "Murder, She Wrote."
Then came the show Reid is most well-known for: "The Fresh Prince of Bel-Air," starring Will Smith.
That was the one gig that didn't come easily, Reid remembers. She had the opportunity to audition for the show in its early years, but in 1990 she was overwhelmed after shooting 72 one-hour episodes of "The Tim and Daphne Show," so she declined.
Three years later, the opportunity arose again. The actress playing Vivian Banks left, and Reid was asked to audition.
"It took me two and a half weeks and about four auditions to get that part," Reid recalled. "And I was so happy to get that job, I cried."
Reid loved working on "The Fresh Prince" for its last three seasons, and she made connections with people who remain a central part of her life decades later. Even today, fans who meet her ask, "Mind if I call you Aunt Viv?"
She recently filmed a role in Harriet, an upcoming film about Harriet Tubman directed by Kasi Lemmons, whom she knew in LA.
For the past couple of years, she has appeared on "Jacklyn and Jilly" as the mother of director and actress Victoria Rowell. That hasn't been too much of a stretch: Reid played Rowell's mother in a film years before, and it turns out the two are distant cousins.
Reid is excited to see more black female producers and directors like Lemmons and Rowell. "It's the empowerment we've been waiting for, and I want them to keep running with it," Reid said.
"I can run with them for a little bit, but I can't carry the ball anymore."
Giving back
Instead of acting, Reid has given much of her time and gifts to the community. She served on the board of Virginia State University for eight years, as well as on the board of Virginia Humanities. She is currently on the board of ChildFund International and the Richmond Ballet.
While working and volunteering, Reid has also used her skills to design and make clothing, and she has published a cookbook/memoir.
An avid traveler, Reid is also now a photographer. For years, she would take photos of the doors she saw while traveling abroad.
"Friends will be walking along the street with me," Reid said, "and I will have run down an alley because I saw a door and wanted to take a picture."
Encouraged by friends and family to take her photography seriously, Reid exhibited and sold her work, created postcards of her images, and published four books of doors from different travel destinations.
After a few years of composing images of doors, Reid started to realize what doors symbolize for her: opportunity, curiosity and adventure.
Throughout her life, Reid's lighthearted curiosity has pushed her to pursue opportunities that have led to adventure. During this transitional stage of her life, she remains willing to try new things.
"I have no idea what comes next." Reid said, "But I'll enjoy the journey."
The Empty Plate Luncheon will take place October 2 from 11:30 a.m. to 1 p.m. at Trinity Family Life Center, 3601 Dill Rd., Richmond. Proceeds support vulnerable older adults in the Richmond area. For more information, call (804) 343-3045.