Arts
Designing sparkling careers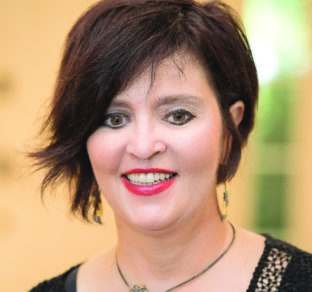 Lori Gottlieb transitioned from being a surgeon to a jewelry designer after she developed a debilitating vision condition. She will be participating in the national American Craft Show at the Baltimore Convention Center Feb. 23 to 25, and also sells her work online and at two local stores.
Photo courtesy of Lori Gottlieb
Dr. Lori Gottlieb's eyes started to blur and she developed double vision about 14 years ago, but numerous surgeries couldn't help her. She realized that her life as a general surgeon was over, so she walked away from her medical career.
Still being good with her hands, she turned to crafts. For a while, because her eyes function at varying levels throughout the day, she was making pots. "But there are only so many pots you can have," Gottlieb laughed.
"Just for fun," she took a jewelry class at the Maryland Institute College of Art — and found her calling.
"I truly believe that art makes the world a better place, and wearable art is even better," said Gottlieb, who is 59 and lives in Owings Mills. "It's art that's not hidden away [so] that only you can see. It's art that anyone who sees you can enjoy as well."
Working with hands, head
Jewelry-making and surgery are not dissimilar, according to Gottlieb. They both involve problem-solving, and working with your hands and your head. "At the end of the day, I see what I have accomplished," she said.
Once Gottlieb decided to commit to life as a jewelry designer, she jumped right into exhibiting her work at high-end shows like the American Craft Show, which will take place at the Baltimore Convention Center from Feb. 23-25.
Her pieces are also sold online through her website, LoriMegDesigns.com, and on ArtfulJeweler.com and ArtfulHome.com. She also sells them locally at Y:ART Gallery and Fine Gifts and Panache.
Calling her jewelry "organic" in nature, Gottlieb observes that the flowing lines found in her pieces are due in part to her vision problems. "Straight lines are difficult for me," she said, adding that because she also spends a lot of time bike riding, she sees the world in a "blur," with textures and shadows racing by.
Gottlieb said she designs for 40- to 70-year-old year-old independent, confident women who like to make a statement with their style. Her pieces are made from oxidized silver and gold, with natural surface stones such as druzes — tiny quartz crystals that form within or on the surface of other stones.
"The stones tell me what the design will be," said Gottlieb. Her collections reflect the various themes the materials lead her to create, such as the Astro Collection — inspired by the beautiful crystals in the astrophyllite stone — and the Desert Rose Collection — inspired by desert rose, a variety of the mineral gypsum.
Gottlieb will be among more than 650 artists showcasing their work at the American Craft Show, along with fellow Baltimorean, good friend and jewelry designer Shana Kroiz.
Crafting wearable art
Unlike Gottlieb, Kroiz never deviated from her path as an artist. The Baltimore native, who is 50 and lives in Mount Washington, attended the Baltimore School for the Arts, New York's Parsons School of Design (from which she earned a Bachelor of Fine Arts in metals), and Towson University, where she earned an MFA.
She is the previous founder and director of the MICA Jewelry Center, and was the director of the 92nd Street Y's Jewelry Center in New York City. Now, she also teaches at the Baltimore Jewelry Center.
Kroiz said she loves the technical aspect of making jewelry as well as the ability to wear what you've made. Known for her colorful enamel work, Kroiz describes her jewelry as "sensuous," echoing the human figure. She is also inspired by aquatic themes.
Kroiz acknowledges that selling jewelry these days is not without its challenges.
"The craft circuit is changing, as artists are aging or retiring," she explained. And the rise of Internet sales requires artists like Kroiz and Gottlieb to be experts not only in their craft, but in such skills as social media and blogging.
"Expectations are higher," said Kroiz. "Customers want us to provide the same services they would find in a store, from packaging to marketing to photography.
"You have to wear a lot of hats these days," Kroiz continued. "I live my life as an artist, but I also have a smooth machine to present myself and keep the business end going."
Interestingly, Kroiz notes that most of her clientele comes from Florida, where women tend to "dress up" more and wear "bolder" pieces of jewelry.
But Kroiz has no intention of leaving Baltimore even though there are other cities, like New York or Los Angeles, where fashion is more a part of everyday life. "I have a beautiful lifestyle here," she said.
Locally, Kroiz is represented at Rebecca Myers Design, online at ArtfulJeweler.com and ArtfulHome.com, in galleries in New York and Maine, and on her own website, ShanaKroizJewelry.com.
Attending the craft show
Though they both live in the area, Kroiz and Gottlieb are happy they will be connecting at the American Craft Show.
"There's a whole 'show family' that we look forward to seeing every year, including each other," said Gottleib. "We all go out to dinner together, and we commiserate or rejoice together, depending on how the day has gone."
The American Craft Show will take place at the Baltimore Convention Center, One West Street, on Friday, Feb. 23, from 10 a.m. to 8 p.m., Saturday, Feb. 24, from 10 a.m. to 6 p.m.; and Sunday, Feb. 25, from 11 a.m. to 5 p.m.
On-site admission is $16 for a one-day pass, and $36 for a three-day pass. Advance tickets cost $14 for a one-day pass, and $34 for a three-day pass. On Friday night after 5 p.m., tickets for the rest of that evening can be purchased for $5 on site.
Guests can purchase passes online at www.craftcouncil.org/baltimore. Such tickets may be printed and brought to the door. You can visit Lori Gottlieb at Booth 416 and Shana Kroiz at Booth 312.