Arts
Dreamgirls sparkles and shines at Toby's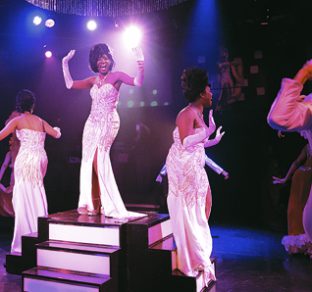 Toby's Dinner Theatre's production of Dreamgirls includes 32 infectious song and dance numbers, as well as more than 25 shimmering cast members in a show that focuses on three young R&B singers and the producers who scheme to get them to the top of the charts.
Photo by Jeri Tidwell Photography
Dreamgirls, the musical melodrama, is glittering again at Toby's Dinner Theater in a production that is scintillating, exhilarating and, finally, exhausting — though not in a bad way.
This is Toby's third production of the multiple Tony Award-winning play. And the cast, both newly minted and repeat performers, puts heart, soul, guts and more soul into the almost-always singing and dancing action that storms across the dinner-theater's stage for nearly three hours.
Of course, we old-timer followers of the 1960's-'70s entertainment scene are led to think of Diana Ross and the Supremes, James Brown, Little Richard, and those offstage movers and groovers like Berry Gordy Jr. — all of whom the creators of Dreamgirls have insisted over the years are not the real-life models for the characters of the musical.
Let's just say coincidences abound between the real-life and stage-life purveyors of the pop R&B scene who are rolled out for this show about three young women who go through lots of manipulating, mostly by scheming guys, to get to the top of the charts. In the star-building process, lives are damaged and forever changed.
The audience- and critics-pleasing play was directed and choreographed on Broadway in 1981 by Michael "A Chorus Line" Bennett, winning six of its 13 nominated Tonys.
It was transferred to the big screen in 2006, and featured Beyoncé, Eddie Murphy, Jamie Foxx and Jennifer Hudson, who picked up an Oscar for best supporting actress.
It skipped across the waters for a London premiere late last year, and that production is reportedly going to skip back to Broadway in 2018.
Emotional story line
Much emotional wrenching, shouting and tear-flowing goes on in the story line and within the wonderful songs that are sung and danced to.
Romances between the young women and their managers heatedly ebb and flow, including the pairing (then breakup) of the Dreamgirls lead singer Deena Jones and the group's manager, Curtis Taylor Jr. (A coincidence, of course, that this resembles the comings and goings of one-time business and romantic partners Diana Ross and Motown chief Berry Gordy Jr.)
Played down, but what perhaps should have been accented more, is how the talents of soulful black performers had to be toned down for them to make the bright lights in a still mostly square white America.
There are a few mentions of the big-hit "covers" by white performers of songs first soulfully emoted by black performers. An example: "Hound Dog" — an all-time hit by Elvis Pressley — was "borrowed" from Big Mama Thornton, who had fashioned it as an original bluesy lament.
Also just hinted at is the way many black R&B performers were short-changed by record producers in those far-off days when records were still being "cut."
Energetic performances
Anyway, in this current production, the performers are the thing.
Let's point out — while feeling somewhat apologetic for not noting so many others in the top-notch cast — the outstanding performance of Bryan Jeffrey, who's certainly got the feelin' as he goes slippin' and slidin' through his James Brown-Little Richard character of James Thunder Early.
Crystal Freeman also excels as Effie, the former Dreamgirl who is shaken awake when she is given her walking papers by the trio's very controlling manager. She brings down Act 1's (figurative) curtain, as well as the dinner theater house, as she emotes to the song "(And I Am Telling You) I'm Not Going."
Then there's Sequina DuBose as Diana, er, Deena Jones, who sweet sings her way to night club stardom before quitting the trio to go on to something "more important" (like the movies and a solo act).
And there's DeCarlo Raspberry, as Curtis Taylor Jr., who is as sharp and knowledgeable in the music business as he is creepy and manipulating in his personal relationships.
Kevin McAllister is the director who moves it all along at an almost breathless pace, while the sequined and beautifully draped costumes by Lawrence B. Munsey sparkle and glitter.
Much of the latter is due to lighting designer Lynn Joslin's flashing colored globes and cubes, which come alive along the walls to give added sparkle to the costumes and the performers on the minimal dinner theater stage.
The music is directed and orchestrated by Ross Scott Rawlings, and the dancing is choreographed by Shalyce Hembey. There are 32 — count 'em, 32! — musical numbers in the show, including reprises.
The singing and dancing to such numbers as "Cadillac Car," an ode to making it big in the big time, and the wild and wooly "Steppin' to the Bad Side," are performed by just about everybody in the 25-plus member cast.
The solo shout-outs — the aforementioned "I'm Not Going," as well as "I Am Changing," by Effie, as well as the James Brown-Little Richard-James Thunder Early take on "Baby-Baby" — had the couple hundred audience members movin' and groovin' in their seats.
It's too bad there's not enough room at Toby's for dancing in the aisles.
Performances and tickets
Dreamgirls continues through Nov. 12 at Toby's Dinner Theatre, located at 5900 Symphony Woods Rd. in Columbia.
Doors open at 6 p.m. for dinner prior to the evening performances Tuesday through Saturday, which begin at 8 p.m. For Sunday evening performances, which begin at 7 p.m., doors open at 5 p.m. for dinner.
On Wednesdays and Sundays, there are matinee performances, which open for brunch at 10:30 a.m., with shows beginning at 12:30 p.m.
Reservations are required. Ticket prices range from $45.50 (for children under 12) to $64, depending on the performance. Tickets for those 65+ are available Tuesday and Wednesday nights, as well as Wednesday matinees, for $51.85. Ticket prices include buffet dinner or brunch, tea and coffee. Specialty alcoholic drinks are priced separately.
Toby's buffet-style meals offer something for everyone. Dinners feature roast beef, BBQ ribs, fried chicken, roast potatoes, cocktail shrimp, a variety of vegetables and salads, and more. Cake and unlimited ice cream are also included. You can also arrange to have coffee or alcohol brought to you during intermission.
At Toby's, the show's actors also wait on tables. Their tips constitute much of their pay for their performances, so be sure to tip well.
For more information or to reserve tickets, call (410) 730-8311 or visit www.tobysdinnertheatre.com.