Arts
Entertainer says it all started with Santa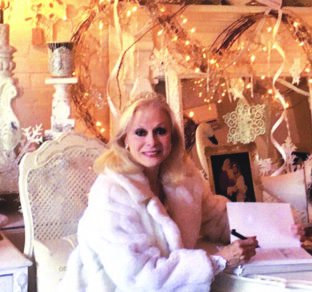 Donna Deekens served as the Snow Queen (Santa's helper) at Miller & Rhoads department store for 20 years. In recent years, she has written several nostalgic, holiday-themed books based on the experience, including her memoirs as a Snow Queen and a biography of the "real Santa," Bill Strothers, with whom she worked all those years.
Photo courtesy of Donna Deekens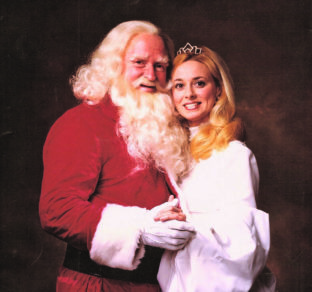 In this photo from the 1970s, Donna Deekens poses with Santa, portrayed at that time by Arthur "Chuck" Hood.
Photo courtesy of Donna Deekens
Were you in Richmond for Christmas between 1971 and 1991? If so, Donna Strother Deekens is probably part of your holiday memories, whether you know it or not.
If you were a child, parent or perhaps very young grandparent who made the trek to see Santa in downtown Richmond, or read about Santaland in the local newspapers, then you probably saw Deekens as the Snow Queen — Santa's helper at Miller & Rhoads department store and, after M&R had closed, at Thalhimers department store.
You might even have had a holiday lunch at the M&R Tea Room, when Deekens sang as the Snow Queen with a favorite Richmond accompanist, Eddie Weaver, at the piano.
What first brought the 5-year-old Donna Strother and her family from Portsmouth to a Richmond Christmas at M&R was the store's reputation for its Santa. By coincidence, the man who played Santa happened to have the same last name as theirs. But it was years before Deekens confirmed that Bill Strother was a distant cousin of hers.
Related or not, he was the Santa everyone loved to visit.
"Everyone in Tidewater at that time either came — or wanted to come — to Richmond for Christmas," said Deekens, whose family ended up moving to Richmond in 1963 when C&P Telephone Company transferred her dad here.
"Miller & Rhoads' Santa was the Santa I visited as a child. He was the epitome of Santa — magical and fatherly, a Fred Rogers figure who talked to children calmly and reassuringly," she said, which led to him being known as "the Real Santa."
The road to Snow Queen
At five, Deekens couldn't foresee that she would later have a role with that magical figure, but looking at events in Deekens' childhood provides insight into her later life in terms of the skills and personality traits on which she built success.
Her confidence began building when she started private voice lessons in elementary school at the urging of both the children's choir director at Portsmouth's Cradock Methodist Church and her piano teacher, Mary Hoffler.
She holds fond memories of Hunter Purdie, director of chorus and band at Tuckahoe Junior High School, where she was a cheerleader, and of Nancy Shield and Vicki Nalls, for the chorus at Douglas Freeman High School, where Deekens became a majorette.
She went on to take dance instruction from Richmond's Marian Meese and voice from Helen Rhodes until her graduation from Freeman in 1969.
"All of my teachers were very encouraging to me," she said. Albert Biddle, drama teacher at Freeman for almost 40 years, was another mentor. Deekens played the female lead in the musical, The Fantasticks under his direction.
Taking advantage of entertainment-related opportunities at the University of Richmond's (UR) Westhampton College, she reprised her cheerleader role from junior high school. But she found her forte as a soprano in the college's concert choir under the direction of the renowned Jim Erb.
As a college sophomore, she was asked to be a member of Thalhimers' 'Deb Council,' While on the council, she participated in ribbon-cuttings and modeled for bridal and themed fashion shows.
But she says her most influential college experience was traveling with 41 other members of the concert choir to Europe in 1971 — "nine countries in three weeks," she recalled. "We were the first UR college choir to travel to Europe.
"Later, I applied for a position at Miller & Rhoads. The person interviewing me saw my varied entertainment background and said she thought I'd be a good fit for a Snow Queen position," Deekens recalled. (Several queens were required to cover day, night and weekend shifts during the busy holiday season.)
Little did she know at the time that she would continue in that role for more than 20 years.
The real deal
For decades, visitors to Miller & Rhoads' Santaland in Richmond raved about "the Real Santa." Asked about what made the store's Santa more real than most, Dorman Hartley, retired M&R vice president and director of its 24 stores in Va. and N.C., said, "Because he is real — he must be about 150 years old by now, but he's real!
"Everything about Santa and the whole setting was so authentic," Hartley added. "[Bill Strother] was a former California stunt man, and it was his idea to have a hearth with a huge chimney next to his and the Snow Queen's chairs. There was always a crowd of onlookers to watch him emerge from that chimney at the beginning of every day during the holiday season.
"I also think the Snow Queen was a big part of the perception that M&R had the real Santa. Her biggest job was to get the first name of each child and speak it into her [hidden] mic, which Santa could hear. That meant Santa greeted each boy and girl by name when they came to sit on his lap, and they thought, 'Wow, this really is Santa — he knows my name!'"
College and family life
Graduating from UR with studies in theatre, music and journalism, Deekens was able to transfer a bit of Snow Queen magic to the rest of her personal and professional life.
She worked in public relations, marketing and fundraising for governmental, corporate and nonprofit organizations. She also performed professionally as an actress, soloist, entertainer and public speaker.
But she always returned to her Snow Queen role at the end of each year. Deekens even used her vacation time when she was D.C. press aide to the Rep. David E. Satterfield III, who represented Virginia's 3rd district in Congress, to return to Richmond and be Snow Queen again.
She met her husband of 41 years, Bill Deekens, on a blind date. Of course, getting married wouldn't interfere with continuing as the Snow Queen. When their sons were born in 1985 and 1990, her appearances even took on added meaning.
"Our boys, Brent and Greg, always knew that Mom had an 'in' with 'the real Santa.' They knew Mom was a Snow Queen, but they thought the one they saw when we took them downtown [to Santaland] was [one of my helpers.] I didn't want to miss that experience from a 'mom and dad's' point of view. They also came to hear me sing in the Tea Room when I performed as Snow Queen."
The real Santa also paid a visit to the Deekens home for many years for a private party for family and friends' children. And each season, Santa would give them a personal telephone call as well.
Deekens admits taking advantage of this relationship to help keep Brent and Greg in line. "I would tell the boys that I might have to report any naughty behavior of theirs to Santa. That seemed to help, at least in their early years," she recalled.
A series of books
It was a short step from having Snow Queen experiences to writing about them. Deekens had jotted down notes through the years on stories she recalled, and pursued a contact at the History Press, which she got from George Bryson, an M&R vice president and co-author of Under the Clock: The Story of Miller & Rhoads.
"The History Press was willing to take a chance on me — never having published anything," Deekens said. "I'm happy to say the book, published in 2009 [Christmas at Miller & Rhoads: Memoirs of a Snow Queen], has done very well — reprinted at least six times. It definitely helped that Under the Clock was such a success."
Deekens followed up on her first success with Santaland: A Miller & Rhoads Christmas, a 2010 History Press hardback (now out of print) for ages 3-12.
In 2013, she collaborated with the retired railroad engineer and author, Doug Riddell, on a book, Virginia's Legendary Santa Trains. Deekens considered herself "privileged to ride one of the last Santa trains as a Snow Queen in 1971, sponsored by the RF&P Railroad and Miller & Rhoads.
"I was anxious to tell the history of that magical ride — along with [that of] other magical Santa train excursions throughout the Commonwealth that Doug and I discovered in our [research about] the heyday of the Santa trains — from the 1940s to the early 1970s," she said.
Deekens says she's probably most proud of her 2014 book, The Real Santa of Miller & Rhoads: The Extraordinary Life of Bill Strother. Also published by History Press, the book was "truly a project dear to my heart, as Santa Bill was my childhood Santa, and I was able to confirm in my extensive research that, indeed, he and I are related."
With marketing and event planning in her background, Deekens has been a natural at reaching her audience as an author, according to J. Banks Smither, her commissioning editor at the History Press & Arcadia Publishing, the largest publisher of local history books in the country.
"While Donna is a very good, professional writer, what she excels at is being able to market her nostalgic titles to her audience," he said in a telephone interview from his New York office.
"She knows her audience well. Richmond is very interested in its local history, more so than most communities, I think," Smither added. "Her books reach a segment of the community that remembers what life was like years ago."
Deekens is now moving in a different editorial direction, though one that still involves nostalgia — a book on the history of the Portsmouth neighborhood, Cradock, where she grew up. She plans to pick up the project with two historians in early 2019.
To contact Deekens or order any of her books, email DonnaDeekens@Verizon.net, or call (804) 240-8436.