Arts
Exhibit highlights Marian Anderson's life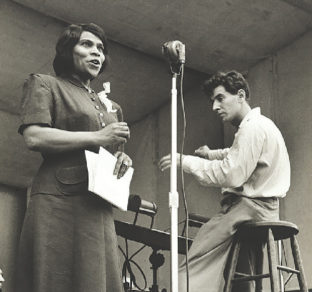 The life of singer Marian Anderson, pictured here with Leonard Bernstein, is celebrated in a National Portrait Gallery exhibit.
National Portrait Gallery
Singer Marian Anderson is perhaps best remembered for her most famous performances. On April 9, 1939, because segregationist policies denied her access to the DAR's Constitution Hall, Anderson sang at the Lincoln Memorial. She performed from the steps of the monument before an integrated audience of 75,000.
In 1942, the DAR changed its policy and invited Anderson to sing at Constitution Hall, and she returned there several times over the years, even beginning her 1964 American farewell tour there.
Another first: On January 7, 1955, Anderson became the first African American soloist at New York's Metropolitan Opera. She performed Verdi's Un Ballo in Maschera several times during that season and the next one.
In its current exhibit, "One Life: Marian Anderson," the National Portrait Gallery hopes to give visitors a more complete picture about the famous singer and civil rights icon. The exhibit, which runs through March 2020, contains many objects from Anderson's personal archive, including photographs and personal effects.
Perhaps of most interest, visitors can access audio and video recordings of Anderson singing spirituals in significant locations. These include "Ride on King Jesus," sung at the DAR farewell concert, "He's Got the Whole World in His Hands," sung at the 1963 March on Washington, and "My Country 'Tis of Thee," which so moved spectators at the Lincoln Memorial. Anderson's repertoire included more than 200 songs, from spirituals to lieder (German art songs).
"These recordings will give you chills," said Leslie Ureña, associate curator of photographs at the Portrait Gallery. "People spoke about being carried away by her voice."
A role model
Anderson's distant cousin, Sandra Grymes, whose family lived in the singer's native Philadelphia, gave her stamp of approval to the Portrait Gallery exhibit on her famous ancestor.
"Her voice was distinctive," Grymes said of the celebrated contralto. "She could sing about four octaves, sometimes hitting beautiful soprano notes."
Beyond the beautiful sound, she added, "Anderson emphasized the meaning and emotion. She was a great storyteller with a special aura and presence."
Her impressive voice was evident at an early age. By age eight, she was part of a church choir, touted as the "baby contralto."
Anderson was fortunate to have family support in furthering her musical interests. Still, she encountered setbacks, including discouraging teachers and a school that would not admit black students.
By 1919, though, Anderson was working with Giuseppe Boghetti, a voice teacher who enrolled her in a competition that she won. Anderson performed in New York's Lewisohn Stadium in 1925, then went on to study in Europe.
Though Anderson was aware that she was a "symbol" who opened doors for other African Americans, she was very modest and uncomfortable with the label. "She said she'd rather be a role model," Ureña said.
A life in pictures
Among the extraordinary people the gallery has presented in earlier "One Life" exhibits were Martin Luther King Jr., Sylvia Plath and Katharine Graham.
The Portrait Gallery series presents a "visual biography that allows us to delve more deeply into one person's impact on many strands of American history," Ureña said.
The current exhibit features photographs of Marian Anderson performing at the Lincoln Memorial, as well as the program from that performance. At a kiosk, visitors can hear her 1963 performance at the March on Washington.
Anderson appears in photographs with two of the then-luminaries of the musical world — composers Leonard Bernstein and Aaron Copland. Another photo shows her with Eleanor Roosevelt, a longtime friend, presenting the Spingarn Medal to Anderson in July 1939.
Perhaps most poignant is a photo of the singer standing on a bare stage at the Metropolitan Opera with general manager Sir Rudolf Bing, who had invited her to the Met.
Style and substance
There was another side to Anderson: an elegant fashionista who wore fur coats and designer dresses.
Her glamour is evident in a gelatin silver print by Irving Penn, depicting her in a long black gown, and another by Richard Avedon, the famous portrait photographer. In an oil painting he created from memory, Beauford Delaney depicted the singer in striking yellow.
The singer, who was married, had no children of her own, but she had a strong bond with her nieces and nephews, particularly James Anderson DePreist, a conductor.
"She was a presence in my life growing up and very close to her family," Grymes said. "But it wasn't until she was a teenager that I realized how famous she really was."
The Marian Anderson exhibit may be viewed at the gallery's One Life room through May 17, 2020. The Portrait Gallery, part of the Donald W. Reynolds Center for American Art and Portraiture, is located at 8th and F Streets, NW, Washington, D.C.
"One Life: Marian Anderson" coincides with two other Smithsonian Initiatives: The 2019 Year of Music and the Smithsonian American Women's history initiative, "Because of Her Story." For more information, call (202) 633-1000 or visit si.edu.