Arts
Experts provide sound advice on aging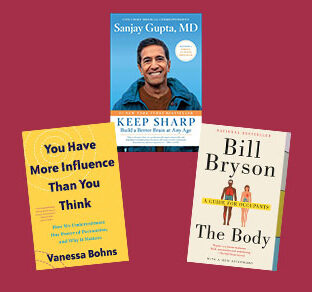 The Bibliophile
Here are several helpful books that focus on health and wellbeing as we age.
Keep Sharp: Build a Better Brain at Any Age, by Sanjay Gupta, MD, 336 pages, Simon & Schuster paperback 2022; 12 Weeks to a Sharper You: A Guided Program, by Sanjay Gupta, MD, 190 pages, Simon & Schuster paperback, 2022
Many of us are familiar with the reassuring, no-nonsense approach of CNN's Chief Medical Correspondent Dr. Sanjay Gupta. He is a practicing neurosurgeon and associate professor of neurosurgery at Emory University School of Medicine.
In Keep Sharp, Gupta presents in a well-organized format his conclusions on optimizing mental fitness. His approach is based on research that shows that the brain is resilient and can be improved at any age.
He reassures readers that carrying the Alzheimer's gene does not determine destiny. Those who take a proactive approach can overcome genetic proclivities.
Gupta explores in depth these pillars of brain health: move, discover, relax, nourish and connect. He debunks the value of "superfoods."
He describes the latest scientific findings that may show how to reverse and slow dementia. The doctor insists that older people can master new subjects such as learning to code, paint, speak a new language and play a new sport.
Gupta incorporates his findings into a 12-week program. 12 Weeks to a Sharper You is a guidebook and journal that allows readers to enter responses to specific prompts and monitor their own progress. Follow the recommended exercises and review your progress. The approach is personal and effective.
The Body: A Guide for Occupants, by Bill Bryson, 464 pages, Anchor Reprint Edition paperback, 2021
This comprehensive tour of the human body by septuagenarian Bill Bryson is witty and informative. The Body, which includes 16 pages of illustrations, is a wonderful source of general knowledge about human anatomy that is easy to comprehend.
As people age, their encounters with medical professionals increase. Having a good-natured contemporary as your guide is the perfect prescription. You'll be better informed when you consult with your physician.
Bryson describes and elucidates scientific dead ends, medical miracles and research studies from all over the world. In addition to chapters on specific parts of our anatomy, he writes about pain, sleep, nutrition, infectious diseases, cancer and aging.
After this publication, Bryson announced his retirement from the literary life.
You Have More Influence Than You Think: How We Underestimate Our Power of Persuasion, and Why It Matters, by Vanessa Bohns, 235 pages, W. W. Norton & Company paperback, 2021
If you subscribe to the notion that you are ignored, invisible and are powerless in today's fast-paced tech-centric society, Vanessa Bohns disagrees. She holds a doctorate in psychology from Columbia University and is professor of organizational behavior at Cornell.
In her book, Bohns contends that in almost every aspect of life, we tend to underestimate the degree to which other people take notice of us. Hence, we are not aware of our own power to influence others even in short conversations with strangers.
Bohns writes that we also tend to be too self-conscious. Asking for help from strangers is much more effective than we imagine. The key is to ask directly and in person — it's much easier to decline a request that is emailed, texted or phoned.
Studies show that merely attending an event empowers political leaders and the causes they represent. You needn't be more involved than just showing up to a rally. Numbers count.
In addition, elders exert great influence in our roles as mentors and grandparents. We wield a disproportionate amount of power over those who look up to us.
In 2021, You May Have More Influence Than You Think was named to its annual list of best books for ethical leaders by the Notre Dame Deloitte Center for Ethical Leadership. The commendation elaborates, "Bohns shows that by experiencing our influence and fully understanding it, we can take steps to wield it not just more effectively but also more ethically."
Correction: The print version of this article refers to National Geographic Books as the original publisher of the book You Have More Influence Than You Think. In fact, the publisher is W. W. Norton.