Arts
Expressing our inner essence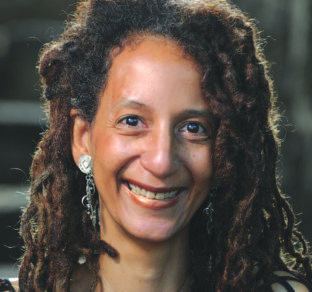 Poet Linda Joy Burke is pleased that there are an increasing number of venues where people can read and hear poetry. She is a Columbia Festival of the Arts Poetry Slam winner, and a 2013 Howard County Women's Hall of Fame inductee. For those who want to hear and learn more about poetry, the Blackbird Poetry Festival will be held on April 26 at Howard Community College.
Photo by David Hobby
Iambic pentameter, free verse, quatrains and a haiku or two will resound around Howard Community College on April 26, as students, local writers and prize-winning poets Marilyn Chin and Joseph Ross gather on the Columbia campus for the 10th annual Blackbird Poetry Festival.
The all-day event, co-sponsored by HCC and HoCoPoLitSo (the Howard County Poetry and Literary Society), will be filled with student workshops, book sales and, of course, poetry readings.
April has been designed National Poetry Month since 1996, and April 26 is nationally designated as Poem in Your Pocket Day. On that day, we are all urged to carry a poem in our pockets and share it with colleagues, students, significant others, passersby, and the like.
Beware that the poetry police will be on duty at the HCC event, distributing "citations" to students and staff who are found to be without a poem in their pocket. On the other hand, the police will hand out rewards to those who carry a verse, according to HCC authorities. No further information could be attained by press time as to the specific penalties and rewards.
Why poetry matters
So, after all is said and sometimes rhymed, just how important is poetry in today's world? Here is what some prominent Howard County poets have to say.
"Poetry matters today more than ever," according to Ann Bracken. "Over and over, I've witnessed poetry serve as a natural vehicle for people to express secrets and longings, as well as deeply held beliefs."
The Columbia poet has offered writing workshops in places as diverse as community education centers and prisons. She has learned that, through poetry, "Kids have talked about their lives in ways that are surprisingly deep, and incarcerated people share the same regrets and longings as all of us."
Bracken, who puts her age "on the right side of 60," is the author of two poetry collections: No Barking in the Hallways: Poems from the Classroom and The Altar of Innocence.
Mike Clark, 78, answered whether poetry matters by asking: "Does your first love matter, your first born child, the death of a friend?"
"Poetry," said the retired journalist (who covered Howard and Anne Arundel counties for the Baltimore Sun) "deals with these sensibilities, making us more human, and possibly hopeful that lifting the veil allows us to come to an understanding of what matters, whether it be in joy or sorrow."
Clark, a resident of Ellicott City, added upon reflection, "I think we move through life sometimes unaware of purpose or meaning until we are re-awakened. And poetry offers that opportunity to us."
At the same time as providing such profound answers, Clark prefers to describe himself as" just some guy who writes poetry" rather than calling himself a poet. He offered these written words:
this poem
is to remind you
that all your life
that has just past
is just a prelude
for the surprise
awaiting you
inside the
crackerjack box
your grandson
is opening.
Of the local poets interviewed, Linda Joy Burke of Columbia is perhaps the most sanguine regarding both its present state as well as future.
"Poetry is actually widely celebrated with an ever-growing number of traditional and non-traditional venues," she said.
The 61-year-old, who writes poems, fiction and non-fiction features, is also a 2013 inductee to the Howard County Women's Hall of Fame.
"Every night of the week, poetry is being read (and spoken word is being performed) in the DMV [District of Columbia/Maryland/Virginia area]. Emerging and established voices gather in coffee shops, libraries, community-based open mics, in bars, tea shops, restaurants, and on university and college campuses," she said.
She added: "I think that poetry is celebrated even more now than when I started reading [it] publicly over 40 years ago."
Festival poets
Marilyn Chin, 63, who headlines the festival at HCC, was born in Hong Kong and raised in Oregon. She has been described as an activist feminist poet who explores the intersection of the Asian and American worlds.
In an interview in the Meridians scholarly journal, Chin said: "I see my poetry as the medium for the cross-fertilization of East and West, ancient and contemporary, the traditional and the experimental, the personal and the political — my muse is open to infinite possibilities."
Hard Love Province, her most recent work, won the 2015 Anisfield-Wolf National Prize for Literature, given to writers who confront racism and examine diversity. Other past winners include Martin Luther King, Jr., Malcolm X, Toni Morrison, Maxine Hong Kingston, Gwendolyn Brooks and Oprah Winfrey.
How important is poetry in today's world?"
"One can't 'measure' the value of poetry," said Chin, via email. "That's the wonderful thing about it. For instance, the poem "The Tiger" by Blake — millions of people have read it. The poem's value is immeasurable. In this throw-away-capitalist Instagram society, we need lasting art!"
Also on tap to read his poetry is Joseph Ross, a D.C.-area writer-educator, who founded the Writing Center at Carroll High School, taught at American University, and currently teaches in the English Department at Gonzaga College High School.
Ross, who could also be described as an activist poet, won the 2012 Pratt Library/Little Patuxent Review Poetry Prize for his poem "If Mamie Till Was the Mother of God."
The four-stanza poem recalls the decision of the mother of Emmet Till, the 14-year-old African-American lynched in Mississippi in 1955 for supposedly flirting with a white woman, to hold an open-casket funeral to show her son's disfigured face and body. The last stanza reads:
If Mamie Till was the mother
of God
every coffin lid would be
glass, so even God could see
how baptisms are done
in Mississippi
In an email interview, Ross was also asked about the importance of poetry in our times. His answer:
"Poetry is vitally important today. In a world where words are meaning less and less — think of 'alternative facts' and 'enhanced interrogation techniques' — our language is under attack. Poets and other writers have a responsibility to speak the truth, to write the truth."
He said that, through his teaching, he sees poetry "keeping young people alive. Many young people use poetry as a creative outlet to share their feelings, to think through on a page the messiness of human emotions."
He further noted that poetry "is not Twitter. It's not a Pop-Tart. Poetry invites us to breathe, slow down and look carefully, lovingly, honestly at the world around us."
At a HoCoPoLitSo event some years ago, the late great poet Stanley Kunitz, told an audience what he thought poetry was about:
"Poetry is most deeply concerned with telling us what it feels like to be alive at any given moment. Before there were poets, there was no evidence of what it was like to be a human being on this earth," said the two-time U.S. Poet Laureate.
Do you write poetry? If so, consider entering one or more of your poems in the online Beacon Celebration of the Arts competition, which opens April 1. Winners will receive cash prizes and be honored at expos throughout the area. For complete rules, visit bit.ly/BeaconCelebration or go to the Beacon website: http://www.TheBeaconNewspapers.com.
---
The Blackbird Poetry Festival
 
Among the festival events:
"Morning Songs" — at Duncan Hall Room 100. A mix of readings and interactive poetry exercises for literature students. Poets Chin and Ross will attend. The activity is open to the public.
"Sunbird" — 2:30 to 4:30 p.m. at the Smith theater in the Horowitz Center for Performing and Visual Arts. Poets Chin and Ross will be joined onstage by students, local poets, faculty and staff for an afternoon of poetry. The event is free and open to the public. For those who would like to read at the event, contact rmay@howardcc.edu.
"Nightbird" — Smith Theater, 7:30 p.m. Marilyn Chin will read from and discuss her most recent book of poems, Hard Love Province, and other works. Admission tickets are $20 for the general public ($15 for those 60+ and $10 for students). The tickets are available online at http://www.brownpapertickets.com/event/3209754 or by sending a self-addressed envelope and check payable to: HoCoPoLitSo, 10901 Little Patuxent Parkway, Horowitz Center 200, Columbia, MD 21044. A book-signing will follow the reading.
For more information, see http://bit.ly/BlackbirdPoetryFestival or call HoCoPoLitSo at (443) 518-4568.