Arts
Exquisitely crafted furniture as sculpture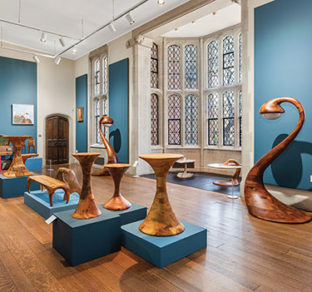 The swooping wooden creations of the late Sam Forrest are on display at the Branch this month. Forrest, who died last year, spent 50 years creating furniture for local families.
Photo courtesy of the Branch Museum of Architecture and Design
Housed in a Tudor Revival mansion on Monument Avenue, the Branch Museum of Architecture and Design is posthumously exhibiting the work of local artist Sam Forrest, who created unique works of furniture as graceful as they are functional.
Forrest, who passed away last May, learned his craft in the late 1960s at Richmond Professional Institute (RPI, which later became Virginia Commonwealth University) from Alan Lazarus, the founder of the woodworking department there.
Lazarus, in turn, had been trained by Wendell Castle, the father of the studio furniture movement, whose followers hand-crafted individual pieces of furniture in their studios, blending sculpture with functionality. Lazarus pioneered the stack lamination technique to create furniture, bonding wood together to mold it into sculptural shapes.
The exhibition, titled "Atavistic Memories: The Studio Furniture of Sam Forrest," showcases Forrest's role in the movement.
"We wanted to focus on [Forrest's] really important lineage in the American studio furniture movement, which is something a lot of people don't know about him," said Sharon Aponte, executive director of the Branch.
Discovering inner talent
Sam Forrest was born in 1936 in nearby Mathews County. In 1968, after a stint in the Navy and work as a parole officer, Forrest used the money remaining from his GI bill funds to study in RPI's woodworking program.
It didn't take long for Forrest to develop an obsession with designing and making furniture. In fact, after a year of taking classes, he left RPI to begin his career.
"I discovered this talent I never knew I had," Forrest told reporters from the Richmond Times-Dispatch in 2015.
At different periods of his life, Forrest had studios throughout Virginia, including in a carriage house in Churchill, in an abandoned rock quarry in Louisa County, in an old Richmond gas station, and at Hyco House in Mathews County, where he lived from 2019 to the end of his life.
Forrest worked primarily by hand, using no nails, to create one-of-a-kind pieces, many of which have undulating curves that seem impossible to create out of wood.
"The work synthesizes the amorphic and geometric, bringing harmony to straight and curved lines, reflecting humanity's dual nature," Forrest wrote in his 2014 artist statement.
An adventurer by nature
In the early part of his artistic career, Forrest engaged in a lively bohemian community that centered around the Village Café. He spent time with like-minded artists and friends from RPI, including sculptor Rubin Peacock, who helped put together this exhibition, and bestselling author Tom Robbins.
In the late 1970s, Forrest had grown weary of making furniture and set a goal to circumnavigate the world. The first time he attempted the feat, he made it only as far as Mississippi. The second time, he got to Mexico City, and the third time, he made it to Egypt.
Finally, in 1984, on his fourth try, he successfully made it around the world and documented the journey in an unpublished memoir, "The Sailor's Sample."
Forrest also traveled through Europe and Asia, and worked as a designer for a well-known Chinese design company, Gold Mantis.
After his travels, Forrest returned to Virginia and to making furniture, setting up a studio in Richmond's Carver neighborhood, where he was living at the time.
Politically active
Though he created art alone, he was interested in the public welfare. He ran for city council unsuccessfully in 1990, and served as an active member of the Carver Community Association.
Forrest often shared his thoughts with City Hall, and on numerous occasions earned the title "Correspondent of the Day" from the Richmond Times-Dispatch.
"He was opinionated," Forrest's son, Bo, told the Beacon. "He was a lightning rod. No, he was like lightning itself."
While the Branch Museum's exhibit hints at Forrest's larger-than-life personality, it aims primarily to "encapsulate the spiritual tenacity and structural process of a man engaged in the delight and dilemma of the resistance of wood," according to the exhibition wall text.
During his lifetime, Forrest created hundreds of works. "About 200 significant pieces are in private collections in the Richmond area," Bo Forrest said, "and about 80 pieces are in my collection."
Though Forrest's furniture has been shown in major museums, "Atavistic Memories" is the first solo exhibition of his work.
The Branch Museum of Architecture and Design building was designed by John Russell Pope, who also designed the National Gallery of Art and Richmond's Union Station, now the Science Museum of Virginia. It is open Monday through Friday from 10 a.m. to 5 p.m. and Saturday from 10 a.m. to 4 p.m. "Atavistic Memories" is on view through April 17. Admission is free. Parking is free at the adjacent First Baptist Church parking lot.
For more information, visit branchmuseum.org or call (804) 655-6055.