Arts
Facing a painful part of the past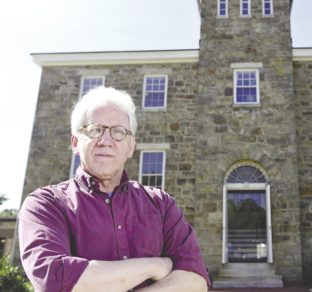 Filmmaker Will Schwarz stands at the site of an 1885 lynching in Towson. He released a short documentary about it in December. A Howard County group is working with a new state commission, and with Schwarz's nonprofit Maryland Lynching Memorial Project, to raise awareness of the history of lynching in Maryland.
Photo by Steve Ruark Photography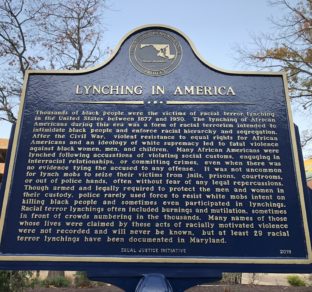 Residents seek to memorialize the county's lynching victims.
Almost 90 years after a man was hanged by a mob in Maryland, residents of Howard County have begun an effort to remember the victims of lynching in the area.
"The legacy still influences us," said Will Schwarz, president and founder of the Maryland Lynching Memorial Project (MLMP), which he established in 2018. The nonprofit is dedicated to remembering the victims of lynching and creating a dialogue about racial tension in the state.
Schwarz, 69, became interested in the history of lynching in 2015, when he attended a book reading by author and attorney Bryan Stevenson, founder of the Equal Justice Initiative (EJI), an Alabama organization that provides legal representation to minorities. During his talk, Stevenson spoke about lynchings in the Confederate states and the border state of Kentucky. But he didn't discuss cases in the border state of Maryland.
Schwarz, a documentary filmmaker, became curious about local research on the subject, but couldn't find much information. So, he decided to take on the task of researching and educating the state on its history himself.
For Schwarz, it's personal. He learned that he lives a mile away from the Towson lynching site of Howard Cooper, snatched by a mob from the Baltimore County Jail and hung in 1885 after a conviction for assaulting a white woman.
"I can't go by that building without thinking of [Cooper's] mother having to pick up his body the next day," Schwarz said. "I realized how important it was, and I just couldn't let it go."
The state government has since also realized the importance of acknowledging the past. Last April, Gov. Larry Hogan signed a House bill that created the Maryland Lynching Truth and Reconciliation Commission to research and document the state's racially motivated lynchings.
"If we do not recognize the ills of the past, we will carry them with us into the future," Delegate Joseline Peña-Melnyk, who sponsored the bill for the commission, said in a statement.
More than 40 Maryland victims 
By founding MLMP, Schwarz is trying to create a reconciliation effort in every county of Maryland for the victims of lynching — that is, a mob-led murder, usually by public hanging, without legal approval.
These hangings were typically attended by large crowds. Because bodies were left to hang for days as a warning to others, some historians consider lynching a type of terrorism.
Thousands of people died in this manner around the country. In the U.S. South, 4,084 African Americans were lynched for racial reasons between 1877 and 1950, according to the EJI. According to the Tuskegee Institute, 4,743 people overall were lynched between 1882 and 1968 in the United States, including 1,297 whites killed by white mobs for their crimes or anti-lynching opinions.
EJI has found that a quarter of lynching victims were accused of rape, and a third were accused of violence. However, many of these accusations weren't proven true. Often victims were merely "social transgressors," who contradicted whites' ideas about blacks' changing place in society, the EJI said.
In Maryland, at least 41 lynchings occurred in the state from 1854 to 1933, according to the MLMP. Schwarz produced a short documentary of the state's last known killing, "Burning: The Lynching of George Armwood," two years ago.
These "brutal, sadistic, awful murders," as Schwarz calls them, became more common during Reconstruction and persisted until America's last lynching in 1981 in Mobile, Alabama.
Focus of two organizations
Today, the new Maryland Lynching Truth and Reconciliation Commission is researching each event.
One link between the state commission and Schwarz's group is historian Charles L. Chavis, who serves on the commission as well as the Howard County MLMP coalition, which met for the first time in December.
"I think we have a tremendous opportunity with the resources Howard County has to make a statement in Maryland and the country" about lynching, said Chavis, director of the John Mitchell, Jr. Program for History, Justice and Race — a George Mason University program that promotes racial justice in the United States through education and public dialogue.
Through his various roles, Chavis, a former resident of Columbia, hopes to study how communities like Howard County deal with the history of racial violence, specifically lynchings, and its legacy on current society.
Howard County is the most recent of 14 counties in Maryland to have formed local coalitions with MLMP, intended to help the state commission with its research on lynchings in each area.
In December, Chavis and Schwarz invited the public to a community meeting to discuss how county residents can honor the lives of two Howard County victims.
Jacob Henson was lynched in 1895 in Ellicott City after being convicted of murdering his employer, and Rev. Hesekiah Brown was lynched in 1884 in Clarksville after allegedly marrying a white woman.
At the meeting, Steve McKenna, a 55-year-old former media and communications professor at the Catholic University of America, shared the story of another lynching in Ellicott City in 1885. In that case, an African American man named Nicholas Snowden was apparently killed by a mostly black crowd of 25 people after allegedly sexually abusing a young black girl.
The story has weighed heavily on McKenna. "I've stood out in the woods at the approximate spot where Snowden was lynched," said McKenna, who lives near the site. "I feel a connection to it."
Another attendee of the meeting, Marlena Jareaux, 53, wonders how highlighting these lynchings and talking about its legacy, especially through the state commission, will be received by local residents.
"Howard County always refers to itself as being on the cutting edge," Jareaux said. But "everybody just clams up" about this aspect of the county's past, she said. "They don't want to talk about it."
Commemorating victims
Schwarz hopes that, through his group and the state commission, Howard County can begin to have more awareness of its legacy and discussions about the past.
Talking, however, is not the only way Schwarz's group is addressing the issue. It also wants to install historical markers at lynching sites in Maryland to memorialize those who lost their lives.
MLMP helped install its first marker, for five black men in Anne Arundel County, in September.
"What we're asking of people is not something that requires a law," Schwarz said. "It requires empathy.
"No one is going to lead us to the garden of racial reconciliation," he said. "If we want this change, this is change we have to make ourselves."
For an interactive map pinpointing the sites of Maryland's lynchings and describing what is known about them, visit news.baltimoresun.com/maryland-lynchings.
Learn more about MLMP at mdlynchingmemorial.org. For more information about the state commission, go to msa.maryland.gov/lynching-truth-reconciliation.