Arts
'Fat Ham:' A joyful, intense spin on 'Hamlet'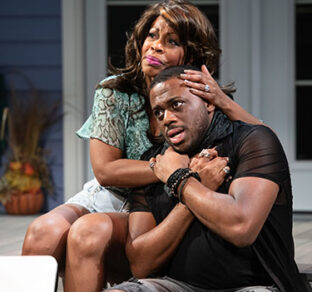 Tanesha Gary and Marquis D. Gibson star as mother and son in the 'Hamlet' adaptation 'Fat Ham.' The play, which won a Pulitzer Prize and was nominated for several Tony Awards, runs through Dec. 23 at the Studio Theatre in Washington, D.C.'s Logan Circle area.
Photo by Margot Schulman
Time's a-wasting; get thee to Fat Ham, James Ijames' Pulitzer-prize winning party of a play, at the Studio Theatre through January 14. Taylor Reynolds, an OBIE-award winner, directs a stellar cast with a special shoutout to Marquis D. Gibson as Juicy and Thomas Walter Booker as Cousin Tio.
If you know Hamlet, you might imagine that you know where this multi-Tony-
nominated play is headed when Juicy — a Black, queer kid in a small Southern town — is terrorized by his recently deceased father's ghost.
Pap (Greg Alverez Reid), startling and celestial in a white-lit suit, demands vengeance for his murder. Like Hamlet, Juicy grieves and muses, but then he insists that his father recognize the abuse he perpetrated and challenges his right to be avenged.
Thus, Act One introduces the play's themes: intergenerational violence, images of masculinity, loyalty and expectation, and mental health. But when Pap delivers a brief lecture on the predatory nature of for-profit colleges, you realize that Shakespeare is not the only culturally relevant force in the room.
Carefully crafted scenes
As in Hamlet, Juicy's mother Tedra (Tanesha Gary) hastily marries her brother-in-law Rev (also played by Alverez Reid). The cookout celebrating the marriage, like every scene in this play, is filled with small, telling details.
Rev grooves to "Before I Let Go," a song known as a Black summer anthem. At the feast, the greedy, selfish Rev devours every single deviled egg before the guests arrive.
Gary's Tedra is perfectly trashy in sparkly turquoise and tight jean shorts. She may put on a risqué show for her too-new man, but we never doubt her love and sympathy for the child she's so close to but cannot totally fathom.
In contrast to his controlling, violent father and uncle, Juicy is frequently described as soft. This refers as much to his not-quite-acknowledged sexuality as to his attempts to step away from the family legacy of violence — from pig-butchering to murder.
Some acts of self-definition are small provocations: He changes from mourning in black vest, black net shirt and shorts to celebrating in black shorts, vest, and black shirt with sparkles.
For much of the play, there's negative space around Juicy's childhood friend, Larry (Matthew Elijah Webb), modeled after Laertes. He's monosyllabic to the point of comatose, hiding what's haunting him.
Alone with Juicy, though, Larry re-discovers words, motivation and his own lost softness. The scenes between Juicy and Larry carry a true tenderness.
Larry's sister Opal (Gaelyn D. Smith) is, happily, no Ophelia. With a healthy ego and sulky teen belligerence, she rolls her eyes at everyone. She pushes back on her mother's dreams of a debutante season, but wears a dress to the cookout since she's not quite comfortable telling her mother she likes women.
Studio Theatre's small stage becomes both expansive and more intimate thanks to the spooky sound and lighting effects by Sinan Refik Zafar and Minjoo Kim.
When Juicy is having it out with his dead dad, flash, bam! — lights crack open the space-time continuum, allowing Juicy to talk directly to the audience.
There's a stunning moment when Juicy sings Radiohead's "Creep," as lighting, sound and staging (Jean Kim) whisk us from a chaotic back yard into a brief otherworldly crescendo.
Nods to Shakespeare
There's joy in recognizing where the play echoes Hamlet: Larry/Laertes' military background, for instance, or Rev's orchestration of Pap's shanking in prison.
Or where it ricochets away from the original, for example, by replacing old father Polonius with a churchy mom (Kelli Blackwell), who has a few secrets of her own.
There are marvelous moments when Juicy codeswitches between Elizabethan and vernacular English. That said, the play can be as provocative and joyous for audiences without Hamlet-experience.
In this production, everything works together — lighting, scenery, costuming, music, choreography, language, acting — to make the intermission-less time fly.
Will the violence of their past and their nation's past destroy Juicy and his family? Is Hamlet inevitably a tragedy, or can this Southern clan take Tio/Horatio's advice to choose pleasure over harm?
Studio Theatre is located at 1501 14th St., NW, in Washington, DC. Parking is available for $14 at the Washington Plaza Hotel, or reserve a spot in another nearby garage at SpotHero.com. This production contains haze, flashing lights, loud music and sudden loud noises.
Tickets, ranging from $45 to $125 (depending on seat and day), can be purchased by calling (202) 332-3300 or at studiotheatre.org. Patrons 62 and over can receive a $5 discount with promo code SENIOR.