Arts
Festival encourages writers of all stripes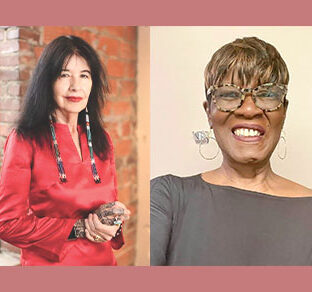 As part of this year's CityLit Festival, Joy Harjo (left), the winner of the Bollingen Prize for American Poetry and former Poet Laureate of the United States, will be giving a reading of her poetry and conversing with a local poet on Tuesday, March 28, at Chesapeake Shakespeare Theater. Ruth Lilly Poetry Prize winner Patricia Smith (right) will read from her new work on Friday, March 31, at Busboys & Poets in Baltimore.
"If there's a book that you want to read, but it hasn't been written yet, then you must write it," Toni Morrison, the first Black woman to win the Nobel Prize for Literature, said in a 1981 speech.
This may well be true for how CityLit Festival, Baltimore's annual celebration of literary arts now in its 20th year, came to be.
"Honestly, it was a grassroots kind of thing," said Carla Du Pree, author and executive director of CityLit Project, the nonprofit that hosts the annual festival. It features a series of readings, classes, conversations and lectures, open to all who are or want to become writers.
"Four book lovers decided that Baltimore needed something like that, and they created a festival. And it was just that — book lovers: people who were invested in words and getting writers together in one place," Du Pree said.
Since 2003, CityLit Festival — which remains free, something Du Pree said is "in this day and age unheard of" — has hosted Pulitzer Prize winners, National Book Award winners, MacArthur "genius grant" Fellows, Guggenheim Fellows and a Carnegie Medal Award winner. These writers visit Baltimore in person or virtually to offer constructive criticism, teach master classes, appear on panels and give lectures.
Past authors include Junot Díaz Mark Doty, Elizabeth Acevedo, Claudia Rankine, Chimamanda Ngozi Adichie, Patricia Smith, Dani Shapiro, Terrance Hayes, Nikole Hannah-Jones, Philip Gourevitch and more.
For new as well as seasoned writers
Despite the big-name authors, the festival is open to all writers. "We always wanted to support writers at every stage of their journey. It didn't matter if they were emerging or established," Du Pree said.
"CityLit became this place where writers could experience being a writer and feeling like a writer and being supported as a writer, which they don't always get a chance to do."
When Du Pree took over as executive director in the fall of 2016, succeeding founder Gregg Wilhelm, she saw an opportunity "to tap into people who didn't necessarily call themselves a writer because they weren't out there publishing, but still were invested in the craft of writing."
To that end, the festival hosts a master class and a 90-minute craft intensive, each of which bring graduate-level instruction to a wider audience. This year's craft intensive is called, "How to visually map out a story."
Another popular feature is the opportunity to have an excerpt of your writing critiqued in a one-on-one half-hour session.
"Our hope is that writers attend our festival, they go home and feel empowered to do the work, and continue doing it regardless of the circumstance," Du Pree said.
"Because writing belongs to everyone. Everyone I know has a story they want told; they want to read something that looks like them or close to their experience."
Baltimore as a literary hub
Baltimore was home to many literary greats beyond the ubiquitous Edgar Allan Poe.
On a Literary Walking Tour of Mt. Vernon, hosted by Maryland Humanities, you can follow in the footsteps of poets Carl Sandburg and Edna St. Vincent Millay, see the birthplaces of Baltimore natives Upton Sinclair and Emily Post, visit the Peabody Library where novelist John Dos Passos wrote daily, and more.
In addition, Baltimore's Enoch Pratt Free Library hosts a robust Writers LIVE! series year-round featuring conversations with authors across all genres.
Past guests have included Pulitzer Prize-winning poet Jericho Brown, author and national radio personality Garrison Keillor, National Book Award winner Ta-Nehisi Coates, and local journalist and detective fiction novelist Laura Lippman.
Lifting as we climb
This year's CityLit festival is back in person after two years of virtual programming and with new partnerships with local arts organizations. It will take place over three days in late March.
Its theme is "Lifting as we climb," the same motto as the National Association of Colored Women, whose founder, Mary Church Terrell, championed racial and gender equality.
The festival's signature daylong event will be held at the Joseph Meyerhoff Symphony Hall on Saturday, March 25.
On Tuesday, March 28, in partnership with Chesapeake Shakespeare Theater, CityLit presents former U.S. Poet Laureate Joy Harjo.
The festival closes on March 31 at Busboys and Poets in Baltimore, featuring Patricia Smith — the Ruth Lilly Poetry Prize for lifetime achievement winner — with her new book, Unshuttered: Poems.
CityLit hosts two other annual events in partnership with the City of Baltimore: CityLit Stage, as part of the Baltimore Book Festival, and CityLit Studio during Free Fall Baltimore.
Du Pree believes everyone has a story, and she wants to encourage average citizens to write.
"There's always a way to reach an older adult who has retired but still has life in them or a story they want to tell. Or that writer who's got the 9-to-5 job, and after the kids go to sleep, they get out the pen or get on a computer. Or the writer who gets up at 5 o'clock in the morning to do their work.
"Those, to me, are still writers," Du Pree said. "There's something about owning the idea that you can claim yourself as a writer because you are actually doing that work. We want to lift those people."
For more information about the CityLit Project and its programs throughout the year, as well as more details about this year's CityLit Festival, visit www.citylitproject.org.