Arts
Find your inner Picasso and de-stress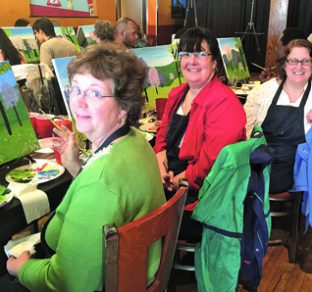 Pub & Paint hosts canvas-painting classes in local pubs and restaurants. DIY art studios are gaining popularity as a way to be creative and decompress after a stressful day.
Photo courtesy of Brady Starr
Feeling stressed? Pick up a paintbrush and you might just feel lighter and happier.
Getting rid of stress was one reason Deborah Hoffman opened Paint and Sip in Owings Mills, a do-it-yourself (DIY) art studio that offers a "unique way to uncork your creativity," with two-hour classes for painting and glass decoration.
Paint and Sip classes cost $40 per painter, which covers all the essential equipment for the classes. As its name implies, attendees can also sip their favorite beverage while painting by bringing their own bottle.
"In my past life, I was in advertising and sales, and then I became a Realtor," Hoffman recalled. After almost 10 years in real estate, Hoffman, 53, decided she wanted to work for herself.
"I wanted a business that would be fun, because I know people can be so stressed and have so much anxiety these days," Hoffman said. "I wanted something where people would leave my business feeling happy and having a smile on their face."
Hoffman was on to something. According to a preliminary study published in Art Therapy: Journal of the American Art Therapy Association, creating art can significantly reduce stress levels in adults. Drexel University assistant professor of creative arts therapies Girija Kaimal researched the effects of making art on stress-related hormones in your body.
Her article "Reduction of Cortisol Levels and Participants' Responses Following Art Making," reported that 45 minutes of creative activity significantly lessens stress in the body, regardless of your artistic experience and talent — or lack thereof.
Burgeoning industry
Like Hoffman's studio, many wine and painting party studios are franchises, and the number of businesses has grown rapidly since 2007.
But there are also stand-alone businesses, like the Painted Palette in historic Mount Washington Village. Best friends Rebecca Hauser and Brooke Blumberg envisioned the studio during a trip to Chicago, where the pair were inspired by similar businesses.
"I always wanted to own my own business, but it was just one of those dreams on the backburner," Hauser explained. When the friends returned to Baltimore, they immediately started planning. Six months later, the Painted Palette was born.
Similar to the Paint and Sip franchise chain, Hauser's studio hosts two-hour painting classes using acrylic (quick-drying) paints on canvas. Also like Paint and Sip, Hauser and Blumberg decided not to go with a liquor license; their studio is BYOB.
Adult classes cost $35 per person. At family day and children's birthday parties, the cost is less for children.
Creating stained glass
Both Hoffman and Hauser say they have recently seen a significant increase in the demand for classes. The reason? Increased "stress in our lives," said Diana Byers, class coordinator at Terraza Stained Glass, a BYOB stained glass studio in Baltimore City.
Like Paint and Sip, Terraza Stained Glass was not started by a professional artist. Rather, franchise founder Donna Terraza decided she wanted to make a stained-glass transom window for her doorway. When Terraza's neighbors suddenly wanted transoms, too, Terraza realized she had a potential business on her hands.
Terraza Stained Glass now offers three-hour beginner classes for $40, which includes all materials. During the class, participants make their stained glass art from start to finish, including creating the design and cutting the glass.
All these DIY shop owners believe their studios have become successful because they allow people to unleash their creativity while experiencing new things in life.
"It's all about fun! It's not 'fine art,' it's fun-art," said Hoffman. She said that one customer told her that the experience was like "yoga for the mind."
Some studios, like the Painted Palette, offer private classes or will host classes at a private venue. It even offers painting classes at the Maryland Zoo.
At Pub & Paint, artist and owner Brady Starr offers canvas-painting classes in local pubs and restaurants, where participants can paint, eat and drink at the same time.
Starr, a former art teacher, used to host classes at friends' pubs, before realizing he could build a business from the concept. Now, restaurants reach out to him to offer their space. His classes cost $40 per person, which includes all necessary materials for the art. Food and drink is sold at the location.
DIY art is enjoyed by all ages. The Painted Palette, for example, recently hosted a birthday party for a 90-year old couple, while Paint and Sip just held a 97th birthday party.
"I just love that we're making people happy…that people are getting a little escape from their everyday lives when they come into our studio," said Hoffman. "It makes me happy that we've touched all these lives."