Arts
Finding art in Antarctica's ice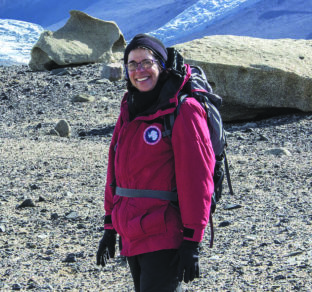 Local artist Helen Glazer won a grant from the National Science Foundation that allowed her to spend seven weeks trekking through the wonders of Antarctica. There she photographed and made 3D scans of glaciers and other ice and rock formations, as well as penguins. Upon her return, she used those images to create a sculpture and photo exhibit now on display at Goucher College.
Photo courtesy of Helen Glazer
Not everyone's idea of a summer vacation includes hiking through Antarctica's frigid expanses for seven weeks, but Helen Glazer was dogged in pursuing the opportunity.
She applied five times over a 10-year period for the National Science Foundation's Antarctic Artists and Writers Program, until she finally got her chance in 2015. Glazer, who is 62 and lives in Owings Mills, is the first Baltimorean to win this national grant competition. Only two to five people a year are chosen.
Now, she has a solo exhibition at Goucher College's Rosenberg Gallery, "Helen Glazer: Walking in Antarctica," where visitors can take the journey with her. The exhibit includes both photographs as well as sculptures based on her 3D scans of the Antarctic landscape.
Early interest in sculpture
Glazer, who studied painting at the Maryland Institute College of Art, said it was her fascination with natural shapes and forms that ultimately led her to the icy caves of Antarctica.
"I was making sculptures based on natural formations [around 15 years ago], and then a few years later, I started to think: Why do these forms look the way they do? What makes them take on these shapes?"
Without much training in the field, Glazer relied on books to teach herself about the science behind cloud and mountain formations.
When she saw photos of Antarctica, she was surprised to find similar shapes made out of ice. "Unlike a cloud formation, which is fleeting and disappears within a few minutes or when the wind changes, these [shapes] are on the ground. You can walk around them."
Around the same time, Glazer first heard about the National Science Foundation's special grant for artists to visit Antarctica. "The adventure aspect of going to a wilderness environment unlike anywhere else on earth appealed to me," she said in describing her motivation.
Over the years, she submitted four different applications, only to be rejected each time. Then, in 2008, Glazer met another obstacle: Applications were officially suspended for five years.
Determined to explore her passions for natural formations, the artist took a radical step — she packed her bags and headed to Greenland.
After that trip, Glazer had the idea to explore the world of 3D printing. She decided, "in addition to photographing the ice formations and the landscape, or rocks, I could actually make a sculpture and bring something of a 3D experience to people."
When she proposed this in her next grant application to the National Science Foundation, she was approved. Glazer found herself spending seven weeks exploring and photographing ice caves, wind-eroded boulders called ventifacts, and the famous Blood Falls — the edge of a glacier colored striking shades of red and orange by mineral deposits.
The exhibition takes as its theme a series of "walks" through the Antarctic landscape: over frozen lakes, around massive glaciers and icebergs frozen into the sea ice, into a magnificent frozen ice cave, up gravel-covered windswept mountains, and through a lively colony of Adelie penguins.
Like a student again
Glazer worked out of remote scientific field camps, and had access to protected areas that can be entered only with special permits or in the company of a skilled mountaineer. As a result, she encountered an even richer variety of forms than she had expected.
"Living on the base was a little like being a college student again — communal living in a dorm room with a roommate (a volcano scientist), beat-up furniture, and eating in a cafeteria," Glazer said.
Since she went in Antarctica's summer, temperatures were bearable, ranging from the mid-teens to the mid-30s. "It was also 24-hour daylight, the advantage of which is that, even when camping, you never needed a flashlight! On the other hand, I had to sleep with an eyeshade — otherwise I'd find myself waking up in the middle of the night."
Visitors to the exhibition who have smartphones will be able to access an audio tour narrated by Glazer, drawn from a blog in which she recorded her experiences.
Glazer returned from Antarctica with an extensive cache of photographic material of striking ice and geological forms on a wide range of scales — from towering glaciers to small, intricate designs in the lake ice.
Creating miniature glaciers
The exhibition includes not only photographic prints, but also painted sculptures generated from photographs of ice and rock formations taken via 3D scanning technologies.
The scans enabled her to produce sculptures using 3D printers and CNC routers, devices that use digital files and computer-controlled routers to carve materials. Glazer's sculptures are the first such works produced of the Antarctic landscape.
"Photographs are just one point of view. But when you have a 3D object, even if it's a much smaller version of a large thing, you can walk around it, and look at it, and get some feeling for what it's like," Glazer said.
She ended up creating four sculptures in total, including a rock formation that is almost 2.5 feet in diameter and one of a glacier that is 4.5 feet long.
For Glazer, the exhibit is more than just a collection of her art. It is also part of a broader conservation effort.
"The power of striking images and eyewitness accounts to raise awareness and motivate people to preserve wilderness has long been understood. I am applying my artistic skills and new technologies to that end," she said, citing such environmental stewards as John Muir, Ansel Adams and Jacques Cousteau.
"Antarctica is a place where vitally important research is being conducted about the role of polar ice in regulating the world's climate," Glazer added.
The NSF program's director, Valentine Kass, observed that "artists and writers have a unique way of reaching the public, and Antarctica is obviously a place that most people never get to."
A local artist, too
Glazer has also created artwork much closer to home, as well.
Her colorful murals depicting animals and star constellations cover walls at Baltimore's Garrett Heights Elementary School and the side of a Baltimore row house.
She was the artist in residence of the Baltimore Ecosystem Study in 2014 and 2015, a project that focused on urban environment.
Her work has been shown nationally, and she was the exhibits director of the Rosenberg Gallery for 12 years, before leaving in 1998 to concentrate on her own artwork.
Glazer credits part of her success to Open Works Baltimore, a small nonprofit that makes 3D printing "accessible and affordable to individual artists like myself."
When asked which part of the trip she enjoyed the most, Glazer said it was impossible to decide.
"There were just so many moments that, made me say; 'I can't believe what I'm looking at!' Really, just to experience something so different. And the scale of some of these things — these enormous expanses or these enormous walls of ice! It was always a surprise wherever I was."
The exhibit, which is free and open to the public, can be viewed through Dec. 18, Monday through Friday, from 9 a.m. to 5 p.m. at the Rosenberg Gallery in the Kraushaar Auditorium at Goucher College. The gallery is located at 1021 Dulaney Valley Rd. in Towson.
Visit www.goucher.edu/rosenberg or call (410) 337-6477 for more information. (Note: Goucher's campus will be closed for the Thanksgiving holiday Nov. 22-26.)
To see some of Glazer's work online, visit her website: http://helenglazer.com.
The Beacon's Celebration of the Arts is a year-long initiative to encourage readers to take up a new art or craft, or to revisit an earlier artistic passion. People are encouraged to find a class, mentor, website or other opportunity to explore any aspect of art that appeals to them — painting, drawing, sculpture, jewelry making, photography, poetry, etc.
In the spring, we will announce a regional arts competition for amateurs over 50, with professional judging, cash prizes and gallery tours for the winners.