Arts
First lady of public television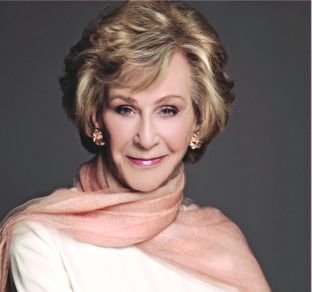 Rhea Feikin has spent decades on Baltimore-area TV screens, from her popular children's program, "Miss Rhea and Sunshine," to her current job hosting "Chesapeake Collectibles" on Maryland Public Television. She also cohosts MPT's weekly "Artworks" series.
Photo courtesy of MPT
If you've watched television in Baltimore during the past five decades or so, you have undoubtedly watched Rhea Feikin. "I've been around a long time!" the native Baltimorean laughed.
Often dubbed the "First Lady" of Maryland Public Television (MPT), Feikin is currently familiar to viewers as host of the station's on-air membership drives; anchor of MPT's weekly "Artworks" series, which showcases established, emerging and experimental artists from across the country; host of "Chesapeake Collectibles," where appraisers value interesting and unique collectibles; and "Impressions with Rhea Feikin," a periodic interview program in which she talks one-on-one with noted celebrities.
Feikin, who also serves as honorary chair of MPT's major fundraising campaign, is proud of her 30-year tenure with the television station.
"I'm proud of what we do, and I love the mission of public television and the unique programs we offer every day," she said.
Acting on her dreams
Despite her long on-air presence, Feikin — who grew up in Hampden — did not set out to have a career in television, or even in the entertainment industry.
"I loved theater from the time I was young," she recalled. "But my parents, who were immigrants from Russia and Poland, said I had to major in something that would get me a job."
So, even though Feikin had always liked to "act and pretend," and frequently appeared in productions put on by the Children's Theater Association, once she graduated from Forest Park High School, it was on to the University of Maryland, where she majored in speech pathology. (One of her UM classmates was Jim Henson, eventual creator of the Muppets.)
Feikin continued to pursue her love of acting, however, appearing in university theater productions such as Hasty Heart and Wonderful Town, and participating in two overseas tours to U.S. Air Force bases from Iceland to the Azores. When she graduated, she received the Hale Award for outstanding drama student.
After graduating, Feikin put away her theatrical pursuits and followed her parents' wishes, becoming a speech therapist for Baltimore City Schools.
But when the City's Department of Education was looking for a volunteer to host an educational program on WBAL-TV, Feikin jumped at the opportunity.
"It was on TV," she said. "That was enough for me."
Feikin was so successful at presenting "Betty Better Speech," a program that aired in the schools, that WBAL offered her a permanent position.
She hosted the popular children's program, "Miss Rhea and Sunshine," which she also wrote and produced. Later, she presented the weather forecast (even though she admits that she knew nothing about weather), and hosted a game show for the Maryland Lottery.
After leaving WBAL (Feikin and her weather forecasting co-host, Cal Schumann, heard they were being fired, so they decided to take matters into their own hands and walked off the set in the middle of a broadcast), Feikin began freelancing at MPT.
Her first job was on "Consumer Survival Kit," which aired during the 1970s. At the same time, she also appeared in commercials and corporate videos throughout Baltimore and Washington, and returned to her love of acting, appearing in several films, including the popular Hairspray, where she played a geometry teacher.
Many awards and boards
An avid supporter of the arts, Feikin has served on the boards of the Baltimore School for the Arts and the Gordon Center for Performing Arts. She was a founder of Baltimore's Center Stage in 1963, where she appeared in its first production, La Ronde.
For her longtime work in the broadcasting industry, Feikin has received the Women in Film and Video's Charm City Award; was inducted into the National Academy of Television Arts and Sciences Gold Circle; and was named to Maryland's Top 100 Women by The Daily Record newspaper. And when MPT created its Walk of Fame in 2010, hers was the first star unveiled.
Today Feikin marvels at how the television landscape has changed through the years. "Who would have thought you would be able to watch TV on all these devices at any time of the day?"
Filming at breakneck speed
Feikin has cut back somewhat on her television projects, and works solely for MPT these days, but she continues to love what she does. Her work weeks vary. When "Chesapeake Collectibles" is filming, for example, an entire season of 13 shows is filmed in two days.
"That means showing up with 13 different outfits from my own closet, with coordinating accessories!" she remarked. "I come in with a load of people to help me."
What she doesn't need, she said, are shoes. "They don't film my feet," she explained. "Usually I'm just wearing tennis shoes."
When she's not at MPT — "my home away from home" — Feikin enjoys yoga, exercise classes, movies and reading, especially mysteries.
Several years ago, she sold her home in Stevenson, where she had lived for 43 years and raised her two children, and now lives in midtown.
"I love being in the city and being able to take advantage of the incredible restaurants, museums, theater and symphony," she said.
Feikin appreciates the fact that even in today's youth culture, she does not feel any stigma about being an older woman on television.
"I think I'm the oldest woman working in TV in this area," she said. "I'm proud of the fact that I've paved the way for other people to work longer in this medium, because I've done it."
When Feikin looks back at her long career, she said, "I think I'm the luckiest person in the world. I never had a plan. I just took advantage of every opportunity."
The next series of "Chesapeake Collectibles" will be taped on August 18 and 19 at Turf Valley Resort. Register online at http://www.mpt.org/programs/chesapeakecollectibles/register for the opportunity to be chosen to appear in Season 9.
Rhea Feikin sits down with Katie Alston of Marian House to highlight services that transition homeless women and their children into a life of independence and empowerment.