Arts
Flick even more wonderful as a musical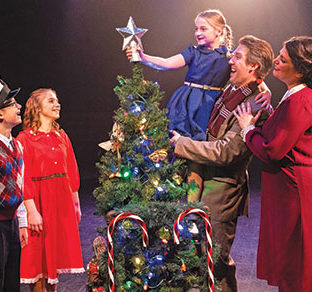 Justin Calhoun and MaryKate Brouillet star as George and Mary Bailey in a musical version of the famous film It's a Wonderful Life. Commissioned in 1989 by Toby Orenstein, owner of Toby's Dinner Theatre, the musical is once again on stage there, now through Jan. 15, 2023.
Photo by Jeri Tidwell Photography
The classic Frank Capra film, It's a Wonderful Life, is one of cinema's greatest gifts to Americana. It was released in 1946, and in the decades since has aired on television every Christmas Eve.
Some years ago, Toby Orenstein, founder and director of Toby's Dinner Theatre, discovered that the movie had entered the public domain. So, she commissioned actor/singer David Nehls and pianist/composer Michael Tilford to write a musical treatment of the film.
It debuted at Toby's in 1989, has been performed nationally at a number of venues over the years, and now returns to its home in Columbia, Maryland, to delight fans once again.
A quick recap
The musical incarnation of It's a Wonderful Life faithfully recreates most of the scenes and dialogue in the film, adding songs which, at their best, further develop the characters.
For those who have not seen the film, starring Jimmy Stewart and Donna Reed, a plot summary is in order: Young George Bailey, talented scion of a middle-class family operating a small savings and loan company, has dreams of seeing the world, attaining a college education, and becoming an architect.
However, his sense of duty leads him to stay in his small town of Bedford Falls, New York, to run the family bank and serve the community. But faced with crises, George begins to question the wisdom of this decision to place others before self, and contemplates taking his own life.
An aspiring angel, however, steps in to show George an alternative reality in which he had never been born. David James is both funny and effective as the would-be angel Clarence, hoping to earn his wings by helping George.
Clarence is supervised by Joseph, the lead angel, and is portrayed winningly by DeCarlo Raspberry. The two angels serve as an anchor for the show, with Joseph being featured more here than in the original film.
Joseph serves as a watchful presence high above the stage, sometimes providing Clarence with guidance. At one point, he memorably tells the younger angel, "You have faith and a gentle heart. Let them be your guide!" Later in the show, Clarence performs one of the show's standout numbers, "Ya Gotta Have Wings."
Some fine acting
Justin Calhoun, playing George Bailey, delivers a fine performance. He makes the Jimmy Stewart role his own by embodying the decent everyman. He is expressive in song, including "I'm on My Way" at the beginning of the show.
MaryKate Brouillet is similarly excellent as Mary, George's wife, including in her expressive "My Wish is for You" and, with George, "I'm at Home." Mary and Clarence also duet beautifully, and unexpectedly, in "If Only I Could Reach Him."
Robert Biedermann does a wonderful turn as crotchety, mean-spirited Mr. Potter, the local villain. He is especially so in his number, "It's Time to Get Back Down to Business," which establishes him as the antithesis of the broad-spirited George.
Music in many styles
The musical employs an interesting mix of musical styles, mixing pop and Broadway show sounds with those from the 1940s and earlier.
One of the best examples of the earlier styles is the "Syncopation Rag" — a Charleston-style number set during a ball. This scene is highly effective in establishing the time period in which the show is set, as well as capturing George and Mary's relationship.
There is also an outstanding, if dark, scene set in the alternative reality world missing George Baily. The staging and choreography truly shine in this film noir moment, again using 1940s music to set the time period. Here the character of Violet (a stunning Santina Maiolatesi) sings "Dream Man," an outstanding torch song. She is also strong in "Syncopation Rag."
With the show's transition to George's later adult life and Christmastime, we encounter the excellent "Vespers for the Common Man," in which mixed voices provide a church-like atmosphere, accentuated on stage by stained-glass windows and candles. This and other Christmas elements provide holiday spirit.
Despite limited props, Toby's theater in the round effectively recreates a small-town Christmas in the 1940s. This holiday atmosphere will move audiences throughout the holidays, helping us to realize, like George Bailey, that "The lives I had touched make me more than just me!"
Directed by Orenstein with choreography by Tina Marie DeSimone, It's a Wonderful Life offers an excellent way to enjoy a family-friendly Christmas classic this holiday season. The show runs three hours, including a 15-minute intermission, and can be seen through January 15, 2023.
Toby's is located at 5900 Symphony Woods Rd. in Columbia, Maryland. Advance reservations are required. Performances are Tuesday through Sunday nights, with Wednesday and Sunday matinees.
Tickets are $74-$79 for adults and $57-$60 for children 12 and under. All tickets include an all-you-can-eat buffet (dinner or brunch).
Patrons 65 and over can attend any Tuesday or Wednesday performance for $62.90. Tickets may be purchased online or by phone from the box office at (410) 730-8311.