Arts
Flutist's lyrical memoir uplifts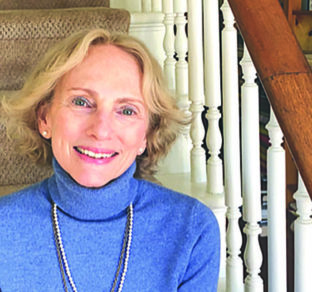 Eugenia Zukerman, a world-class flutist, novelist and commentator for "CBS Sunday Morning," published an upbeat memoir about her life with early Alzheimer's disease last fall. "This is the best time of my life," she told the Beacon in a November interview.
Photo courtesy of Eugenia Zukerman
I am no dope
I see how my family notes
my lapses and losses
of appropriate words
or a name
or the date
and
it makes me fretful
to be forgetful
so I try to hide it
So begins one of the first poems in Eugenia Zukerman's book Like Falling Through a Cloud, which her publisher describes as a "lyrical memoir of coping with forgetfulness, confusion and a dreaded diagnosis."
Before Zukerman was diagnosed with Alzheimer's several years ago, she was an internationally renowned flutist and writer. A graduate of the Julliard School of Music, Zukerman was hailed by the Boston Globe as "a triple threat…a published novelist, a television commentator, and, most impressively, one of the finest flutists of our times."
If you haven't heard her perform or read any of her books, you may know her from "CBS Sunday Morning," where she served as arts and music correspondent for more than 25 years.
In that role, she interviewed many of the world's most talented artists, from Paul McCartney to Placido Domingo. Zukerman also served as the artistic director of Bravo! Vail, an annual classical music festival, for thirteen years.
A creative response to diagnosis
Now, in her 75th year, Zukerman is facing head on an Alzheimer's diagnosis with characteristic grace and thoughtful introspection.
A few years ago, Zukerman's two daughters, Arianna and Natalia, began to notice slips in their mother's memory, forgetfulness of certain words or phrases.
After going to an appointment with a neurologist, Zukerman said she "laughed her way back to the apartment and stared at the wall."
Then something surprising happened. "I don't know why, but I started writing — some poetry and a little prose," she recalled. After having written about 25 pages, she called her daughter, who told her to keep writing. So she did.
"I had a need to express my thoughts, but not in a 'woe is me' manner," Zukerman said. "There is so much laughter and joy in the writing; it was a gift that came to me."
Writing is not new to Zukerman. As a child, she said she would run around the house telling stories. As an adult, she published six books, including a book coauthored with a doctor on the side effects of prednisone, and In My Mother's Closet: An Invitation to Remember, a collection of stories written by Carrie Fischer, Lesley Stahl and other notable women about the relationships between mothers and their daughters.
Once Zukerman finished Like Falling Through a Cloud, she sent it to some publishers she knew, but they weren't quite sure what to do with it. "Then a friend sent it to a publisher who really got it," Zukerman said. "I'll always be grateful to her."
The book has been received well, probably in part because at many moments it is funny and upbeat, not what one would expect of a memoir about being diagnosed with Alzheimer's. "It's a real upper," Zukerman says.
Even the title conveys a sense of whimsy and beauty. Though the image of falling through a cloud evokes the fuzziness one might experience when losing cognitive abilities, it is also reminiscent of a childhood imagining or dream.
When talking about the success of the book, Zukerman said one reader's response in particular has stood out to her. She was participating in a book signing — pre-COVID, of course — and an older gentleman bought six copies of the book.
"He told me he hadn't been able to find the words to tell his family about his experiences," Zukerman said, "and the book helped him find the words to tell them."
Throughout the book, Zukerman chronicles her day-to-day experiences — from undergoing testing to receiving a diagnosis, from mourning the loss of her mother to celebrating her grandchildren.
She also shares the experiences of her dual life spent at times in New York City playing the flute at Carnegie Hall, and at other times relaxing on her "farm" in upstate New York with her husband, Dick Novik. (Zukerman's first husband was the famous violinist Pinchas Zukerman. They divorced in 1985.)
Appreciating every day
Just as the experiences described in the book are very different, the form and style of each poem varies. Some are melancholy, vulnerable and lyrical, while others are funny and clever with short, rhyming verse.
When Zukerman reads her poems aloud, her voice takes on a mesmerizing, lyrical quality. But the words reveal the innermost thoughts of a woman determined to make the most of the days she has left.
"I'm blessed that I can be positive," Zukerman said. "We're lucky to have a sense of community here in New York and to have our horses and dogs, and the fresh air — there's nothing like fresh air. Nature is one of the gifts God created." Every day, she goes on four-mile walks. She also writes and plays her beloved flute.
She has even continued to perform since her diagnosis, but at times she does forget some notes. She writes in her book about how she felt forgetting some notes of Debussy's Syrinx, a piece she has played every day since she was ten years old:
"I have no idea what comes next / what octave what note which fingers go where / and a terrible fear washes through me / as I try to find my way through the bramble of / wrong notes and scrambled garbled sounds / I'm lost totally lost and frightened because / I don't just play this piece, I feel it, I dance it in my head / and to forget one note fills me with a dark and ominous dread."
As Zukerman reflects on her life of music and letters, she expresses the profound joy she has felt in her role of mother. Both of her daughters are talented and accomplished musicians in their own right: Arianna is an opera singer, and Natalia is a singer and songwriter.
Zukerman said she cherishes the time she spends with them and with her grandchildren.
Although her diagnosis has been challenging, Zukerman appreciates where she is at this particular moment. "This is the best time of my life. I have an extraordinary husband, and I hope to be able to continue this work."