Arts
Funny calendars, cartoons and guides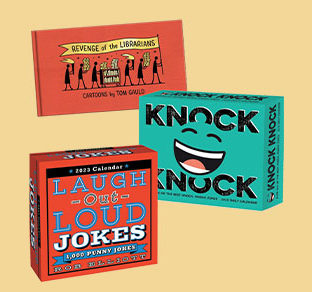 The Bibliophile
Resolve to start the new year with a smile.
Subpar Parks: America's Most Extraordinary National Parks and Their Least Impressed Visitors, by Amber Share, 224 pages, Plume hardcover, 2021           
What could be more entertaining than a humorous guide to the National Parks? Pick your next vacation destination without being overwhelmed with exhaustive information and immaterial minutiae.
Instead, plan your journey by reading a lighthearted narrative which will definitely put you in the right frame of mind. After all, if you have fun planning your itinerary, that mood might easily transfer to the trip itself.
Older readers may not be familiar with Amber Share's popular Instagram page, @subparkparks, which boasts over 350,000 followers. Here it is in book form, ready to be enjoyed by vacationers of all ages.
Share highlights a one-star review by disappointed tourists alongside her own fact-filled and glowing tribute to each of the 68 parks she has visited.
This guide is devoid of photographs to attract you to the parks' picturesque scenery. Rather, it is illustrated by Share, a graphic artist and avid nature lover. What it lacks in imagery it more than compensates for in whimsy.
Laugh at the complaints of sourpusses who rant about petty inconveniences, bad weather and other disappointments they encountered in many of the most gorgeous settings in the United States.
Reading these complaints will keep you from falling into the trap that some overscheduled, under-budgeted travelers face. Keep your mind on the vista in front of you and not on your sore, aching feet. That is a lesson worth learning as you laugh at the prickly emotions and foul moods of grouches and malcontents.
If you don't want to travel far, check out the pages for Rock Creek Park, the National Mall, Harpers Ferry or Shenandoah. Entries include helpful information on less crowded spots, trails and activities within the park and times of year to travel when they're less crowded.
Park rangers' tips and tales add colorful details. In the back, you'll find a resource guide with websites for further research as well as general tips on planning and scheduling your trip.
Revenge of the Librarians: Cartoons, by Tom Gauld, 181 pages, Drawn & Quarterly hardcover, 2022
You may have admired the wit of Scottish-born cartoonist and illustrator Tom Gauld on the cover of The New Yorker magazine without taking note of his identity. His wry cartoons have also appeared inside.
Gauld is better known in England, where his weekly cartoon has appeared in The Guardian since 2005. This is Gauld's seventh comic book, as he calls them.
Revenge of the Librarians is a compilation of 176 one-page comic strips poking fun at writers, book editors, librarians, book reviewers and readers. The subjects he skewers include the ever-growing pile of unread books amassed by well-intentioned book buyers, book festivals, eccentric librarians, encounters between authors and their editors, writer's block and the formulaic plots of mediocre fiction.
Older adults will recognize the borrowing card in the small pocket on the inside front cover. The card is stamped with due dates and warns borrowers that late returns will incur fines. This bit of whimsy is sure to evoke a nostalgic reaction.
Laugh-Out-Loud Jokes 2023 Day-to-Day Calendar: 1,000 Punny Jokes, by Rob Elliott, Andrews McMeel Publishing; Knock Knock 2023 Daily Box Calendar, Willow Creek Press; Pun Intended 2023 Daily Box Calendar, Willow Creek Press
Pick your favorite way to start each day — with a knock-knock joke, a one-sentence pun, or three jokes presented in a Q&A format.
Knock Knock and Pun Intended are printed on a rainbow of solid-color pages with blank lines for note-taking at the bottom. Each page displays the monthly calendar.
Every page of Laugh-Out-Loud offers three jokes compiled by humorist Rob Elliott, whose series of Laugh-Out-Loud books have sold more than three million copies.
All of the calendars can be mounted for ease of display and are printed with soy-based ink on recycled paper.