Arts
Gardening with your good companions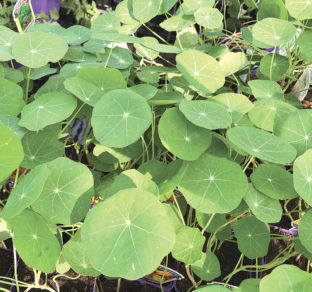 Like people, nasturtium and other plants can benefit from having companions.
What makes someone a good friend or companion? That person sticks by your side, may be different from you but generally likes the same things you do, provides support and even protects you from harm.
Well, plants can have companions, too.
"Companion gardening" is the practice of planting two complementary types of plants in proximity to one other. These plants have similar water and light requirements. They can positively affect plant growth and provide organic pest control. This clever practice has been used by farmers and gardeners all over the world for many years.
Three sisters
An early example of North American companion gardening is the "Three Sisters Garden" of Native Americans: beans, corn and squash grown together.
Legumes such as beans have a relationship with Rhizobium bacteria in soil, which convert nitrogen into a form that plants can use. And corn requires a lot of nitrogen. In return, cornstalks provide a natural trellis for pole beans to climb.
The tall canopy of corn foliage may confuse squash borers from finding the squash. The broad, spreading leaves of squash vines reduce weeds and hold moisture for both the corn and beans. Prickly squash vines growing up corn stalks may deter raccoons from ravaging ears of corn. Win-win-win.
Beneficial bugs
Many companion plants attract beneficial insects such as pollinators and predator species (ladybugs and lacewings) that help reduce pest populations.
Plants with open, cup-shaped flowers are typically the most popular with beneficial insects. For example, plant zinnias near cabbage, cauliflower and broccoli; the nectar from the zinnias attracts ladybugs that dispatch the cabbage hornworm.
Additionally, sweet alyssum and plants in the Umbel family (carrots, parsley, dill) attract beneficials.
Trap cropping
Farmers and gardeners may alternate rows of plants that attract pests to keep them from eating their prized plants.
An example is planting dill among tomatoes. Tomato hornworms actually prefer the dill, saving the tomatoes for you (and maybe the squirrels).
Another example is planting collards to draw the diamondback moth pest away from cabbage.
Biological pest control
Allelopathy is a biological phenomenon in which an organism produces one or more biochemicals that influence the growth, survival and reproduction of other organisms.
Nasturtium, which is edible, deters cucumber beetles, squash bugs and aphids, protecting pumpkins, squash and a wide variety of other vegetables.
Marigolds ward off insects, protecting many flowers and vegetables. Used in organic insect sprays, marigolds produce thiopene, which deters harmful nematodes in the soil.
Nurse cropping
Nurse cropping is a method to quickly grow a plant in an area next to another crop that has a longer growing cycle. An example is growing broccoli and lettuce near one another. As the broccoli gets larger, the lettuce below is shaded by its leaves, extending the growing season of the lettuce.
Bad neighbors
Just as there are good partners, there are also unsuitable companions. Allelochemicals such as juglone, found in black walnut trees, suppress the growth of a wide range of other plants. Another example is cabbage planted near lettuce; it has an adverse effect on the growth and flavor of the lettuce.
If you stick to buddies who help you, you'll always have a good companion. For more information and a list of companion plants, refer to bit.ly/plantbuddies.
Lela Martin is a Master Gardener with the Chesterfield County office of the Virginia Cooperative Extension. She is also co-chairman of the 2019 Bumblebee Jamboree. Visit bit.ly/bbj2019 for more information.