Arts
Guerilla gardeners pitch in to beautify city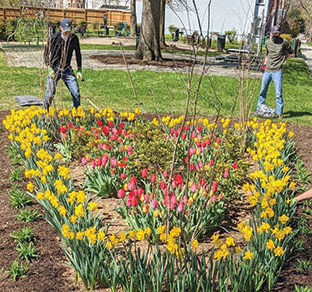 Volunteer gardeners beautify D.C.'s pocket parks, medians and empty lots.
Fifteen years ago, D.C. resident Jim Guckert saw the potential for beauty. He would pass by the pocket park at the corners of 8th and I streets, near the Marine Corps barracks, and imagine transforming it from an eyesore to lush garden.
So Guckert "recruited some neighbors to help me maintain the park and plant liriope and daylilies in the tree boxes," he said. "The garden was created because we wanted something more."
Every spring, the expansive, block-long oasis comes to life with an abundance of beautiful colors.  Beautifying that space was and continues to be a group effort.
After their initial success, Guckert and his neighbors formed the Guerilla Gardeners of Washington, D.C. (GGDC), turning their attention to other neglected patches of land. Since then, the all-volunteer group has beautified dozens of other sites throughout the city.
What is guerilla gardening?
One definition of the word guerilla refers to actions performed in an impromptu manner, often without authorization.
"Guerilla gardening started in the 1970s by environmentally conscious people. The practice was intended to make unused and neglected spaces more beautiful, green and healthy," the GGDC's website explains.
"Our philosophy interprets the term 'guerilla gardeners' as a people-powered beautification movement," Guckert said. "The community acts when it wants positive change."
While early guerilla gardeners performed their work "in the dead of night," the website says, the practice is more appreciated now. Despite the name's implication of a "rogue operation," he said, "we always look to partner and collaborate with other groups and city agencies when possible."
Partnering on Potomac Avenue
The group's partners and collaborators respect its hard work and expertise. In June 2020, Former D.C. commissioner Kelly Waud asked Guckert and his volunteers to help beautify several neglected parks between two public housing projects in Southeast D.C.
Volunteers removed overgrowth, then planted flowers, trees and shrubs. They celebrated the completion of the Potomac Triangle Parks Reclamation Project in September 2020.
Laud said she remains "deeply grateful to Jim and the Guerilla Gardeners for lending their support and expertise to supporting the community-driven improvements at the pocket parks along Potomac Avenue."
When working on that project, the GGDC partnered with Brothas Huddle and Little Lights, two organizations that mentor and tutor neighborhood kids, Waud said.
On a few Saturdays in early 2020, soon before COVID-19 took over our world, Brothas Huddle and the GGDC worked to create a special experience for Potomac Gardens neighbors.
Teens ages 13 to 18 who had helped to tend to green spaces in the housing project known as Potomac Gardens volunteered their time to make blended-fruit smoothies for visitors. In exchange, people could donate to the organization. Young people learned entrepreneurial skills and how to be of value to the community.
In upcoming weeks, Guckert will meet with Frank Muhammad, co-founder of Brothas Huddle, aka "Brother Huddle" to discuss continuing the work they began last year.
"I want to learn from Jim. As he transforms abandoned lots into beautiful gardens, so too do I hope to transform the minds of people who live in Potomac Gardens," Muhammad said. "We endeavor to guide children and teens to become good stewards of this thing called life."
Brothas Huddle also works with older adults. One of its goals is to encourage older adults to stay healthy and active.
Every Tuesday morning at 9 a.m., for instance, the organization hosts a community walk for the substantial senior population in Potomac Gardens. Despite the pandemic, the group of approximately 10 people still meets, wearing masks and standing six feet apart. People feel safe and are excited to be walking with their neighbors, Muhammad explained.
Volunteers keep it going
Today the GGDC has about a dozen regular volunteers, but many others step up to work on specific projects. Nearly 50 volunteers worked on a recent project, Guckert said.
"All of our volunteers perform various gardening tasks," he said, and no experience is required. "Everyone is a volunteer."
The organization, which became a 501c3 in 2019, receives no federal or city funding, relying mainly on private donations. However, several community organizations support the GGDC's work. The group receives financial support from the nonprofit Barracks Row Main Street group and the Capitol Hill Community Foundation.
The city of D.C. helps in its own way, Guckert said.
"We regard the city's role in the spaces we improve, i.e., mowing and trash removal, as supportive of our beautification efforts. That support enables our community's creative expression in the gardens."
Guerilla Gardeners of Washington, D.C. doesn't own any of the land that it works on, so it retains a renegade stance. Searching the city for neglected greenspace, Guckert sends a team of volunteers to rake, mow, dig and plant without the city's permission.
"When we started out, our thinking was, 'We'll do this until someone tells us to stop,'" Guckert said. "No one ever has! We have never heard anything but praise for our work."
To volunteer for or donate to Guerrilla Gardeners of Washington D.C., visit guerrillagardenersdc.org.