Arts
Historic violins tell stories of pain, hope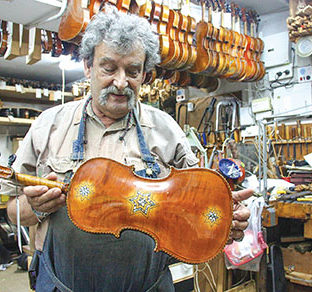 Amnon Weinstein restores violins in his workshop in Israel. Among his restorations are many violins that once belonged to victims or survivors of the Holocaust. Now through October 24, some of these instruments are on display at the Virginia Holocaust Museum. "When I'm looking at these instruments, I understand what the meaning of life was for [their owners]. It gives me all the energy I need to bring them back."
Photo by Debra Yasinow
During the Holocaust, Nazis forced Jewish musicians to play while their family members, neighbors and friends were marched to death camps.
At Auschwitz, Birkenau and other concentration camps, SS officers assembled orchestras and bands, ordering prisoners to play during executions. For some, the ability to play an instrument spared their lives.
"The people that played, they saw their families going to the gas chamber, and through the violin they were going with them," said Amnon Weinstein, 82, a Holocaust-era survivor and violinmaker. "They couldn't pray. Their violins prayed for them."
This year, 30 of the historic instruments Weinstein has restored in his Israeli shop are on display at U.S. museums in an exhibition titled "Violins of Hope."
Why hope? "The violins were played in impossible situations," Weinstein explained in a recent interview with Fifty Plus, "but the people playing them survived."
From August 4 to October 24, the exhibition will be in Richmond, thanks to a collaboration between the host institution, the Virginia Holocaust Museum, and the Virginia Museum of History and Culture, the Black History Museum and Cultural Center and the Richmond Symphony. Each museum will display violins and host educational programs.
Samuel Asher, executive director of the Virginia Holocaust Museum, said that the violins help people comprehend the devastation of the Holocaust, when six million Jews were methodically killed by the Nazis.
"It's hard to understand the Holocaust en masse, but we can understand one story at a time."
Weinstein's story
When Weinstein was born 82 years ago, his parents had recently fled Eastern Europe to what was then Palestine. Nearly 400 of Weinstein's relatives perished in Lithuania, site of the Ponary Forest massacre, where Germans murdered an estimated 75,000 Jewish civilians along with 25,000 prisoners of war and others.
"My mother would show us pictures of Ponary Forest," Weinstein said in a video about his life and work. "She would tell us, 'This is your family.'"
His father, Moshe, was a well-regarded luthier who made instruments for some of the world's most talented violinists. Some immigrants would bring their violins to him and tell him that if he didn't buy them, they would destroy the instruments, as they elicited such painful memories for them.
By the late 1980s, Weinstein had taken over his father's workshop. One day, an Auschwitz survivor who hadn't played his violin since the Holocaust, asked him to restore his old violin for his grandson to play.
That restoration led to a calling. Weinstein has since restored more than 90 such violins.
"All of them are my children," Weinstein said. "Every time I hold a new violin from the Holocaust, it feels like I'm holding history."
Telling their owners' stories
The current exhibition includes not only violins but the histories of their owners. Many of these stories are chronicled in a book by internationally respected musicologist James Grymes titled Violins of Hope: Violins of the Holocaust — Instruments of Hope and Liberation in Mankind's Darkest Hour.
One violin's interior contained black powder, Weinstein said, residue from when it was played near the death camps' crematoria.
Another had dried flowers inside. A woman came to own it after the Jewish boy whom she had hidden in her home left and never returned. She felt she honored the boy by placing flowers inside his silent violin.
The "Lyon violin" tells the story of a man traveling to Auschwitz. He threw his violin out the window of the moving train as it passed through the French city. He knew he would be unable to play it where he was going and hoped someone else would derive joy from it.
"I didn't know this work would be so important," Weinstein said. "Every time I restore a violin, I'm putting to life six million voices to speak."
Concerts bring violins to life
In conjunction with the exhibition, musicians will play the violins at several concerts. The Richmond Symphony, for instance, will play the violins at the Cathedral of the Sacred Heart downtown as well as at other venues in the region.
Weinstein has seen the restored violins played throughout the country, and he has been moved by musicians' engagement with the instruments.
"The orchestras are not playing at 100 percent of their abilities; they're playing at 200 percent. They cannot speak afterward. They are touched completely," Weinstein said.
Asher also described the power of seeing musicians play the restored violins.
"When the symphony plays the same violins that made it through the Holocaust — some of their owners survived and some did not — it's mind-blowing. There is so much meaning to it, so much depth.
"That's the bottom line of 'Violins of Hope.' Every violin tells a story."
The violins from the exhibition will be played in featured concerts at the Cathedral of the Sacred Heart on Sept. 9 at 7:30 p.m. and St. Mary's Catholic Church on Sept. 10 at 6 p.m.
Community concerts will take place at the Virginia Holocaust Museum on Aug. 5 at 6:30 p.m.; the Weinstein JCC on Sept. 26 at 3 p.m.; Virginia Arts Festival on Oct. 6 at 7:30 p.m.; Congregation Beth Ahabah on Oct. 17, 3 p.m.; and Virginia Museum of History and Culture on Oct. 24 (time TBD).
For more information about the exhibition, or to purchase tickets to some of the concerts, visit violinsofhoperva.com.
[Ed. Note: The founder and long-time publisher of Fifty Plus, the late Mark Fetter, was one of the founders of the Virginia Holocaust Museum.]