Arts
How to feed backyard birds this winter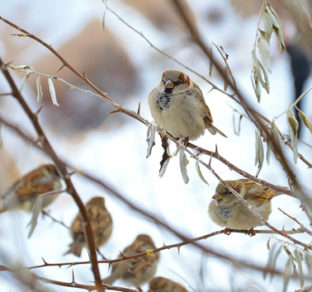 Although many of our feathered friends fly south during colder weather, other birds remain in the Richmond metropolitan area over the winter. Observing birds is one of the most popular wildlife-related activities.
By feeding the birds, you will increase your opportunities to observe permanent residents, such as the cardinal, goldfinch, blue jay and tufted titmouse, as well as winter-only residents, such as the dark-eyed junco, hermit thrush, white-throated sparrow and winter creeper.
Research has shown that feeding birds does not reduce a bird's ability to find other sources of nutrition. Typically, feeders serve as supplements to natural food sources. Indeed, providing high-calorie sustenance during periods of extreme cold as well as during ice or snow storms is important for birds' survival.
How can you feed the birds?
First, do not cut spent flowers from summer-blooming plants; the seed heads from rudbeckia, for example, provide natural nourishment for birds.
Include native plants in your landscape that produce seeds, nuts and berries, such as Northern hackberry, hawthorn, Eastern red cedar, viburnum, and native ornamental grasses. Leaving some leaf litter will provide homes for protein-packed insect larvae.
Second, realize that different birds eat different things. Just like humans, some are carnivores, some herbivores, and many are omnivores.
Choose a food and feeding method for the birds in your neighborhood (or for birds you'd like to attract). The Cornell Lab of Ornithology (https://www.allaboutbirds.org/) is a wonderful resource for bird identification, including bird songs.
Next, select a bird feeder that is appropriate for the type of bird you want to attract. You can purchase these, but even better, you can construct them — perhaps working together with your grandchildren or neighborhood kids.
Below are several simple options that can be assembled by children, depending on their ages, or with an adult's help.
Use twine or yarn, a carabiner, an "S" hook, or the clasp of a dog leash to hang your feeder. Sturdier branches are better for heavier feeders; however, hanging lightweight feeders on small branches will discourage squirrels from marauding. Preferably place your feeder in the cover of evergreens. A discarded Christmas tree makes great cover.
Refrain from giving table scraps or bread crumbs to birds. These often attract undesirable species, such as house sparrows, starlings, grackles and pigeons, as well as raccoons and other mammals. (If you have problems with undesirables, use black sunflower seeds to feed the birds only.)
Remember to clean feeders every week to prevent the spread of disease among the birds. Finally, include a water source and grit. Place baths or shallow trays of water in open areas. Grit is important for digestion in seed-eating birds. Use coarse sand, oyster shell grit or canary grit, and place in a saucer near the water source.
Do not mix the grit with food. Once the birds have found your oasis, bird watching may become your family's favorite hobby.
Simple, homemade bird feeders
Pinecone Treat
Materials:
Peanut butter or shortening (beef suet, lard or vegetable shortening)
Birdseed
Small screw eye and/or yarn
Directions: If pine cones are closed, put them on a cookie sheet in a low oven (300°) for 20-30 minutes until the heat opens them.
For hanging, insert screw eye into the flat end of a pinecone or simply wrap a loop of yarn around the cone. Cover the cone with peanut butter or shortening. Use a plastic knife to spread peanut butter deep within the scales. Roll the cone in birdseed; spoon birdseed to get it within the pinecone.
Peanut Butter and Millet Roll
Materials:
Peanut butter
Millet seed or assorted birdseed
Yarn
Toilet paper tube
Directions: Thread yarn through cardboard tube. Tie the ends of the yarn together to make a hanging loop. Spread peanut butter over the tube and roll in millet seed. This is attractive to finches, many sparrow species, and chickadees.
Orange Bowl
Materials:
Orange with a thick rind
Knife and spoon
Skewer or awl
3 pieces of twine, cut into 24″ lengths
Birdseed
Directions: With a sharp knife, cut the orange in half; scoop out the flesh with a spoon. Using a skewer, pierce three holes around the cup of the rind, approximately ½" from the cut edge. The holes should be evenly spaced around the rind's circumference. Thread a string through each hole, tying a knot inside the orange to hold the string in place.
Knot the strings together at the top to create a hanging loop, keeping all three strings the same length to support the orange and keep it level. If you want to tie the feeder directly to a tree branch, keep the strings untied until you hang the feeder. Repeat with the other orange half.
Fill with birdseed. This feeder is especially attractive to orioles.
Lela Martin is a Master Gardener with the Chesterfield County office of the Virginia Cooperative Extension.