Arts
Howard County arts venues present a wide variety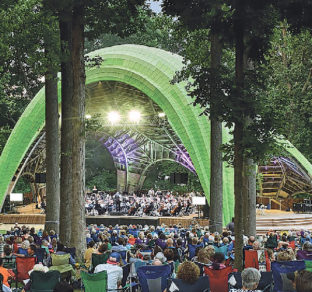 The Chrysalis at Merriweather Park hosts the Columbia Orchestra's free summer pops concert.
If you live in Howard County, there's no need to drive to Baltimore or Washington, D.C. to hear top-quality classical music or see a play that ran on Broadway. For more than four decades, Howard County has been building a robust arts scene that rivals big-city venues.
One mark of its progress will be the county's new cultural arts center, whose construction is set to begin in the spring. It will combine performance space, a children's theater, dance classes and art studios, as well as the new home of Toby's Dinner Theatre.
"There will be artists doing all kinds of artwork. Hopefully, it'll be buzzing with activity," said Toby Orenstein, owner of the dinner theatre. "It's a dream which we hope to see come true."
Toby's is celebrating its 40th anniversary this year, as are several other Columbia-based musical groups.
Frances Dawson, who founded the choral group Columbia Pro Cantare in 1977, urges Howard County residents to take time out to hear a concert or see a play.
"Music is something that really helps people in periods of strife," Dawson said. "There's something in it that reaches beyond anything else that can hopefully open your mind."
Here are some of Howard County's most popular art venues:
Candlelight Concert Society
 (410) 997-2324
info@candlelightconcerts.org
candlelightconcerts.org
Founded in 1972, the Candlelight Concert Society performs chamber music, most often in the Smith Center at the Horowitz Center (see separate listing below). This season's lineup includes international stars, including a Chinese accordionist, British and Uzbek pianists and a German a cappella group. In May, "Hayden to Hollywood" will feature popular music by John Williams.
"Our audience doesn't have to fight the traffic or pay parking garage fees; It's all basically in their back yard," said Irina Kaplan Lande, Artistic Director of the Candlelight Concert Society. "It's very exciting to have this incredible quality in Columbia and Howard County."
Chesapeake Shakespeare Company
PFI Historic Park, 3655 Church Rd., Ellicott City
(410) 244-8570
Chesapeakeshakespeare.com
Every summer, the Chesapeake Shakespeare Company enlivens an abandoned school in Ellicott City. The company's outdoor productions "In the Ruins" are located at the 1837 Patapsco Female Institute, now PFI Historic Park, 3655 Church Rd, Ellicott City.
There's free parking and a free shuttle to the venue, which has "generally accessible" seating, according to its website. Much Ado About Nothing is scheduled for next July.
The Columbia Orchestra
Performances at Jim Rouse Theatre and Performing Arts Center, 5460 Trumpeter Rd., Columbia, and other venues.
(410) 465-8777
info@columbiaorchestra.org
Columbiaorchestra.org
The Columbia Orchestra often performs in the 747-seat Jim Rouse Theatre. Maestro Jason Love, Music Director of the popular orchestra and recently formed jazz band, won the third annual American Prize in Orchestral Programming in 2013.
Among the unique aspects of a Columbia Orchestra concert are the free pre-concert lectures that delve into the composers and their back stories. These sessions are a great way to get more out of the performances.
This season's concert highlights go beyond Mozart and Gershwin to include the family-friendly Symphonic Pops concert in April — songs from South Pacific, The Sound of Music, E.T. and other classic films. Wheelchair accessible.
Columbia Pro Cantare
Performs at local churches and the Jim Rouse Theatre and Performing Arts Center, 5460 Trumpeter Rd., Columbia
(410) 696-2888
Procantare.org
The choral group Columbia Pro Cantare is celebrating 42 years in Howard County. Its audiences are "very sophisticated," Dawson said, and "quality is one of the things they mention" in surveys. This season, the group will perform Mozart's Requiem and Handel's Messiah. Senior tickets are $20.
Merriweather Post Pavilion
10475 Little Patuxent Pkwy, Columbia
(410) 715-5550
info@merriweathermusic.com
merriweathermusic.com
Led Zeppelin, Jimi Hendrix, Janis Joplin, the Grateful Dead, The Who, Santana and Paul Simon have graced this famous outdoor stage in Columbia. Designed by architect Frank Gehry in 1967, the outdoor pavilion collapsed in January 2018 during a $55 million renovation but has been rebuilt in the same style.
This year the amphitheater added not only corporate sky boxes but elevated, standing-room-only greenspace on both sides of the pavilion, dubbed the "sky lawn." The green Chrysalis amphitheater opened in 2017.
Merriweather closes for the season every September but will be back in the spring with a full lineup of every type of music under the sun.
Peter & Elizabeth Horowitz Visual and Performing Arts Center
10901 Little Patuxent Parkway, Columbia
This state-of-the-art venue at Howard Community College hosts many local arts performances. The Horowitz Center includes the Smith Theatre, Studio Theatre, Monteabaro Recital space, and Rouse Company Foundation Art Gallery. Parking in the West Garage is free on evenings and weekends. The complex is handicapped-accessible.
Rep Stage
Performs at Horowitz Center's Smith Theatre
(443) 518-1510
Repstage.org
For 25 years, Howard Community College's Rep Stage has taken on edgy, thought-provoking plays such as this season's E2, a remake of Christopher Marlowe's play Edward II.
"All four productions in the season also examine power in its many forms, whether it is the power of positive thinking, the abuse of power or the power of pure entertainment," Rep Stage Producing Artistic Director Joseph W. Ritsch said in a statement.
Toby's Dinner Theatre
5900 Symphony Woods Rd., Columbia
(410) 730-8311
info@tobysdinnertheatre.com
tobysdinnertheatre.com
Toby's Dinner Theatre productions have won many Helen Hayes Awards. This season, prepare to laugh at A Christmas Story, Kinky Boots, Shrekand Spamalot, which will feature Broadway costumes, according to Orenstein.
Since the theater's first show was Godspell, she said, they will perform that play again next year. "So there's new and there's old," she said.
Toby's Dinner Theatre has ample free parking and is open on holidays such as Thanksgiving and Easter. Orenstein also founded the Columbia Center for Theatrical Arts, a theater school, in 1972, which has daytime classes and performances throughout the year.
Laurel Mill Playhouse
508 Main St., Laurel
(301) 617-9906
laurelmillplayhouse.org
Established 35 years ago as the Burtonsville Players, Inc., since 2003 the Laurel Mill Playhouse has been located in a quaint 100-year-old house on Main Street in Laurel. Thanks to the intimate setting, the audience is able to meet the actors. Free parking is available in a nearby city lot.
The community theater's next season includes a play about the Salem witch trials and the classic Miracle on 34th Street.