Arts
Inside PBS's 'Antiques Roadshow'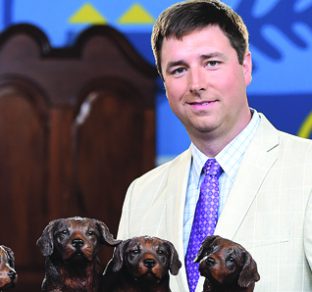 On an episode of "Antiques Roadshow," appraiser Matthew Quinn (right) discusses a sculpture of a mother dog and puppies carved by Black Forest artisans around 1900. Quinn, who is executive vice president of Quinn's Auction Galleries in Falls Church, Va., is now taping his eighth season on the PBS television show that sometimes surprises viewers with the value of items in their attics. This carving, for example, is worth $20,000.
Photo by Meredith Nierman for WGBH, © WGBH 2017
A few years ago, a coin shop owner in Vienna, Va., had a customer who coveted a few of the coins in the store. In exchange, the customer offered a set of 15 posters made for the 1984 Olympics in Los Angeles. Each poster was signed by the artist, including such modernist luminaries as Roy Lichtenstein and Robert Rauschenberg. The shop owner figured the coins he exchanged were worth about $1,000.
Curious about the limited edition posters' actual worth — only 750 sets were made — he carted them down to a taping of the PBS hit show "Antiques Roadshow" in Virginia Beach, Va., last year.
Out of thousands of people who brought their treasures for appraisal and possible inclusion on the long-running show, Saif (the show's policy is not to use last names) was one of just a few dozen chosen to be filmed for the show.
When the appraiser pronounced the collection worth $7,000 to $10,000 Saif's eyes widened in surprise, "Wow," he said a few times, collecting himself. "That is more than I was expecting."
That unexpected value of a treasure that might be lurking in your basement or attic is the hook that lures viewers to tune into "Antiques Roadshow" year after year.
"Antiques Roadshow" is PBS's most-watched ongoing series, and is now in the midst of filming its 22nd season.
One of the reasons for "Antiques Roadshow's" continuing popularity is that "we're smart reality television," said Executive Producer Marsha Bemko in an interview with the Beacon.
"You're not going to watch "Antiques Roadshow" and not learn when the Civil War happened. You're going to learn something in every show you watch. But you don't notice you're learning. How fun is that?"
The show is not just a history lesson, but also part treasure hunt, she said. Each piece has had a journey, Bemko said.
"We're very interested in that journey. Whether you're 8 or 80, you're curious. What is that thing? Where has it been? And, let's face it, we're all human — how much is it worth?" she said.
Appraisals at Beacon expos
Attendees of the Beacon's 50+Expos on Sept. 10 in Silver Spring, Md., and on Sept. 17 in Springfield, Va., will get a chance to find out how much their own treasures are worth from appraisers from Quinn's Auction Galleries, based in Fall's Church, Va.
Matthew Quinn, the executive vice president of the company, is also an appraiser on "Antiques Roadshow." He will be the keynote speaker at both expo locations, talking about "What's of value in your attic or basement?"
Quinn recently returned after taping "Antiques Roadshow" in several of the cities for next year's shows, including New Orleans, Harrisburg, Pa., Green Bay, Wisc. and St. Louis.
On Sept. 19, the show will be taped outdoors for the first time, in Newport, R.I. Bemko said she is keeping her fingers crossed that it won't rain, but noted that there will be tents and indoor areas if needed.
As for the cities that the appraisers will visit next year for the 2019 shows, that's top secret, Bemko said. The show was last taped in Washington in 2011 and in Baltimore in 2008.
Quinn, who specializes in appraising decorative arts, pottery and porcelain, has appeared on eight seasons of "Antiques Roadshow." But he came close to never being on the show at all.
Almost a decade ago, he told the person sitting next to him on an airplane that he was discussing whether an older employee at Quinn's should audition for "Antiques Roadshow" — someone who had gravitas and looked more mature than Quinn, who was in his 30s at the time.
"My seatmate turned to me and said, 'No one wants to see another gray-haired professorial guy. They want to see you!'"
Matt's brother, David Quinn, president of Quinn's Auction Galleries, also appeared on the show for several seasons.
Assigning value: up or down
For Quinn, there's always an element of anticipation before the 5,000 to 6,000 people pour in for each taping.
"You never know what's going to come in the door," he said.
One of his all-time-favorite items was a collection of items from NASA's Apollo missions owned by an engineer who worked there. He had bought a jacket with NASA and Apollo logos at work in 1960 for $40. Today, it's worth $3,000 to $5,000 because it's so rare, Quinn said.
Even rarer are the stickers that emblazoned Apollo 11. A worker was scraping them off the spacecraft following touchdown and was going to throw them away. They are now worth $30,000 to $50,000 each. And an early '60s model of a spacecraft signed by 15 astronauts could go for $20,000 to $30,000 today.
While some things gain value over time, others can fall out of favor with collectors and plummet, Quinn said. For example, last year at the taping in Virginia Beach a woman brought in a large round green vase decorated with ceramic dogwood flowers.
Quinn estimated it was made in 1930 and today is worth $600 to $800. But if she had sold it in 1995, it would have been worth $3,000 to $5,000.
"Kids today are not collecting the way [their parents] used to," Quinn said. "Nostalgia drives our buying. You'll find people today that are collecting guitars, comic books, things of pop culture in the '60s and '70s when they were growing up.
"So you're finding more and more of that, and less and less of the curio cabinet, the Hummel figurines, the collectors' plates. Most of those things have next to no value, or they're fallen off precipitously," he said.
Getting on camera
At each "Antiques Roadshow" taping, thousands of attendees bring in about 10,000 items to show the assembled appraisers, hoping theirs will get chosen to appear on the television show. Prior to the taping, each appraiser pitches to the show's producers a few select items for inclusion on the show.
Once approved, the appraisers are given anywhere from 20 minutes to a couple of hours to research the items and assess their value as accurately as possible before their segment is filmed.
How do the appraisers select their preferred items?
"It's not always about the money. They're the most lovable geeks," Bemko said of the appraisers. "They don't just get jazzed by something because it's worth a lot of money. They get jazzed because they are lovers of art, lovers of things they are experts in."
Even getting those select pieces on the air can be challenging. "It's not an easy process, because most of what they pitch is tape worthy. But is it another Tiffany dragonfly lamp? Well, it's worth a lot of money, but we're probably not going to pick it," Bemko said.
When he first started, Quinn and other appraisers were sent to "TV school" — basically a crash course in appearing in front of the camera. One thing they work on is calming nerves, as most appraisers haven't been on TV often.
One tip: When using a pointer, your hand may be shaking, making the pointer shake as well. Steady it by resting your arm on the table.
Quinn has some advice for those who are working to downsize or sell pieces in an estate. "What we see all the time is families who come in with things they think are valuable, but aren't very. While the things they almost threw away are valuable," he said.
For example, 15 years ago, a Quinn's Auction Gallery customer contacted Quinn, wanting him to sell his parents' extensive collection of National Geographics.
"I'm thinking, 'Who cares?'" Quinn said. "But then he said, 'You don't want this old Goofy toy, do you? And he throws this rusted toy in the trash. I pull it out and say, 'I want this. I don't want those.'"
He sold a few of the National Geographics for a couple bucks. The Goofy toy went for $150.
"Value lies in the places you least expect," Quinn said. "Memories are important when it comes to stuff."