Arts
International tai chi champions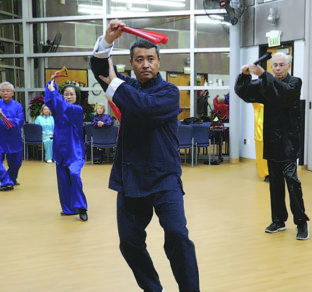 Instructor Jian Ping Mao leads a tai chi class at the East Columbia 50+ Center. A group from the center recently garnered 50 gold medals at an international competition in China. Tai chi is a gentle exercise that can help with strength, balance, flexibility and coordination — as well as reduce stress.
Photo by Stan Segawa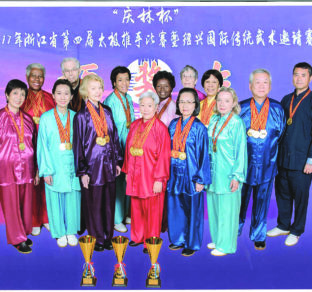 Columbia 50+ Center tai chi practitioners show off the medals they earned in China.
Many recreation centers provide instruction in the ancient martial art of tai chi. But it's a rare program that sends 17 of its members to China to participate in an international competition, and no doubt even rarer when such a group sweeps the awards in their categories.
That's exactly what happened, however, when a group from the East Columbia 50+ Center's tai chi class traveled to China last November.
The tournament's official, tongue-twisting name was Zhejiang 4th Tai Chi Push-hands Competition and Shaoxing Traditional Wushu Invitation 2017.
Most of the 1,000 or so competitors hailed from mainland China. The Columbians, ranging in age from their late 50s to 82, returned with 50 gold medals and three trophies for their group and individual routines.
The local group was led on the journey by its tai chi instructor Jian Ping Mao, who has given the classes at the center for the past decade. Mao felt it was time for a 10th anniversary celebration in the land where tai chi was born some 1,000 years ago.
The tai chi master proudly recounted his students' success: "We participated in three group competitions and won all three trophies. We also participated in 11 individual competitions and won all the 11 gold medals."
Why tai chi?
Tai chi is an ancient martial art that includes gentle exercise routines that have captured the bodies and minds of growing numbers of older adults who see it as the way to go for physical and mental fitness.
Members of the local group who went to China enthusiastically describe the personal benefits they experience from practicing tai chi.
"I've found the exercise keeps me mentally acute and physically fit through gentle movements — stretching, breathing. It's almost like learning new dance steps," said Chris Woodruff, 65, of Columbia.
"I go to classes once a week and practice sessions twice a week, as well as practicing every day at home. I hope to be doing this for the rest of my life," declared David Chu, also 65, of Ellicott City.
Elsa Ponce, 82, of Columbia, hurt herself doing yoga. So eight years ago, she got into tai chi, which has been called "moving meditation." "I love it; it's really great for balance," she said.
Not only were the Columbia-area competitors among the best in the world, but they also had the oldest participant in the tournament (Ponce), and the oldest average age of any team (70).
Instructor Mao, who like many other Chinese-born children began studying martial arts in school at the age of 6, now spends his daytime hours doing atmospheric pressure research at NASA's Goddard Space Flight Center in Greenbelt.
He was overjoyed by his students' performances, as well as by their trip to visit several cities and sights around China. Mao emigrated from there in 1990, "soon after Tiananmen Square" — shorthand for the massacre by Chinese troops of pro-democracy students who protested at that site in 1989.
Health benefits of tai chi
Tai chi involves gentle exercise that puts minimum stress on muscles and joints. It is said to improve balance and muscle tone, lower blood pressure, relieve anxiety, and ease asthma and insomnia problems, among other benefits.
Dr. Michael Irwin, director of UCLA's Mindful Awareness Research Center, recently found through his research that there was an "increase in the number of T cells that fight off shingles" in patients who practiced tai chi. He told CNN that practicing the exercise "gave the same immunity boost as a vaccine developed for shingles."
Irwin also said that a 2015 study found that tai chi, over several weeks, "reduced cellular inflammatory responses in patients suffering from insomnia."
He was asked why this ancient routine — which originally developed as a martial art for self-defense and has evolved as a graceful form of exercise — brought about all these healthful results.
"We simply don't know," Irwin said, "but we have various clues. When we practice tai chi, we're slowly moving. But we also have to be present in this moment — not tomorrow, not yesterday, but in this moment.
"Being present in the moment," he added, "turns off all these kinds of stories that we tell ourselves, that our brain tells our body. When we're telling all these stories about all these horrible things that have been happening to us, we get an activation of these stress response pathways.
"So being present in the moment helps us maintain a sense of calmness, but also short circuits activation of the stress pathways."
Enthusiastic practitioners
Chris Woodruff believes she has found those calm moments. She had always known, she said, that she was not very athletically or follow-the-leader inclined. "Whenever everyone said go left, I usually went right," she said.
Then, eight years ago, on the lookout to find a way "to keep active, to try something different," she joined the East Columbia tai chi group.
"Everyone was so patient and kind," she said. "The mindset of the group really made me comfortable. I found a physical exercise that works with mental acuity, balance — and [offers] socialization."
Woodruff waxed poetic about the exercises, noting their "meticulous flow," which she said was much like Chinese dry brush painting, where each stroke and ink color evokes the simple-looking, but significant art.
"Each exercise," she noted, "has a story, with bends and stretches called out [by such names] as 'ladies diving for pearls,' 'climbing a mountain' or 'reaching for the sky.'
"You memorize the different steps, like a waltz or a fox trot. It helps your memory," she said.
Although she says she considers herself athletically challenged, Woodruff won a gold medal at the China competition. Did she expect that?
"Not in my wildest dreams," she replied.
Taiwan-born David Chu, who has lived in the U.S. since 1979, began practicing tai chi nine years ago in Columbia with Mao. Before his recent retirement, Chu owned and operated several restaurants (including a kosher Chinese restaurant bearing his name in Pikesville).
Chu now says that because of his increasing interest in tai chi, he plans to visit China again next year, this time for at least six months. "I want to learn the most advanced forms" of the exercises and the meditation, "since I will be doing them for the rest of my life," he said.
Ernie Hilsenrath of Fulton, a 10-year veteran of tai chi, says the graceful regimen must be doing him good because, having just turned 80, he still feels — perhaps understatedly — "O.K."
Hilsenrath, who had traveled to China twice on business before, found his recent eight days there "astounding." The semi-retired editor and reporter, who now works part-time for NASA's "Earth Sciences Observer" newsletter, was amazed to find himself a participant in a tai chi tournament in China.
"How in the world could I ever imagine that?" he said he still continually asks himself.
Pamela Segawa, 67, a third generation Chinese-American from Hawaii, noted that she took up tai chi before having hip replacement surgery two years ago. Four weeks after the surgery, she was back doing the exercises, which she feels helped greatly in her recovery.
The 25-year resident of Columbia, who also practices yoga and does pool workouts, took her first trip to China in November with the Columbia group.
When she entered the individual competition, which she performed with a sword, "I was very excited, and I wanted to do well." She garnered a gold medal from the judges.
Segawa has been in the Columbia group for the full 10 years of its existence, and had practiced tai chi five years before that.
She cannot imagine not practicing tai chi. "I hope to keep doing it for as long as I am able," she said.