Arts
It's alive! Young Frankenstein at Toby's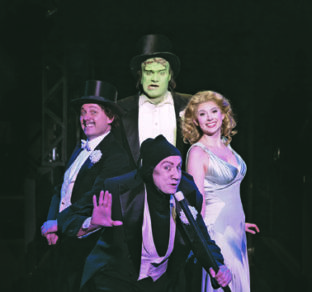 In the campy musical Young Frankenstein, now at Toby's, Jeffrey Shankle's young Dr. Frankenstein, his henchman Igor (David James) and assistant Inga (Louisa Trinfalli) try to convince the townsfolk that the monster they created is actually a "man about town" in the number "Puttin' on the Ritz." Christopher Kabara, as the monster, looms behind, goofy grin and dance moves ever present.
Photo by Jeri Tidwell Photography
Prepare for some wild, thoroughly irreverent fun at Toby's Dinner Theatre with the current show Young Frankenstein, the musical based on Mel Brooks' hit cult/comedy film from 1974. The musical version was created much more recently, in 2007, but it's definitely true to the original movie — not surprising since the music and lyrics are also by Brooks himself.
Coming on the heels of Toby's traditional, family-friendly holiday show, Miracle on 34th Street, Young Frankenstein is decidedly not kid-friendly. So to enjoy this boisterous, suggestive and hilarious musical, leave the grandkids at home.
In case you're not familiar with the film, Young Frankenstein is an affectionate parody of the classic 1931 horror film Frankenstein and of the horror genre in general.
The musical version opens in Transylvania, where the townsfolk rejoice at the funeral of Dr. Victor von Frankenstein, the famed mad scientist who haunted the town by making a monster from the remains of deceased people.
Unfortunately for them, there's one Frankenstein left alive — a Dr. Frederick Frankenstein (played wonderfully by funnyman Jeffrey Shankle). He's a lecturing professor at a top New York medical school who wants to leave his grandfather's gruesome history in the past.
He's called to the old town to settle his grandfather's estate, and while there is successfully tempted to "Join the Family Business" by the spirit of Victor in a phenomenal number by actor Justin Calhoun.
Cast of characters
As with any Toby's show, the cast makes excellent use of the small theater-in-the-round experience. Shankle really nails the quirky, high energy of Frederick Frankenstein's character, and the role is a showcase for his vocal ability and impressive range. His first number, "The Brain," features goofy Mel Brooks lyrics with a Gilbert and Sullivan-esque flair.
But the best male performance of the night was by David James, who plays Frankenstein's hilarious hunchbacked henchman, Igor. He gets all the best one-liners, and is especially funny when he meets Frederick for the first time with the show stopping number "Together Again."
The first act also introduces us to three strong leading ladies. Elizabeth, played with much-needed over-the-top drama and sass by Alicia Osborn, is Frederick's tease of a fiancé, and she makes it known with the number "Don't Touch Me." She does a complete 180 by Act Two with "Deep Love," which offers an even better showcase of her big vocals (and hair!).
The second lady we meet is the absolute gem Louisa Tringali as Frankenstein's innuendo-loving assistant Inga. She's a bright light, from her big notes to her impressive yodeling skills in "Roll in the Hay."
Soon after meeting Inga, Dr. Frankenstein is introduced to his housekeeper, the intimidating Frau Blücher (cue the spooked horses!), who was once intimate with Frankenstein's grandfather. We find this out in the smash number "He Vas My Boyfriend," during which actress Tess Rohan had the audience clutching their sides with laughter. It's one of the best numbers in the first act.
Eventually the villagers, led by Inspector Kemp (an under-utilized but very good David Bosley-Reynolds), catch onto the funny business happening in the Frankenstein castle and are understandably concerned.
The menacing monster that the doctor brings to life is played by Christopher Kabara, given some extra height with a little help from some platform shoes. Without giving too much away, suffice it to say the monster ultimately proves to the villagers that he's no longer a menace and should be accepted, and we're treated to some hilarious dance moves during "Puttin' on the Ritz."
The show moves quickly, barely stopping for breath, and it's completely campy and entertaining.
Show details
Young Frankenstein continues through Sunday, March 11 at Toby's Dinner Theatre, located at 5900 Symphony Woods Rd. in Columbia, Md.
The show runs seven days a week with evening and matinee performances. Doors open at 6 p.m., Monday through Saturday, for dinner prior to the evening performances, which begin at 8 p.m.
On Sunday evenings, doors open at 5 p.m. for dinner, followed by the performance at 7 p.m. For the Wednesday and Sunday matinees, doors open for brunch at 10:30 a.m., with shows beginning at 12:30 p.m.
Reservations are required. Ticket prices range from $45.50 (for children under 12) to $64, depending on the performance. Ticket prices include an all-you-can-eat buffet dinner or brunch, tea and coffee. Specialty alcoholic drinks — like this show's tequila-drenched mango margarita, named "Abby Normal" — are priced separately.
Our buffet meal was quite good, featuring a selection of meats and sides (including helpfully marked vegetarian and gluten-free options), including prime rib, roast turkey, fried fish, cocktail shrimp, a variety of vegetables, salad bar and more.
Cake and unlimited ice cream are also included. You can also arrange to have coffee or alcohol brought to you during intermission.
At Toby's, the show's actors also wait on tables. Their tips constitute much of their pay for their performances, so be sure to tip well. They definitely work for it with this show!
For more information or to reserve tickets, call (410) 730-8311 or visit www.tobysdinnertheatre.com.