Arts
Jewelry designer fuses geometry, color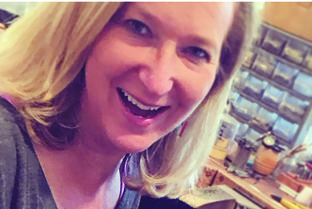 Jewelry designer Barbie Levy fashions colorful earrings and necklaces in her "Barb-Wire" line.
Local jewelry designer Barbie Levy is looking forward to the annual American Craft Show this February, where she can meet up with customers who seek out her colorful and eye-catching jewelry.
"I never thought the jewelry I started designing in college would take my career where it is today," said the 52-year-old Ellicott City resident. Levy's popular "Barb-Wire" line of colorful silver and glass earrings and necklaces has been a staple of her business since she founded it in 1994.
Levy always had a passion for art, but also had a practical side. "I didn't want to be a starving artist," she said.
So after graduating from Pikesville High School, she enrolled at the University of Richmond, intending to major in math and business. It turned out that wasn't the school or the program for her, and a year later she transferred to the University of Georgia where she earned a Bachelor of Fine Arts degree in jewelry and metalworking.
Returning to Baltimore, she apprenticed for three years at a custom design fine jewelry shop on Charles Street, where she refined her skills in various construction and stone setting techniques. During that time, she also attended various workshops at such prestigious craft schools as Penland, Haystack and Peter's Valley.
Inspired by geometry
It was Levy's mathematical bent that provided the inspiration for her jewelry, which is known for its geometric shapes and angles. Adding colored glass and semi-precious stones is like "working with candy," said Levy.
Levy gave up doing commissioned work when her daughter was born 10 years ago, and now focuses on her wholesale and retail lines. Her pieces can be found in more than 100 shops across the country. (Locally you can find Levy's jewelry at Artcraft Collection in Savage, and Amaryllis in Towson.)
In addition, she exhibits at shows such as American Handmade, Museum Store Association Expo, Sugarloaf, and the American Craft Show.
Levy thinks her jewelry designs have had staying power because they're colorful, easy to wear, and are reasonably priced (from $40 to $100).
"The colors, balance, geometry and clean lines create a light and contemporary look," she said. "There's so much jewelry out there, but I think my work is unique. It makes people smile."
Going to the craft show
The American Craft Show will be held at the Baltimore Convention Center, 1 West Pratt St., from Feb. 22 to 24. It will feature 550 of the country's top contemporary jewelry, clothing, furniture, and home décor artists.
This year, two specialty programs — "Let's Make" and "Hip Pop" — will offer attendees more opportunities to interact with local artists, experience demos, and learn about art and craft hands-on.
Hours for the show are Feb. 22, 10 a.m. to 8 p.m.; Feb. 23, 10 a.m. to 6 p.m.; and Feb. 24, 11 a.m. to 5 p.m. Tickets for the show are available online at craftcouncil.org/Baltimore or onsite.
Online tickets can be printed and brought to the door. Tickets purchased online by Feb. 21 are $14 for a one-day pass; $34 for a three-day pass. After Feb. 21, tickets are $2 more. Tickets are free for American Craft Council members and for children 12 and under. On Friday, Feb. 22, admission is $5 after 5 p.m. for on-site purchases only.