Arts
Jewelry store keeps family tradition shining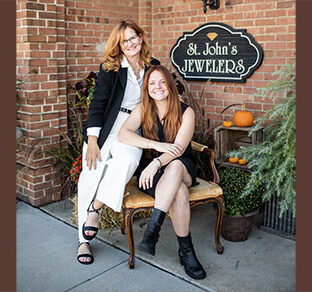 Linda Miller and her daughter Nicolette Miller are second- and third-generation gemologists at St. John's Jewelers in Ellicott City. Voted Best Jeweler in Howard County, the store is celebrating its 50th anniversary this year.
Photo courtesy of St. John's Jewelers
Diamonds may be forever, but neighborhood jewelry stores have been fast-fading — except, perhaps, for those generationally owned, like St. John's Jewelers. The Ellicott City store is celebrating its half-century as a family business this year.
"I started working in the store when I was 16, a student at Randallstown High School," said Linda Miller, 62. She now owns and operates the store, which is located in St. John's Plaza in the McAlpine building on Route 40.
"My dad, Irwin Farber, worked in the store until he was 88," Miller told the Beacon in an interview. "My mom, Charlotte Farber, worked there until she was 92. Now my daughter, Nicolette, is working with me and will take over when I retire."
In 1973, Farber, a longtime jewelry department manager at Taylor's on Main Street in Old Ellicott City, decided to open his own shop with the help of his wife, a bookkeeper.
The store relocated 20 years later to its current brick building just across the street. Miller became owner and president of St. John's Jewelers in 2003.
Both Miller and her youngest daughter are trained gemologists who examine, determine and certify the quality of gemstones and finished pieces of jewelry.
Their education, Miller said, allows them to evaluate the true value of family jewels — one of the principal reasons that customers come into the store. They regularly appraise and update antiques.
"Having old jewelry is like living in an old house," Miller said. Just like renovating a house, she said, "We can take the old jewelry and put it in a new, more comfortable style."
Third-generation jewelers
Nicolette "Nikki" Miller has been "hanging around the store since she was a baby," according to the store's recent social media post.
Now 25, the younger Miller said the best part of her job is selling engagement rings and wedding bands to couples. She also enjoys working alongside her mother.
"It's so much fun — whether we're designing pieces, or talking about what diamonds we like the most, or what designs we want to create together," she said.
"It's inspiring to see what she has done with the place, and I'm so happy I get to learn from her."
The newest trend in diamonds is stones "grown" in a laboratory. Although they look identical to traditionally mined diamonds, they aren't associated with exploitation of workers or a negative environmental impact.
Lab-grown diamonds are also less expensive. St. John's, which is accredited by an international oversight organization called SCS Global Services, sells certified, sustainable lab-grown diamonds.
Bucking the trend
On average, about 400 jewelry stores have closed every year in the past decade. Shopping for jewelry has increasingly moved from in-store to online.
An industry source attributes the change to millennials, those born in the early 1980s to the early 2000s.
"Price is the greatest influence on millennials," the source said. "Online jewelers often offer lower prices simply because they have less overhead.
"Brick and mortar retail jewelers have higher rent, personnel, security and storage costs, just to list a few…The overall experience of buying in a store may be a thing of the past."
That's certainly not the case at St. John's Jewelers, which was voted Howard County's best jeweler last year. The shop has hosted Christmas and Halloween celebrations for decades, welcoming longtime customers with food and cheer.
Linda Miller is optimistic about her industry. She pointed out that jewelry is still mostly bought and transferred hand to hand, not online. Jewelry items "usually come as a gift from a special place in the heart of the giver," she said.
"That's one of the reasons we're still in business."
For more information, call (410) 465-7770, visit St. John's Jewelers at 9141 Baltimore National Pike, Ellicott City, or go to stjohnsjewelers.com.