Arts
Jimmy Buffett's songs take center stage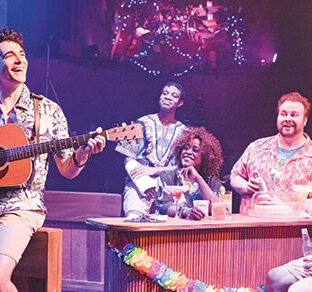 Patrick Gover stars as a bartender named Tully Mars in Jimmy Buffett's Escape to Margaritaville. The jukebox musical, built around a number of Buffett's songs, runs through Aug. 20 at Toby's Dinner Theatre in Columbia.
Photo by Jeri Tidwell Photography
If you think it's 5 o'clock somewhere — and it's a good guess it is — then you'll want to visit Toby's Dinner Theatre in Columbia to check out the current production of Jimmy Buffett's Escape to Margaritaville.
Like Mamma Mia, it's a "jukebox musical" that includes pre-existing songs and builds a storyline around them.
This is the area premiere of the show. It had a brief run on Broadway, opening in February 2018 and lasting for 124 performances. Reviews were mixed, and a national tour began in 2019.
The lively musical was a good choice by director and choreographer Mark Minnick, who has directed and choreographed just about all the shows at Toby's for the past 15 years.
The cast consists of 21 very talented performers led by standouts Patrick Gover, playing Tully, and Anna Phillips-Brown, playing Tammy.
Performers are better suited for major parts in shows if they are a "triple threat" — someone who can sing, act and dance well. I was impressed to find that most of this ensemble can perform all three very well.
The show is presented in the round, so there isn't a bad seat in the house, and with a live six-piece orchestra, the sound is excellent from any seat.
The behind-the-scenes folks consist of David Hopkins, scenic and lighting; Janine Sunday, costume designer (you'll love the island shirts — wear one if you still have one in your closet); Cheryl Stansfield, production stage manager, and projections by David Hopkins and Jimmy Engelkemier.
Toe-tapping numbers
You're sure to recognize most of Buffett's songs, especially "Cheeseburger in Paradise," "Margaritaville," "Five O'Clock Somewhere" and "Changes in Latitudes, Changes in Attitudes."
Quite frankly, there were many songs I didn't know, but I still enjoyed the laid-back cadence of each of the 20 tunes, most of them from Buffett's albums from the late 1970s.
You don't have to know Buffett's music to enjoy Escape to Margaritaville, Minnick emphasized when I spoke with him before a recent performance.
It's a "funny, edgy, heartwarming musical comedy where singing along is allowed," Minnick said. As Toby's website puts it, "This show contains mild language and adult innuendos."
Although you'd assume that the audience might feel compelled to sing along, that's not really the case. It happened at the performance I attended, but only briefly and in one song: "Margaritaville."
Let me interject here: Jimmy Buffett, who is now 76 years old, does not appear in the show. Apparently, the box office has been asked several times, "At what show will Jimmy Buffett be there?"
But his music, a blend of rock and country, certainly is. Some folks have described his music as a way of life — a mellow, escape-to-the-Caribbean lifestyle.
Boy meets girl, yada yada
The plot is the simplest part of the entire night and not all that important. After all, you're there for the music, dancing and attitude.
But to sum it up, a part-time bartender from Ohio living in the islands falls in love with a tourist who's just a little too career-minded. And, as in all love stories, she leaves, he chases her, and, what do you know, all's well at the end. How could it end any differently?
This is, don't forget, a dinner theatre, and Toby's guests will enjoy the menu for this show: tropical fruit, veggies, shrimp casserole, tilapia, a salad bar, a carving station with chicken, roast beef, turkey and ham, and an ice cream bar.
Also available (for an additional payment) are alcoholic drinks, including the drink special, "The Coconut Telegraph," served in a souvenir glass. It's also available in a nonalcoholic version.
Toe-tapping is encouraged!
Jimmy Buffett's Escape to Margaritaville runs through Aug. 20, and is suitable for patrons 10 and older. Doors open for dinner at 6 p.m., and an 8 p.m. show gets you out at about 10:30 p.m. There are no longer any Covid restrictions at the theatre.
Toby's is located at 5900 Symphony Woods Rd. in Columbia, Maryland. Advance reservations are required. Performances are Tuesday through Sunday nights, with matinees on Wednesday and Sunday at 12:30 p.m. (buffet brunch for matinees opens at 10:30 a.m.).
Tickets are $74-$79 for adults and $57-$60 for children 12 and under. All tickets include the all-you-can-eat buffet. Patrons are also expected to tip their servers (who are, by the way, the actors), who bring beverages and special desserts to tables.
Those 65 and over may attend any Tuesday or Wednesday performance for $62.90. Tickets may be purchased from Ticketmaster or by phone from the box office at (410) 730-8311.