Arts
Laughter yoga boosts health, connection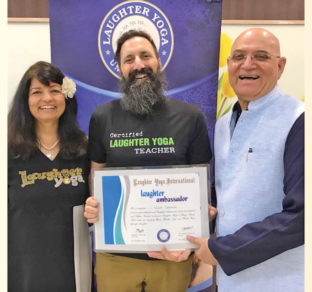 Slash Coleman earned a "laughter ambassador" certificate from laughter yoga founders Dr. Madan and Madhuri Kataria. Coleman, an author, artist and performer, founded Laughter Yoga Richmond, whose classes combine traditional yoga poses with healthy belly laughs.
Photo Courtesy of Laughter Yoga Richmond
Four years ago, when author Slash Coleman was recovering from a collapsed lung, his surgeon gave him some advice: laugh more. Laughter would not only help Coleman move air into his lung, it would benefit his mental health.
Coleman had stopped traveling the world for his one-man shows, moved back to Richmond, where he was born, and isolated himself for a year.
Taking his surgeon's advice, he first enrolled in an expensive improvisational comedy class.
"I thought I'd love it because of my performance background," Coleman said. "But there was too much pressure to think of clever things quickly."
He dropped out of improv and tried a laughter yoga class being offered by a counselor at a local church.
"I figured, what do I have to lose?" Coleman said.
The effects were immediate. "Within the first 10 minutes, not only could I feel oxygen being pushed into my body where it had never been pushed before, but I also felt a bizarre connection to everyone in the room."
After his first teacher left, Coleman decided to become a certified laughter yoga teacher himself.
Laughter yoga's origins
Laughter yoga was first developed in 1995 by Dr. Madan Kataria in Mumbai, a physician who found that 10 minutes of laughter could provide more healing than traditional medicine.
The technique is said to offer numerous physical benefits. After only 10 minutes, laughter yoga can be aerobic. Laughter not only helps move air into the lungs, as Coleman found, it can also lower stress and blood pressure. Laughing also releases endorphins, which can relieve pain for six to eight hours afterward.
And it doesn't particularly involve humor. Through his theatrical background, Kataria knew that simulated laughing impacts the body as much as real laughing.
In other words, the body can't differentiate between involuntary laughter, say, in response to a joke, and voluntary, forced laughter.
Laughter yoga engages different parts of the brain, while also teaching participants to laugh at everyday situations — like misplacing an object or forgetting something — that might otherwise cause anxiety or stress.
In laughter yoga classes, participants sometimes hold poses as in traditional yoga, but the classes also incorporate playful exercises in which simulated — or forced — laughter leads to unconditional — or natural — laughter. Deep breathing exercises are interspersed between the laughter exercises.
Most importantly, laughter yoga leads to deeper, more profound human connection between participants. At the end of each class, participants gather in a circle, either seated or lying down, and participate in slow, simulated laughter that usually leads to genuine laughter.
Slash makes splash in Richmond
Creativity has driven Coleman for much of his life. His father, Mike, an eccentric sculptor, raised Slash in his art studio, where he taught him to draw, paint and play piano at age 5. To honor his grandfather, who had worked for the French Resistance in World War II, Coleman used money from his bar mitzvah to change his name to Slashtipher.
Now 52, he has authored several books and has produced an award-winning PBS special and two one-man shows that have run off-Broadway. He currently writes for Psychology Today.
After becoming certified as a laughter yoga teacher, Coleman started teaching classes in Richmond in March 2018. He offered free classes to anybody who wanted to attend and partnered with dozens of organizations throughout the city, including ASK Childhood Cancer Foundation, the U.S. Department of Veteran's Affairs, and numerous senior centers.
In his first year, Coleman says he worked with nearly 9,000 people, about 70% of whom were older adults. He taught classes for the Richmond Fibromyalgia and Chronic Pain Association, whose members say they experienced significant improvements to their health.
Because of his success, Coleman was invited by Dr. Kataria to train in India and was given the U.S. Laughter Ambassador Award. He also trained to certify other laughter yoga teachers.
Before the pandemic, Coleman taught regularly throughout the city, including at local libraries, schools and senior centers. He's now teaching online every third Thursday through the Heartfulness Meditation Center.
A unique ability to teach
While Coleman roughly follows Kataria's model, he creates his own unique classes. He incorporates Brain Gym exercises and relies on his understanding of Howard Garner's theory of "multiple intelligences" to maximize laughter yoga's benefits.
Coleman acknowledges that his classes aren't for everyone; not all people feel comfortable being playful and vulnerable in a room full of strangers. Still, he said, "the people who do like it keep coming back."
One of Coleman's students, Billie Carroll, 53, participates in his classes to improve her breathing, she said. But she also enjoys the opportunity to be playful and silly while connecting with other participants.
"Slash has a unique way of bringing people together," Carroll said. "He provides a nurturing innocence and sense of protection that allows you to play and experiment and be vulnerable."
At the end of one of Coleman's classes, a 6-year-old girl chose to lay down next to an 89-year-old participant.
"They were looking at each other the whole time," Coleman said. "It was a really beautiful moment. That socialness isn't science; it's humanness."
Find out more about Coleman and his classes at laughteryogarichmond.com.