Arts
Launching a bartering network for artists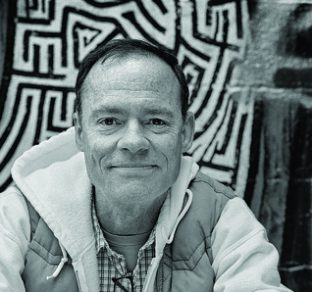 Bruce McKaig recently launched a bartering network for artists.
Bruce McKaig first became interested in cashless, or barter, economies when he was living in a small village in Guatemala. He noticed that the residents there fared better by trading with each other to meet their needs.
Not only that, but he observed that the community thrived because, as he put it, "Bartering fosters personal interaction and strives to find a common ground where all parties are satisfied."
McKaig, who is in his mid-50s, lives in Baltimore City's Artists' Housing Co-Operative. He said the co-op living experience has profoundly influenced him, and made him want to translate it to Baltimore's artistic community.
The result is Trade4Art — a Baltimore-based barter network that connects artists with skilled workers, allowing them to directly exchange their skills, goods or services without cash and free of additional fees. Trade4Art will have its public launch at this year's Artscape, a free annual arts festival that runs from July 21 to 23.
McKaig noted that other barter networks exist, both locally and nationally — such as the Barter Network, Trade Now and the Baltimore Gift Economy.
"Most of us already engage in some sort of barter exchanges," McKaig added, "sometimes helping family, neighbors or colleagues not for cash, but for help, goods or services in return."
Photographer and economist
McKaig is not only a photographer, but also an economist and social justice advocate. His concept for Trade4Art earned him a Crusade for Art Engagement grant, which is designed to provide funding for unique projects that cultivate a demand for art and create opportunity to collect it.
He also was named a semi-finalist for the Sondheim Artscape Prize, which is held in conjunction with Artscape's juried exhibition and produced with the Walters Art Museum and the Maryland Institute College of Art (MICA).
"Trade4Art is an accessible, equitable and sustainable way for members of the community to use their skills to meet their own needs," said McKaig.
The way Trade4art works is simple and straightforward, he said. The Trade4art website, www.trade4art.info, provides a platform for connecting artists, artisans, skilled workers and tradespeople.
Artists and workers have the opportunity to negotiate directly with each other to swap needed services and items. Participants are not obligated in any way to accept the trade offers they receive. Anyone eligible can participate by contacting Trade4Art through its website.
Currently, the website offers fine art in the form of paintings and photography. Services include welding, personal training, home repairs, carpentry, faux finishing and house painting.
"We no longer have an economy where each successive generation fares better than the last," said McKaig, explaining why he sees the need for Trade4Art (as well as bartering projects in general).
"For us to fare better, we must be innovative, creative and community-minded. Furthermore, treating people like numbers doesn't work. Bartering succeeds because individuals achieve their goals by connecting with other individuals."
Trade4Art is not McKaig's only effort in advocating for the arts. He received a 2017 Mayor's Individual Artist Award from the Creative Baltimore Fund to pursue his work with art and labor practices. He also was awarded an Equal Justice Residency at the Santa Fe Art Institute, where he will bring together arts workers (such as installers, security guards and museum custodians) with fine artists and policy makers to explore innovative models for funding the arts.
"Arts advocacy is more critical than ever, given the current political and economic climate," said McKaig. "Just when we are at our most divided is exactly when we need the arts to unite us. We must do all that we can to expand — not restrict — access to the arts."
To learn more, see www.trade4art.info.