Arts
Lifelong carver prefers using chainsaws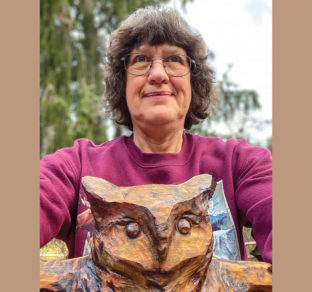 Columbia artist Evelyn Mogren, who has enjoyed carving and woodworking since a youngster, today wields nine heavy chainsaws in creating sculptures from logs and tree stumps.
Photo courtesy of Evelyn Mogren
In 2009, when Evelyn Mogren was in her late 40s, she attended her first chainsaw-carving festival.
"I did laps around the exhibitors," she remembers, "just bugging the carvers to death."
Finally, one generous carver offered to teach Mogren, right then and there. He placed a hunk of wood in front of her and a chainsaw in her hands. He told her to do what he did.
"He would chop, and I would chop," Mogren, now 61, said in an interview with the Beacon. Later in the day, Mogren's carving of a pig garnered some of the highest bids in the charity auction.
"It was like fate," she said, snapping her fingers.
From that day on, Mogren pursued the noisy artform. Today, her massive chainsaw carvings can be seen all over Howard County: the bear that welcomes visitors to Robinson Nature Center, the Lorax hidden in the woods at Camp Ilchester, and myriad animals carved into the tree stumps of Mogren's many clients.
A hobby since childhood
Mogren, a self-described "farm girl" and former environmental scientist, isn't surprised by her artistic passion. Her love of coaxing figures from wood has been a lifetime hobby she has returned to again and again.
She remembers her very first carving experience, back in the third grade in Knightstown, Indiana. Her teacher, Mrs. Gregg, gave her a piece of plaster of Paris. Mogren chipped away until she had created a dog's head. In junior high school, she carved a "bulky ol'" boat for a friend.
In high school, Mogren took a woodworking class and carved horse bookends and elaborate nativity scenes. Forty-some years later, she still owns and cherishes those pieces.
Discouraged from pursuing art as a career by her parents ("There's no money in that," they told her), Mogren pursued her other love: science.
But during her years working for the Environmental Protection Agency and then a stint as a stay-at-home mom, Mogren never stopped carving.
She took a course in Scandinavian flat-plane carving, where she learned to properly sharpen knives and carve gnomish figures from small blocks of wood.
More importantly, she learned about the National Wood Carvers Association — and that it published a magazine, called Chip Chats. The magazine provided not only inspiration but also the contact information for a Howard County wood-carving club.
While her kids were in school, Mogren became active in the group and expanded her carving repertoire to include Christmas ornaments and animal figurines.
She also started working again as an adjunct professor in science at Anne Arundel Community College. Although the college offered a course in ice sculpting — another artform done with a chainsaw — the class was cancelled because it didn't attract enough students.
Mogren decided she would learn to carve with a chainsaw anyway. That's when she saw the sign for the chainsaw-carving festival that sealed her fate.
At home with tigers, dragons
Mogren's Columbia home of 26 years passes as a gallery of sorts, where a prowling tiger and a gnarly dragon greet surprised passersby.
The back of her house is also teeming with sculptures as well as art supplies. A pile of donated logs occupies a large corner of the yard.
"I'm a bit of a magpie," she said, referring to the bird notorious for collecting shiny objects. In a former dining room, Mogren keeps a library of inspiration: old drawings, science magazines, back issues of Chip Chats. These items come in handy when someone calls about a commission.
The two-car garage is where Mogren keeps her tools, including nine chainsaws, which are surprisingly heavy. Mogren admits that her work is "hard on the body."
She compares carving to dancing: "You balance, you brace," she said, swaying her body to show me. Hoping to carve for at least another five years, she does yoga and rides a bike to keep fit.
Mogren said her favorite part of chainsaw carving is the conceptualization phase: merging her clients' vision and her own fanciful ideas into a piece while also "keeping in mind the shape and flaws of the wood, the outdoor elements and water."
She enjoys watching her art transform over time after being exposed to the elements. "Unlike cement statues, [the carvings] age and change," she said.
When former clients call to say their carving has a hole in it — from moisture or bugs — Mogren has a quick solution.
"I tell them to put a flower in it."