Arts
Life's a dance for ex-Rockette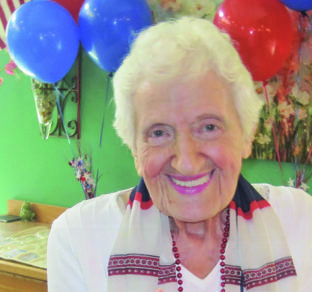 Anne Berk, who is the world's oldest former Rockette, celebrated her 100th birthday in November. She danced her way across the Radio City Music Hall stage from 1936 to 1938 before moving to Washington during World War II to work as a switchboard operator in General George Marshall's office.
Photo courtesy of Winter Growth
Howard County resident Anne Berk, who happens to be the world's oldest Rockette, figuratively kicked up her heels the other day in Columbia while moving and grooving with the help of a walker for a special celebration: her 100th birthday.
"Don't complain, and keep a good sense of humor," was the advice Berk offered to those in attendance. The party was held at Winter Growth Assisted Living in Columbia, where she now resides.
"And keep dancing," she added, whether the choreography takes place up in your head or down on your feet. Berk danced her way across the Radio City Music hall stage from 1936 to 1938.
Berk found the turnout for her Nov. 28 birthday bash to be "breathtaking." Sure, she expected Ron, her 72-year-old son, and Maggie, her 70-year-old daughter, as well as her two granddaughters and her four great-granddaughters.
But when 93 celebrants showed up — including friends, assisted living neighbors, former dance students (she had run a children's dance academy in Silver Spring), an 18-member dance troupe from Notre Dame Prep in Towson, and assorted others — she was "overwhelmed."
Among those others happened to be two other former Rockettes, Jean Kettell, of Columbia, and Lin Bartle of Hanover, who learned about the party from the Rockette Alumnae Association in New York. (More on those other onetime dancing women later.)
Spreading a love of dance
Prior to her move to Howard County, Berk had lived for 25 years at Leisure World in Silver Spring. She injected the dancing bug into many seniors there and around Montgomery County when she formed the "Rockettes of Ages."
The troupe performed at senior centers, nursing homes, hospitals, military bases and even the Kennedy Center. She has also appeared in a "60 Minutes" segment about the Rockettes, whose Radio City Music Hall Christmas shows are still one of New York's biggest tourist draws.
Berk feels there's just something about dancing, whether doing it or watching it, that stirs a primordial urge in humans of all ages.
"A few years ago, one of my great-grandchildren — she was no more than three months old — when she saw me and heard music while sitting in her high chair, she moved her head and shoulders back and forth. Even now, when she sees me, she starts dancing," Berk said.
It's as if even the youngest of children know that dancing brings about an experience of both joy and contentment, she said
While she speaks fondly of her favorite musicals, A Chorus Line and Hello Dolly, and of the choreography of Bob Fosse, Berk noted that much of her current "entertainment" consists of watching the political happenings of the day via TV. She said that before she turns in at about 8:30 in the evenings (she's up at 6 a.m.) she usually watches "the lousy TV news."
She's not happy about our country's current leadership. In fact, a few days before her 100th birthday, she received a phone call from the White House, telling her to hold on because President Trump had a message for her.
"I thought it was a crank call," she said. "Or if it wasn't, it would be a recording, after they learned about my birthday. So I hung up. I have nothing to say to him."
Noting the recent death of former President George H.W. Bush at age 94, Berk said, "him, I liked."
Self-taught dancer
Back to the beginning. Born and raised in the Bronx, N.Y., Berk remembers that at the age of 7 or 8 she accompanied a younger girlfriend to a dance class. Berk couldn't afford lessons, so she watched her little friend tap-dancing through a window. "What I could see through the window — the tap dancing to the rhythm — that was it."
So she went home and practiced those steps she saw through the window. Later, she saved her lunch money for an occasional 50-cent lesson, and started making up her own moves.
She kept on "moving to whatever music" and, in 1936, was hired for the dance line at the Roxy Theater in New York. "We were called the Roxyettes then," she said.
Within a year, down the block on 50th Street and Sixth Avenue, she joined the Rockettes, which had debuted two years earlier.
"I only wanted to dance. I wanted to be one of 36 girls doing exactly what one girl would do. That's what our precision dancing looked like."
While Berk loved being a Rockette, it was not all glamor all the time. Part of being a Rockette was also hard work, she said. "The rehearsals — oh, the rehearsals!" she recalled.
A recent article in the online magazine Insider noted that today's Rockettes rehearse "seven hours a day, six days a week for six weeks" before performing a new 90-minute show. each performance includes more than 200 "eye-high kicks." Before each rehearsal, the Rockettes undergo "intricate athletic exercises."
How was she was treated by men as a showgirl way back in the 1930s?
"I was treated fine," she said. "I only followed the dancing commands of Russell Markert, who was the founder of the Rockettes, and our choreographer. The other males, the stage hands, knew what they had to do," which among other things, was not to bother the chorus girls.
"Of course," she added, "there always were, and probably always will be, the Stagedoor Johnnies, who waited for you to come out of the theater after the show and invited to take you for a cup of coffee, or other things.
"Nope, I never went with any of them," she said.
World War II "government girl"
While she was always choreographing a dance in her head and heart, Berk gave her feet a rest during World War II, when she moved from New York to Washington, D.C.
Her first job in the nation's capital was as a saleswoman at Kahn's Department Store. "Then there was a call for secretarial help for the war, and I took a test, and moved on to General George Marshall's private switchboard," she said.
Marshall was chief of staff to President Roosevelt at the time, and one of the Army's leading tactical planners.
"I fell in love with Washington, with the streets and the buildings. It was in October, and the trees were beautiful. I met my husband of 52 years there," she recalled.
As for Marshall, the statesman-soldier would pass by her in the crowded office "and he'd always nod hello," she said.
Meeting two more Rockettes
Berk said she was very happy to meet for the first time the other two Rockettes at her party. She added, "When I saw those two girls, I recognized that they had that look. It was the look of a Rockette. It's hard to explain, but when you see it, you know it."
Columbia resident Jean Kettell said she heard about Berk's birthday through the Rockettes alumni association. Although living almost as neighbors, the two had never met before.
Kettell, 78, calls herself a "Baltimore girl," having been born and raised there. She was a Rockette from 1959 through 1962.
Hagerstown native Lin Bartle, who recently celebrated her 70th birthday, lived in Columbia before moving some years ago to Hanover. Her Rockette dancing days lasted three-and-a-half years in the late 1960s.
Bartle hung up her dancing shoes and went the college route, earning a Ph.D. in education administration from the University of Maryland. She went on to become vice principal of the county's Howard, Appleton and Glenelg High Schools. She then became a supervisor at the Howard County Education Department.
Both Ketell and Bartle, who also never met each other before Berk's birthday celebration, expressed their joyful surprise at the "life, pep, clear-mindedness, alertness and astuteness" of their 100-year-old fellow one-time high-kicker.
Berk noted that she was seriously ill last year with a recurrent heart disease. "I didn't think I was going to make it."
Son Ron Berk was quoted in an article in LeadingAge magazine recalling that when his mother was exiting the hospital some years ago, she said, "I guess nobody 'up there' wants me and nobody 'down there' wants me, so I'll just go home and stick around for a while."
After her most recent trip to the hospital, Anne Berk said she realized yet another time that "you take it as it is," and no matter what, "you never lose your sense of humor."