Arts
Literary awards celebrate local authors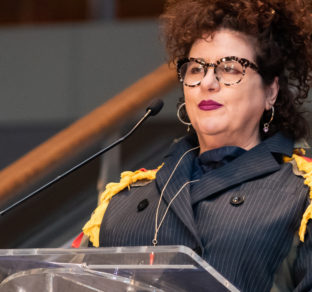 Author Adriana Trigiani will announce this year's Library of Virginia Literary Awards on Oct. 17. For the first time since 1997, the library's annual fall event will be held virtually due to the coronavirus. The celebration's events will begin on Oct. 13.
Photo by Library of Virginia
For the first time in its 23 years, the Library of Virginia Literary Awards ceremony will take place virtually, providing a way for people across the state and beyond to learn about Virginia authors — and to find out this year's winners, who will join the ranks of past winners such as Tom Robbins, Barbara Kingsolver, Rita Dove, John Grisham, Tom Wolfe and David Baldacci.
"Although we would love to have people [physically] in the library, the pandemic is allowing us to reach people in a different way," said Scott Dodson, executive director of the Library of Virginia Foundation.
New this year, the library is making the ceremony a five-day event that will take place October 13 to 17. From Tuesday through Thursday at 6 p.m., attendees can listen to panels of finalists in each category — fiction, poetry and nonfiction — led by moderators who are well known in their fields.
"We're happy to be able to provide more content around the finalists," Dodson said.
The finalists were chosen by judges who are all experts in their category as authors or educators. All finalists either live in Virginia or, in the case of nonfiction authors, write about Virginia. Finalists were announced in August; the winners of each category will be announced the evening of Saturday, October 17. Each winner will receive $2,500.
The Literary Awards also include people's choice awards in fiction and nonfiction that are selected by readers through an online portal. The winners of those awards will also be announced on Saturday evening.
Art and literature
The scope of the Library of Virginia's Literary Awards program is unique among libraries across the country.
On Friday evening, the Art in Literature Award will be given to Philip J. Deloria for his book Becoming Mary Sully: Toward an American Indian Abstract. The award is given to a book that responds to a work or works of art, and shows high literary quality as a scholarly or creative work.
Created in 2013 in partnership with the Virginia Museum of Fine Arts, this award is named in honor of Mary Lynn Kotz, who served as a contributor to ARTnews magazine and author of an award-winning biography about the artist Robert Rauschenberg.
A world-renowned historian
During the Saturday night celebration, award-winning Virginia author Adriana Trigiani will announce the winners of the fiction, poetry and nonfiction awards as well as the people's choice awards.
The featured speaker at that event is bestselling author Douglas Brinkley, a professor who holds the Katherine Tsanoff Brown Chair in Humanities at Rice University and also serves as CNN's presidential historian.
"We're excited to have someone of such national prominence," Dodson said. "He is a formidable presence with expertise in presidential history."
With Brinkley's extensive experience writing and speaking about presidents — including his most recent book, American Moonshot: John F. Kennedy and the Great Space Race — he should be a particularly compelling speaker during this election season.
Library's varied mission
While the week's free panels and ceremony will introduce attendees to interesting authors, they also provide an opportunity for the public to support the library's wide range of programs and projects.
"I don't think people fully understand the full breadth of the work we do," Dodson said. "We have a wide state footprint."
That work includes preserving government records, developing exhibitions, such as the current one on women's suffrage, and providing support to local libraries and courthouses working to preserve and maintain public records.
A recent project digitized a collection of private papers — including scrapbooks, postcards and diaries — as well as state records from World War I.
The library's project, Virginia Untold: The African American Narrative, seeks to provide access to documentation of the African American experience from before 1865.
Other projects involve digitizing newspapers and conserving over 300 historic architectural drawings. More than a million newspaper pages from Virginia and beyond, from 1787 to 2013, are searchable on the library's website, virginiachronicle.com.
The library also has a State Publications Depository Program that provides free access to publications provided by state governmental agencies, boards and commissions.
The Library of Virginia's education initiatives help to bring primary documents into classrooms, and provide information about remarkable Virginians who have made an impact to our community, state and country.
For the virtual Literary Awards Celebration, also a fundraiser, multiple donors have pledged over $15,000 in challenge support to match donations by event attendees. The Foundation's goal is to meet their donors' challenge and raise more than $30,000.
"This funding is vital to the work we do," Dodson said.
For a schedule and more information about the Library of Virginia Literary Awards, visit lva.virginia.gov/public/litawards.