Arts
Local authors' books enlighten, educate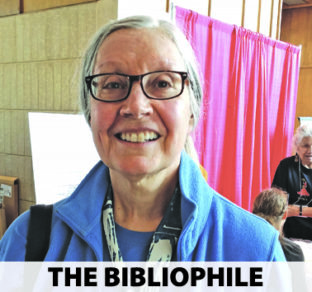 We are blessed to have living among us in this area talented writers, journalists and medical professionals whose books add light and depth to our understanding and knowledge.
Treating People Well: The Extraordinary Power of Civility at Work and in Life, by Lea Berman and Jeremy Bernard, 256 pages, Scribner hardcover, 2018.
This practical guide to improving your social skills includes many entertaining anecdotes and inside stories by the co-authors, former White House social secretaries.
Lea Berman served during George W. Bush's administration, having been promoted from a similar position under Second Lady Lynne Cheney. Berman lives in Washington, D.C.
Jeremy Bernard was recalled from a plum job at the U.S. embassy in Paris to repair the chaos left by his two short-lived predecessors in the Obama White House.
Berman and Bernard detail a systematic approach to mastering 12 specific behaviors that they identify as the basis for productively dealing with others.
Treating People Well reminds us — whether at work or in our private relationships — to employ tried-and-true techniques to improve our communication skills.
Learn pointers on how to become comfortable in awkward situations and smooth tangled interchanges with co-workers, staff, superiors, friends and strangers.
The book is a great refresher course for those who wish to rise above the pettiness and strife in our hectic boisterous society. It would make a thoughtful gift for a graduating senior.
The Year I Was Peter the Great: 1956 — Khrushchev, Stalin's Ghost and a Young American in Russia, by Marvin Kalb, 304 pages, Brookings Institution Press hardcover, 2017.
Now in his late 80s, Marvin Kalb — well-known to the public from his three decades as a television news correspondent — is a senior fellow at the Brookings Institution, and moderator of the monthly "Kalb Report" at the National Press Club, to name two of his ongoing professional activities.
Kalb, who lives in Chevy Chase, Md., has written a fascinating memoir about the year he worked in Moscow taking a break from his Russian graduate studies at Harvard.
In The Year I Was Peter the Great, read Kalb's impressions of working in Moscow as a translator for the American embassy, travelling through the Soviet Union, and gathering primary source material for his Ph.D. thesis on an obscure nineteenth-century Russian aristocrat.
There was a thaw in the Cold War in 1956, the year he spent in Russia. In February, speaking before the 20th Party Congress, Nikita Khrushchev, First Secretary of the Communist Party, denounced Stalin for his abuse of power, paranoia and ruthless executions of his perceived enemies.
Heartened by the candor on the part of their leaders, Russian students started openly questioning orthodox Communist doctrine. Kalb, who is fluent in Russian, reported his observations to U.S. Ambassador Chip Bohlen.
In light of the apparent loosening of the dictatorship, Poland and Hungary attempted to overthrow the totalitarian yoke of their Soviet masters. As history relates, that window of opportunity was summarily closed.
Kalb writes rich, descriptive accounts of his travels to the former Russian capital Leningrad, his mother's native Kiev, Stalin's home republic of Georgia, resorts on the Black Sea, and faraway exotic Central Asia.
Many charming anecdotes are related with warmth and grace.
Kalb reveals that he wrote this book at the behest of his grandchildren. We have them to thank for this enjoyable memoir.
How Healing Works: Get Well and Stay Well Using Your Hidden Power to Heal, by Wayne Jonas, MD, 336 pages, Lorena Jones Books hardcover, 2018.
Dr. Wayne Jonas, a professor of medicine at Georgetown University and the Uniformed Services University of Health Sciences in Bethesda, has written an important book. How Healing Works explores the latest findings in integrative medicine — an approach that treats the whole person in order to alleviate suffering, prevent illness, and improve healing. Helpful appendices summarize the main points.
Medicine has mastered curing many acute diseases and myriad illnesses through surgery, immediate intervention, and prescription drug therapies. However, studies of the placebo effect show that the mind of patients and their emotions, psychology, cultural proclivities and social interactions also play an important part in recovery.
Exercise, developing good health habits, proper nutrition, quality sleep, peaceful contemplation, avoiding destructive substances, and eschewing harmful behavior have been incorporated into current preventive medical treatments.
If you or a loved one is suffering from recurring pain, arthritis, diabetes, high blood pressure, ulcers, heart disease, Parkinson's disease or mental health issues, you may find Jonas's innovative approach life changing.
The West Point History of the American Revolution, by the United States Military Academy, book four of The West Point History of Warfare Series, by Samuel J. Watson, Edward Lengel and Stephen Conway, 320 pages including nearly 200 images and more than 30 color maps, Simon & Schuster, hardcover, 2017.
Edward Lengel, chief historian of the White House Historical Association and a D.C. native, is co-author of a definitive and comprehensive history of the military campaigns of the Revolutionary War.
Employing illustrations, graphs and tactical maps with great effect, The West Point History of the American Revolution describes chronologically the course of the War of Independence from 1775 to 1783.
Although the subject is complex, the coffee-table book is written with clarity. You will be enriched by the details provided and the knowledge you will acquire about military strategy and battlefield tactics.
Feel privileged to have the opportunity to read the textbook studied by cadets at West Point in their core course "History of the Military Art." Thankfully, there are no exams.