Arts
Local filmmaker debuts film at festivals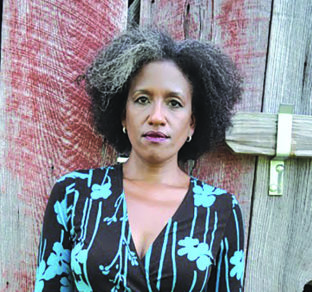 Pamela Woolford made the short film, Generation, now being screened at festivals around the U.S. and internationally. She wrote, directed and starred in the film, which tells a story in the manner of "screendance," merging cinematography and choreography.
Photo courtesy of Pamela Woolford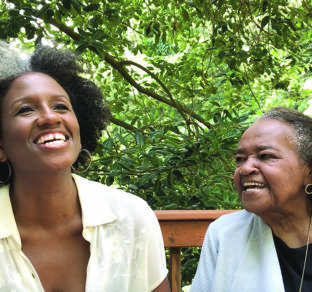 Pamela Woolford's mother, Sadie Woolford (right), appears briefly in the film Generation.
"Story-telling is essential to our being, to how we relate," said writer, filmmaker and performer Pamela Woolford, a Columbia resident. "The stories we tell and retell, often changing over time, they are so basic to who we are."
The 51-year-old, winner of a Maryland State Arts Council Individual Artist Award for screenwriting, has made her directorial and one-woman "screendance" debut in Generation, a 20-minute film shot in and around Howard County.
For those not familiar with it, the art form known as screendance involves telling a story using both body and camera movements, offbeat soundtrack, and creative lighting, coloring and editing. The aim, according to the experts, is "to stir the imagination and deliver a unique visual experience."
In her film, Woolford interprets a short story she wrote, "Just after Supper," using various hand, head and body movements. The story was inspired by early incidents in her mother's life.
Family stories
The story is about a poor family in their rural North Carolina home, where the mother, abusive father and their seven children gather nightly around the kerosene lamp while Mable, the daughter "with the proper speech," reads them stories by O. Henry and Guy de Maupassant. A story within the story — "The Last Leaf" by O. Henry — has a prominent place in the film.
Generation has, so far, been shown at Maryland film festivals in Columbia (the Lakefront) and North Beach, the Kwanzaa Festival at the Anacostia Arts Center in D.C., and the Underground Film Festival in Stockholm Sweden.
Generation has also been selected for the Women of the Lens Festival in London in November, and for the Genre Celebration Festival in Tokyo in December.
Among other praise, noted writer and literary figure Marita Golden called the film "lovely and groundbreaking," citing it as "a great mix of oral tradition and past remembrance, and meditations on the body as suffering and a source of resistance and resilience."
Woolford, who wrote, directed and edited Generation, as well as being its sole performer (except for a brief cameo by her mother), said she aimed to be "emotionally evocative" in the writing, directing, editing and performing in order to fulfill her main goal — "to tell the story."
Howard County roots
Born in Baltimore, Woolford moved to Columbia in 1970 with her family at the age of 2. After growing up here (she graduated from Wilde Lake High School), she lived in San Francisco, New York and D.C. She has now returned to the family home, where she lives with her mother and sister.
The home is in the Bryant Wood area, which, Woolford said, was Columbia's very first neighborhood. Her father, Llewellyn Woolford, worked with Columbia founder Jim Rouse and served as chair of the Howard County Human Relations Commission.
While attending the University of Maryland Baltimore for three years, her double major was economics and social work rather than the arts.
Her interest in literature actually began when she spent some months in San Francisco after she graduated from Wilde Lake High. She spent those months in classes at Lowell High School, a preparatory school for college.
"I was asked to read a book written by a person of color," said Woolford. She chose The Best of Simple, a compilation of stories by Langston Hughes.
"The stories felt so real to me, about the people I knew, my parents, my grandparents. I've since read everything by Langston Hughes."
While living in San Francisco in the late 1980s, "bookstores there were starting black interest sections. I told myself, 'I'm black, let me see if I'm interested'."
She found that she most certainly was, and her reading, writing and literary life was underway.
Wolford has worked over the years for nonprofits, raising funds and doing public relations. In the 1990s, she was the editor of Howard County's Jambalaya magazine, and directed the 1996 Maryland Jambalaya-Fest at Lake Elkhorn, which celebrated the diversity of people of African descent in the area.
In addition to her short stories and film efforts, Woolford has told stories through several journalism gigs, including a weekly bylined column for the Baltimore Sun for several years in the early 2000s. The column, entitled "Neighbors," featured profiles and human-interest stories about residents of Columbia neighborhoods. She also wrote book club profiles for the newspaper.
"Now, I'm committed full-time as an artist," Woolford said, indicating this is but the latest chapter in her own ongoing story.
For more information about Generation and Woolford, see www.generationthemovie.com.