Arts
Mural artist makes the city his canvas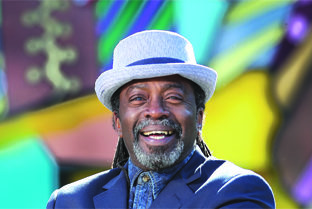 "Sir" James Thornhill is known for the colorful murals he has painted in (and on) 32 buildings around the Richmond area. He also oversees after-school art programs for youth at eight sites.
Photo by Dan Currier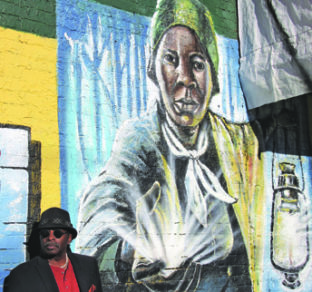 Thornhill poses with the mural he painted of Harriet Tubman. His many murals focus on African Americans, both well known and ones who have not been in the public eye.
Photo by Glenda C. Booth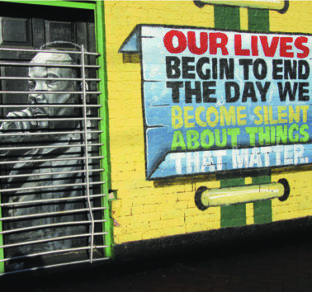 James Thornhill's mural on the Jamerican Market and Restaurant portrays the Rev. Martin Luther King, Jr. in the Birmingham jail, together with a quote from MLK's well-known Letter about that experience. Thornhill incorporated the iron security grillwork on the building's back door to serve as the bars of King's cell.
Photo by Glenda C. Booth
When he sees a nondescript wall or side of a building, "Sir" James Thornhill sees art. To him, it's like a blank canvas waiting for artistic reinvention.
Thornhill literally "paints the town," with colorful murals that honor heroes and heroines — especially local notables associated with the historic district of Jackson Ward, a section of Richmond known as the "Birthplace of Black Capitalism." His murals brighten the interior and exterior of more than 30 Richmond buildings.
Standing in a drab parking lot and studying the south end of a concrete building, Thornhill, 62, mused, "That building talks to me." In vivid hues, the building's 45-by-60-foot side features Marshall W. "Major" Taylor, dubbed the Colored Cyclone. He was an African-American cyclist who was barred from U.S. bicycle races in the early 1900s because of racial segregation. Denied the opportunity to race in his home country, Taylor went to Europe and broke records, earning the title, "Fastest Man in the World."
In Thornhill's bigger-than-life mural, shadowed by images of other competing cyclists, Taylor projects energy, intensity, strength and perseverance.
Thornhill's third-floor home studio is located on the same block as Jackson Ward's historic Hippodrome Theater. Surrounded by large, colorful paintings — some completed, some in the works — he said, "This is where the magic begins."
But the final works belong somewhere else: "I like painting big. The street is my gallery," he said.
Thornhill's magic comes to life in large portraits and bold colors, using oils, acrylics, pencil, graphite and other media. He also does figurative drawing and photography.
In each area, "I push the medium as far as I can," he said. "I'm not afraid to push the envelope." He also believes that "visualization is important. If you walk out the door and see nothing, then you think nothing."
What about that "Sir" that precedes his name? He's never been knighted, nor has he even met the Queen of England.
When his daughters Googled their father's name, they found an English painter, Sir James Thornhill, who coincidentally painted Italian baroque murals and cathedral paintings in the 1600s and 1700s, including inside the dome of London's St. Paul's Cathedral.
So Richmond's James Thornhill borrowed the "Sir." And it stuck, well, like paint on a wall.
Early start in art
Through elementary, middle and high school, Thornhill was not stimulated by most traditional academic subjects. "Things were too slow," he said.
But early on, perceptive teachers spotted his artistic talent, and invited him to decorate the school cafeteria and bulletin boards. He jumped at the chance.
He attended Bainbridge and George Wythe High Schools, and then Open High School, which had an alternative curriculum that appealed to creative students like Thornhill.
After high school, he served two years in the U.S. Army at Fort Leonard Wood, Mo., where he learned all about electricity as well as plumbing, carpentry and blueprint reading.
Next, starting as a laborer, he worked at Phillip Morris USA, Inc. for 34 years. Company officials soon recognized his artistic talents and asked him to prepare posters, t-shirt designs, drawings, pamphlets and other company materials. He decorated the company's stage for Christmas plays.
He retired in 2008. "It was an adjustment to not have to answer to anyone," he said. But when asked, "Is there a life after Phillip Morris?" he didn't hold back. "Hell, yeah!"
Soon after leaving that company, Thornhill started a t-shirt printing business, the Word Shirt, and ran it for seven years. He could print 250 t-shirts an hour.
He also studied design, photography, water color, stagecraft, scene design and fashion illustration. He traveled to Ghana, Nigeria and Jamaica because he "felt a spiritual calling to learn about my culture, my past, Africa."
Thornhill is single and has four grown children. Two daughters are in college, one daughter is a teacher, and his son is a graphic artist.
Making murals and more
Thornhill's life since his "official" retirement has been a creative one. His artworks explore color, light, shapes, movement and texture.
Bold colors leap off walls and canvases. Backgrounds often provide cultural context. Most murals tell human stories. Faces gleam, dream, ponder and question.
When inspired to paint a mural on a building, Thornhill approaches the owner, who usually agrees. He then assembles a team of four or five painters who work on scaffolds, cherry pickers or lifts for eight to 12 hours a day for two weeks to a month.
His team, the Sir James Thornhill Global Arts Initiative, has painted 32 murals around Richmond, including at Bremo Pharmacy and Franklin Military Academy. Most are outside.
If a mural has not been commissioned, he has to raise $20,000 to $30,000 through Facebook, GoFundMe, corporations, the city and private donations to cover his costs.
Thornhill is especially motivated to bring beauty to Jackson Ward and to honor its notables. That's what led him to paint a portrait of Maggie Walker, an African American and the first woman banker of any race to charter a bank.
Walker had a bank, newspaper, department store, even a Girl Scout troop. She started businesses and organizations to serve blacks when white establishments refused to. Her home in Jackson Ward is now a National Historic Site.
Thornhill's subjects also include Rev. Martin Luther King, Jr., Bob Marley, and gospel singers Larry Bland and Marie Goodman Hunter.
He cleverly incorporates parts of the buildings into his designs. For example, on the side of the Jamerican Market and Restaurant, a scene shows Rev. Martin Luther King, Jr. in the Birmingham jail literally behind bars — actually a door's iron security grillwork. Next to the portrait of the famous 1960s civil rights leader, Thornhill painted a quotation from King's Letters from the Birmingham Jail: "Our lives begin to end the day we become silent about things that matter."
"I love Jackson Ward," Thornhill commented, recalling that when he grew up on Duval Street, residents got regular deliveries of ice and coal. He remembers that when he was a boy there, people grew vegetables in the rich soil. When digging, he would find Civil War relics buried all around.
He plaintively highlights two painful chapters in the neighborhood. In the 1950s, the Maine-to-Florida Interstate 95 split the community in two and destroyed many structures.
Later, "crack tore up Jackson Ward," he lamented. "No one would come here."
But today, Jackson Ward, once called "the Harlem of the South," is a rebounding, happening place. To Thornhill, it is "a hub of creativity."
"Why am I back?" he asks rhetorically. "Just look at the murals."
Mentoring the next generation
Thornhill also mentors aspiring artists, from age 10 to 92. With residents in assisted living communities, he often teaches water color painting.
But a real priority is boosting young people. Drawing on his own challenges growing up, he conducts after-school programs for youngsters, hoping to convert graffiti artists to "real artists." Under his tutelage, they create puppets, African masks, clay figures, paintings, drawings and more.
He offers these art programs at eight sites after school hours, visiting one site a week. He also works with the Mayor's Youth Academy for kids 13 to 15 — a program offering apprenticeships in which professionals teach subjects like painting, photojournalism and culinary arts.
"I let the kids make the decisions, to create. It encourages them not to be afraid," Thornhill said.
To learn more or to purchase or commission a piece, email Sir.Jamesthornhill@gmail.com or visit his website: https://sirjamesthornhill.weebly.com. You can also follow Thornhill on Facebook.
More information about the Jackson Ward Historic District is available at http://dig.library.vcu.edu/cdm/landingpage/collection/jwh.